The Sweet Way Hoda Kotb Told Her Daughters They Were Adopted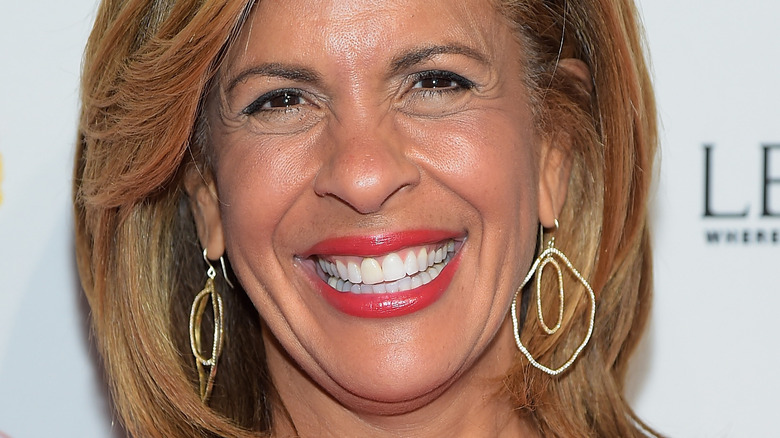 Michael Loccisano/Getty Images
Hoda Kotb is one of the most beloved TV figures out there, so when she announced that she had adopted a baby in 2017, the world was collectively happy for her and her fiancé Joel Schiffman. The "TODAY" host was 52 years old when she welcomed Haley Joy (via TODAY), and she often speaks on the beautiful timing of her life. "That wisdom, patience, stuff we've learned along the way — I'm a better parent now than I ever would have been," Kotb said in an interview with "Morning Joe" host Mika Brzezinski.
The longtime journalist adopted her second daughter, Hope Catherine, two years later. At the time, Kotb said that the decision to have another baby was easy as she and her partner realized they had more love to give. "You know what's funny? You think that you're full," she explained to her "TODAY" co-hosts. "That's exactly how I felt with Haley and Joel and everything. Joel and I were standing there when they hand you the baby, and it's the closest thing to a live birth you'll ever see, but in that moment, I was like, 'Oh, my God, my heart just grew.' It's amazing. I can't believe it's happening.'"
Now, Kotb has revealed that her daughters know they're adopted — and the way she told them is just the sweetest thing ever.
Hoda Kotb's kids know they 'didn't come from Mommy's tummy'
Hoda Kotb explained on People's podcast "Me Becoming Mom" on October 14 that her young daughters — Haley Joy (four) and Hope Catherine (two) — already know that they were adopted. The "TODAY" host said that while she's not sure if they "100% know what that means," she doesn't hide the fact that she didn't give birth to them. She explained, "I always say, 'You didn't come from Mommy's tummy, you came from my heart.' And they understand that."
"They said, 'Did a baby ever come from your tummy?' And I said, 'No. It didn't.' And [my daughter] said, 'Okay, I'm adopted.' They say that all the time," Kotb continued. "We haven't had the big discussions about it, because I think that is to come. But in this moment, they know that they are adopted. " She added, "I tell them how cool it is. I tell them that their cousin Ella was adopted and, you know, 'All the cool kids were adopted' — they get such a kick out of that." 
As for whether she and Joel Schiffman plan to adopt any more children, Kotb told Drew Barrymore on "The Drew Barrymore Show" that they've "fill[ed] out the paperwork," and it's in "God's hands" now." She added, "I just know your heart's ability to expand blows my mind, you can fit so much love in there." Aww! Great mom alert.