What Is The Status Of Katie Holmes' Love Life After Her Split?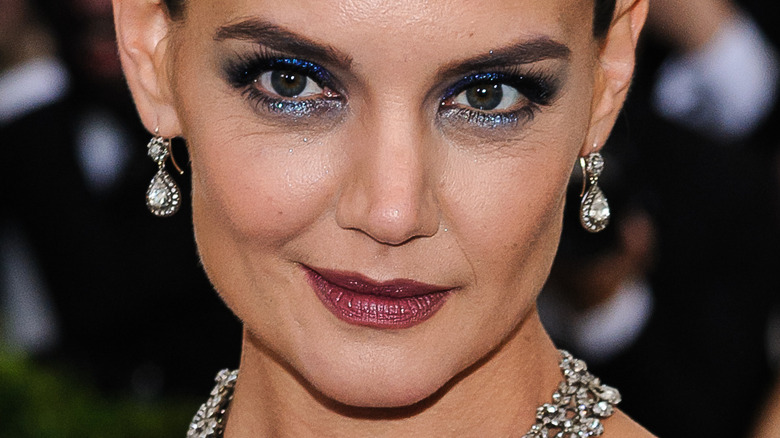 Sky Cinema/Shutterstock
Katie Holmes and her ex-boyfriend Emilio Vitolo had a whirlwind romance, for sure. Ever since she and the New York-based chef were spotted on a PDA-packed dinner date in September 2020, they were sighted canoodling all around the Big Apple, per Us Weekly. A source close to the couple told the outlet in November 2020 that Holmes felt "blessed to be with a centered, down-to-earth, kindhearted companion who isn't affected by the fame and puts happiness and traditional values first." (It probably helps that Vitolo doesn't work in Hollywood, although his restaurant clientele errs on the celebrity side.) 
Despite "some concern" from her inner circle that the couple was moving too fast, Holmes "doesn't care what people may say about rushing into the romance," the source revealed. "In her mind, this is the real deal, they're riding a beautiful wave together and she's already decided it's got the potential to go all the way." But alas, passion isn't always enough. In April, another source reported to Us Weekly that the two had "agreed to give each other space." Heartbreak emoji.
Six months after their split, what does Holmes' romantic life look like? Keep reading to see if the actor-producer has found a new love.
Katie Holmes isn't on the hunt for love
According to an Us Weekly source, Katie Holmes has started dating again post-breakup from Emilio Vitolo ... but nobody has stuck yet. "Katie has been going on a few very low-key dates but nothing serious right now," the source shared. With Holmes reportedly "not focused on her dating life and not searching for love," per the source, she and her ex appear to have remained friends. Another source told Entertainment Tonight in May that the pair split after Holmes traveled to work on a new project. "Before she left, they were inseparable, but their relationship was existing in a bubble," the source explained. "Because of the pandemic, she wasn't jet setting around the country for jobs and he wasn't tied up every night working at his family's restaurant."
After their April split, Holmes gave Vitolo a shoutout on Instagram in June while promoting "Almost a Year," a film they worked on together. "I am so excited for the start of the @tribecafilmfestival today!!!!!," Holmes wrote about the film she produced and in which Vitolo acts. "Congratulations to the very talented and amazing cast @eveclindley @emiliovitolo @lilmitz_ and director @jamiesonbaker," to which Vitolo responded with a series of heart-themed emojis.
Outside of the professional duffing of the cap, Holmes seems to have fully moved on from Vitolo. For now, per the first Us Weekly source, Holmes is happy focusing on her work and her relationship with her daughter, Suri Cruise.