What Was Cynthia Bailey Obsessed With Asking Teresa Giudice About?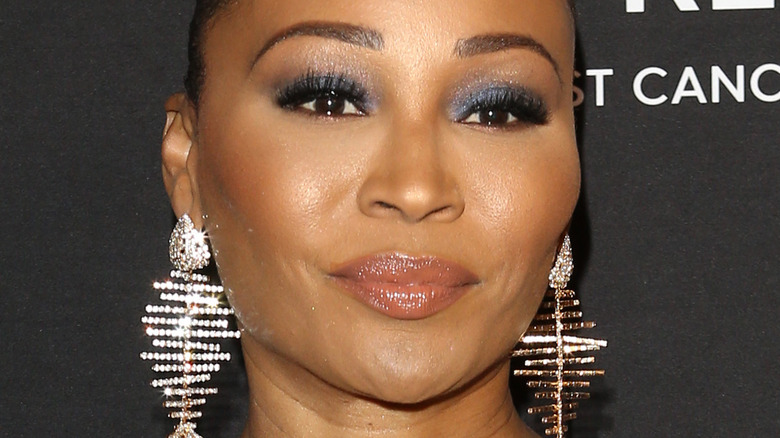 Kathy Hutchins/Shutterstock
The "Real Housewives? franchise has upped the ante with "The Real Housewives Ultimate Girl Trip." Yes, this is happening. Iconic stars from the most beloved cities came together for a vacation filled with cocktails, sass, and lots of drama. The complete footage is coming out in November, per Bravo, but we know a lot of details already.
The featured gals are Ramona Singer and Luann de Lesseps from "The Real Housewives of New York," Teresa Giudice from "The Real Housewives of New Jersey," Kyle Richards of "The Real Housewives of Beverly Hills," and Cynthia Bailey of "The Real Housewives of Atlanta."
The new series, which will feature eight episodes, has fans overflowing with anticipation because it brings together the most famous faces of the franchise. On "Access Hollywood's Housewives Nightcap," Cynthia opened up about her experience, especially her new bond with Teresa, and admitted there was one topic she couldn't drop. Here's what it was.
Cynthia Bailey asked Teresa Giudice about jail
Cynthia Bailey appeared on "Access Hollywood's Housewives Nightcap" and spoke about "The Real Housewives Ultimate Girl Trip." Cynthia said how pleasantly surprised she was by bonding with Teresa Giudice, since she was "kind of afraid of her" getting into it. "She's the sweetest woman. Like, one of the sweetest people I know, and I'm so excited to call her a friend," Cynthia said of Teresa. "I think we connected for a number of reasons, but I love the fact that she's so happy. She's so happy and she's so in love. And I, you know, am happy and in love as well. And it's just such a beautiful space to see her in."
But one topic Cynthia couldn't get enough of was asking Teresa about her time in jail. As a refresher, Teresa served 11 months in 2015 for mail, wire, and bankruptcy fraud, per People. "I've got to be honest, I was very obsessed [with] asking her about jail," Cynthia admitted. "Like, I just couldn't wait to get her by herself and be like, 'Girl, what was jail like?' 'So what did you do in there?' 'What did you eat?' I needed to know everything and she was so giving and transparent."
"Look, I don't want to spoil too much," Cynthia added, "but I'll just say that she was one of the ladies that I was definitely the most interested in getting to know, and I was so surprised [by] how much we actually had in common."