How Many Times Has Sean Penn Been Married?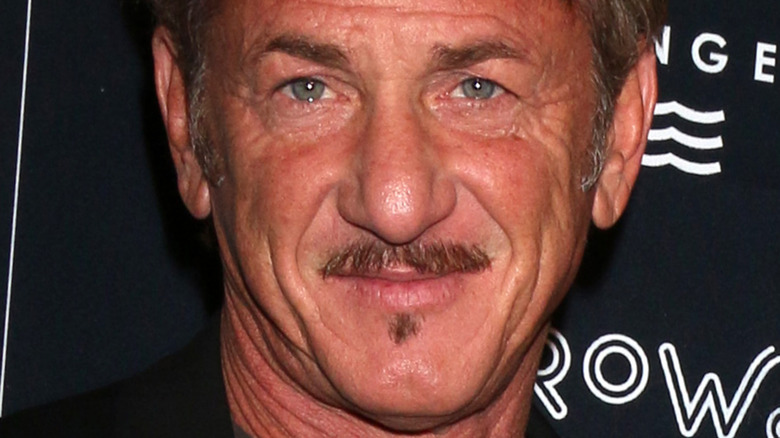 Kathy Hutchins/Shutterstock
Sean Penn is one of Hollywood's most prolific actors. The "Milk" star grew up in Los Angeles and made his film debut in the 1980s, per Biography. He has starred in numerous movies and won several acting awards throughout his career, including two Academy Awards for Best Actor, according to IMDb. In recent years, Penn has put his focus on directing and directed his daughter Dylan in the film "Flag Day," which premiered in August, per Today.
While Penn has built a successful career as an actor and director, his accomplishments are often overshadowed by his personal life. He has been involved in numerous controversies, but it is his romantic life that has garnered the most attention. Penn famously dated A-List stars like Scarlett Johannson, Charlize Theron, and Jessica White, per the Daily Mail, but his marriages have also been headline news. 
Here's how many times the actor has said "I do."
Sean Penn's first marriage was to a global popstar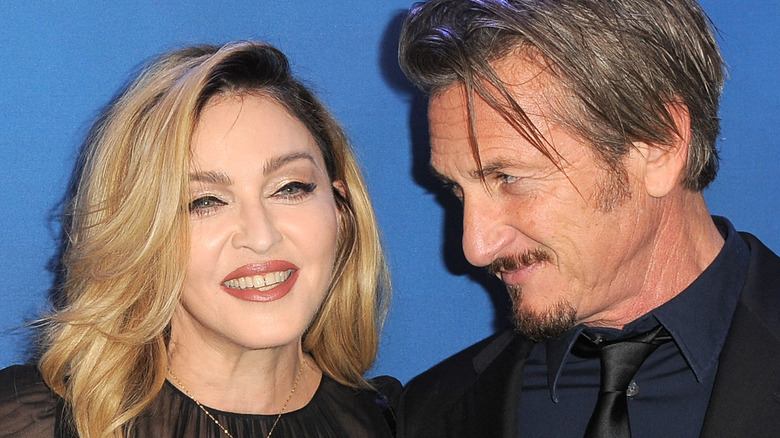 Angela Weiss/Getty Images
Sean Penn was first married in August 1985, a few years after he broke out in the Hollywood scene. His wife was none other than the global popstar Madonna. According to Song Facts, Penn met Madonna while she was shooting the music video for "Material Girl." Penn was originally there to visit his former assistant Meegan Lee Ochs, who was working on the set at the time. Penn reportedly locked eyes with Madonna, and it was love at first sight for both of them. The two dated for six months and tied the knot on Madonna's 27th birthday (via Showbiz Cheat Sheet). However, their relationship showed cracks a year into their marriage.
Jealousy supposedly became a major source of tension in their relationship, with Penn reportedly breaking out in random fits of rage. Penn also reportedly manhandled songwriter David Wolinski because he thought he saw the songwriter kiss Madonna, according to Showbiz Cheat Sheet. Penn's jealousy issues reportedly got so bad that he thought Madonna cheated on him with singer Nick Kamen, People reported. The "Like A Virgin" singer denied any accusations of infidelity and filed for divorce from Penn for the second time in 1989, per The New York Times.
Their divorce was made nastier with accusations of domestic abuse, which Madonna denied and defended Penn against (via Marie Claire). Despite their drama-filled divorce, Penn and Madonna remain close friends to this day.
Sean Penn's second wife gave him a family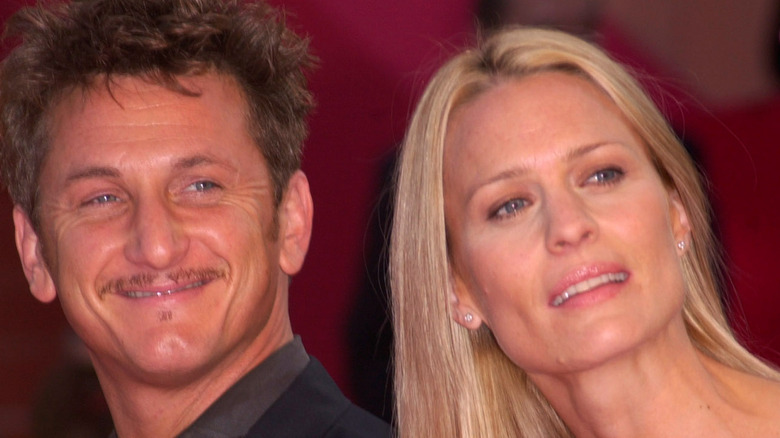 Feature Flash Photo Agency/Shutterstock
Seven years after he got divorced, Sean Penn married his second wife, Robin Wright. The two began dating shortly after Penn's divorce from Madonna, but they reportedly had friction in their relationship. According to The Things, Wright was frustrated that she had to put her budding acting career to the side to raise their kids, daughter Dylan and son Hopper, while Penn became a household name.
While Wright did eventually get her career back on track, she and Penn had a lot of differences they couldn't work out. Wright filed for divorce in August 2009, per People, and she called it a "devastating" time in her life.
"Divorce in and of itself, and with children, is devastating. Worse than that. One of the reasons why we got back together and broke up so much was trying to keep the family together," she told The Telegraph in 2014. "...We did that for a long time." Penn has also admitted that he and Wright do not communicate very often and that they have "separate relationships" with their children (via People).
But Penn's divorce from Wright wasn't the last time his heart was broken. His third wife, Leila George, filed for divorce on October 15 after a year of marriage, according to TMZ, leaving Penn single once more. Perhaps a fourth time will be the charm?