How Dave Grohl Got Injured During A Foo Fighters Concert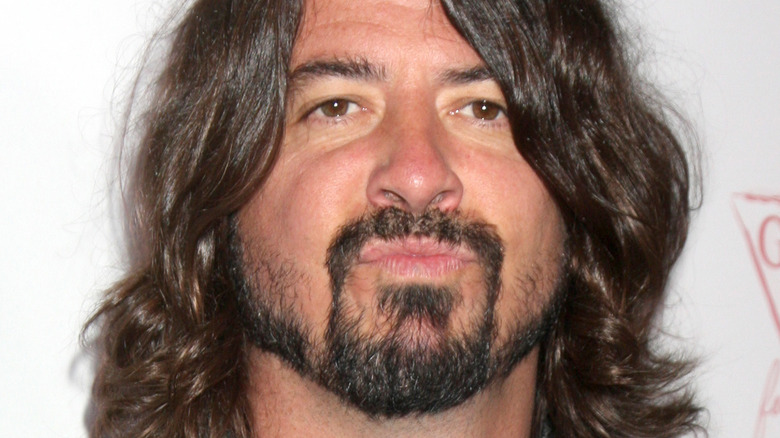 Kathy Hutchins/Shutterstock
Dave Grohl is the true embodiment of a rockstar. Initially rising to prominence as the drummer of the iconic '90s grunge band Nirvana, Grohl would end up blazing his own trail to rock greatness following vocalist Kurt Cobain's untimely 1994 death. Following the demise of Nirvana, Grohl would go on to form Foo Fighters, a band that has gone on to win 11 Grammy Awards and sell millions of records worldwide.
It wasn't an overnight success story for Grohl, however. Any seasoned musician would know how many hours go into perfecting the craft and the artistry that music encompasses. For Grohl, however? He's proven himself to be a capable multi-instrumentalist throughout his expansive career. Though he banged on the drums for Nirvana, Grohl eventually pivoted towards guitar and vocals for Foo Fighters. If that wasn't enough, Grohl refused to let his drumming become rusty — becoming the drummer for rock supergroup Them Crooked Vultures in 2009.
As is with the rockstar life, however, one can easily get carried away. Grohl learned that the hard way during a 2015 Foo Fighters concert when he fell off the stage and injured his leg. Luckily for him, he wasn't playing drums at the time (we're sure that would've made hitting the kick a nightmare!). Given his three decades worth of experience, however, Dave Grohl proved himself to be a valiant trooper during that fateful night in Sweden.
Dave Grohl broke his leg in a nasty stage fall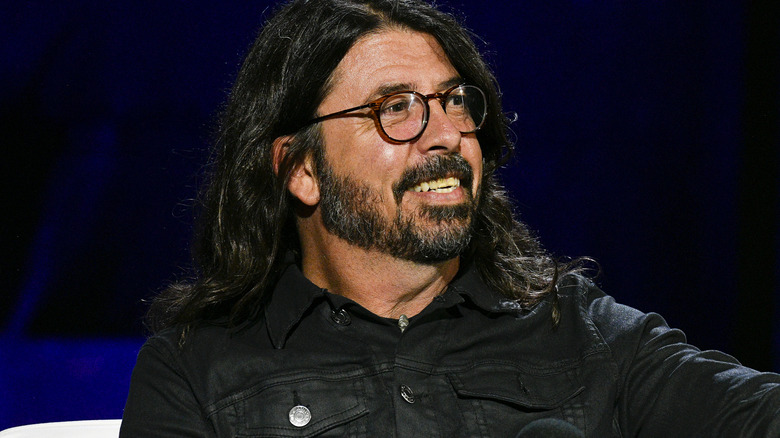 Eugene Gologursky/Getty Images
Imagine, the year is 2015 and you're celebrating the 20th anniversary of your debut record. You're on top of the world! And that's what Dave Grohl was, both physically and metaphorically. During a Foo Fighters concert in Sweden, Grohl ascended the mountaintop of rock superstardom (well, really, it was a fancily-designed throne made of guitars, courtesy of lighting director Dan Hadley). But as quickly as he rose to the top, so quickly he fell.
During the show, Grohl took a nasty bump to the ground and broke his leg. The band was only two songs into their set when the accident occurred, but Grohl was determined to not let the crowd down. "I think I really broke my leg. So look! You have my promise, right now, that the Foo Fighters... we're gonna come back and finish the show. But right now [...] I'm gonna go to the hospital. I'm gonna fix my leg, but then I'm gonna come back, and we're gonna play for you again. I'm so sorry," Grohl told the crowd (via Ultimate Classic Rock).
Thankfully, he didn't have to go to the hospital. Instead, in true badass fashion, Grohl soon returned to the stage with a casted leg and continued playing. "I may not be able to walk or run but I can still play guitar and scream," he stated. He would go on to soldier on throughout the band's 20th-anniversary tour — broken leg in tow.
Dave Grohl says he 'didn't feel a thing' when he broke his leg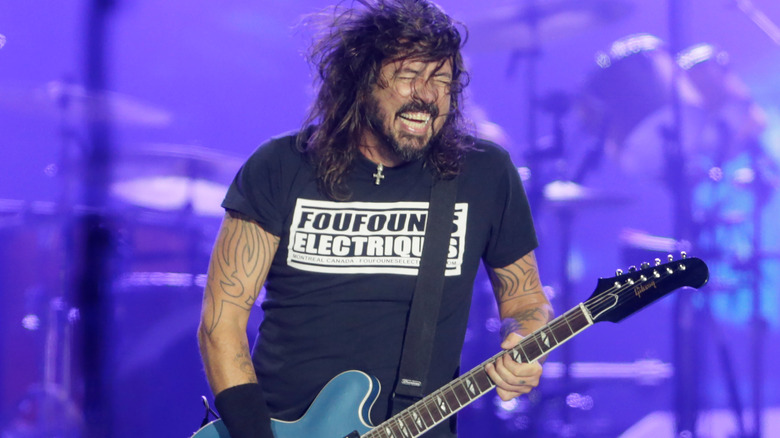 Antonio Scorza/Shutterstock
Imagine being on such an adrenaline high that you don't realize you broke your own leg! Well, sure enough, that was the boat Dave Grohl was in following his 2015 stage fall. "When it happened, I didn't feel a thing. I tried to get up and walk and my ankle collapsed under my weight," Grohl told Entertainment Weekly just one month after the accident.
"I just fell back to the ground and looked up at my road crew and said 'It's broken. It's gone,'" he further added. The fall occurred just two songs into the set, and with 26 songs scheduled and 52,000 fans awaiting their performance, Grohl knew he had to act quickly. He detailed the paramedic's response, stating, "They pulled me to the side of the stage and the doctor said, 'Your ankle's dislocated and I have to put it back into place right now.' They put this roll of gauze in my mouth and I screamed ... and they put my ankle back into place."
When asking if he could return to the stage, he recalled, "My paramedic doctor said 'I have to hold your ankle in place,' and I said, 'Well, then you're coming on f***ing stage with me right now.' And he did." Unfortunately, Grohl found himself in a similar position when he fell off the stage once more in 2019 after chugging a beer. Ouch!