Who Are Colin Powell's Children?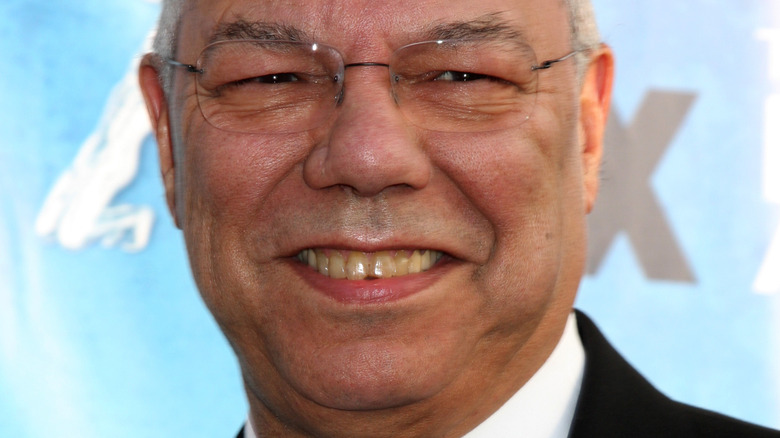 Kathy Hutchins/Shutterstock
Tributes for Gen. Colin Powell dominated the news after his death on October 18. Powell's family announced his death via Facebook: "We have lost a remarkable and loving husband, father, grandfather and a great American." The former U.S. Secretary of State and Chairman of the Joint Chiefs of Staff died of complications due to COVID-19. According to The New York Times, Powell was married to his wife Alma for almost 60 years. The couple shared three children, Michael, Linda, and Annemarie, per The Sun.
Although Powell was vaccinated against the coronavirus, his aide Peggy Cifrino told the Associated Press the 84-year-old was immunocompromised. Powell received treatment for multiple myeloma, a blood cancer, which hinders the ability to fight off infection. Known for remaining true to his principles, the Republican made history by endorsing Barack Obama in 2008 over GOP candidate John McCain. Obama paid tribute to Powell on Instagram: "At a time when conspiracy theories were swirling, with some questioning my faith, General Powell took the opportunity to get to the heart of the matter in a way only he could ... He understood what was best in this country, and tried to bring his own life, career, and public statements in line with that ideal." 
Secretary of Defense Lloyd J. Austin III told C-SPAN "Alma lost a great husband and the family lost a tremendous father. I lost a tremendous personal friend and mentor ... I feel as if I have a hole in my heart." So, who are Powell's children?
Colin Powell's daughters followed a different path
Gen. Colin Powell and his wife Alma shared three children during their marriage of almost 60 years: Michael, Linda, and Annemarie, per Biography. On October 18, Powell's daughter Linda shared a childhood photo on Instagram, showing her family sitting together. Linda wrote, "This was us. My family thanks you for all your thoughts and prayers." The Powell daughters work in the entertainment industry, while their brother, Michael, has spent his life in politics and public service, much like his father.
Linda doesn't work in politics, but she does play political roles on TV. The daughter of the former U.S. Secretary of State played FBI Director Amelia Banks on "Madam Secretary," per Entertainment Weekly. Linda has also had recurring roles on the D.C. drama "House of Cards," "Chicago Fire," "Dopesick," and many more, per IMDb. The other Powell daughter, Annemarie, values her privacy. Not much is known about Annemarie, other than she works as a producer, per IMDb. Her credits include "Soaps' Most Unforgettable Love Stories" and "Walt Disney World's 25th Anniversary Party," with her last IMDb credit dated 2009.
According to The History Makers, Michael Powell served in the military. President George W. Bush appointed Michael to be the Chairman of the FCC (Federal Communications Commission) in 2001. In 2004, Michael received criticism from Howard Stern about his FCC appointment. Still, Secretary of State Powell clapped back at the shock jock: "My son is an enormously qualified individual, and I think he has served ... with great distinction," per CNBC. After the FCC, Powell's son went on the work for National Cable and Telecommunications Association.