Meghan Markle's Father Earns A New Nickname After Latest Interview
Meghan Markle's father, Thomas Markle, gave yet another interview about his daughter and her family on the October 19 episode of "Good Morning Britain." Thomas, who has been speaking to the press regularly since his daughter got engaged to Prince Harry (and maybe even before that), said that he felt that the disconnect between him and his daughter is "silly" at this point (via YouTube), calling the lack of communication on Meghan's part "childish." Thomas maintains that he will continue doing interviews until his daughter reaches out to him; the two have not spoken since before the royal wedding in 2018. "It's time to talk with each other, we're family. The kids are going to grow up without knowing they have two families. This is more than just me and my daughter now — this is me, my daughter, her husband and two babies. So it's time to do something. To talk," Thomas said.
Thomas' latest interview made headlines across major news publications after he said that everything his daughter and her husband do is for money. He went on to slam Harry for "abandoning" the queen. "All he does now is ride a bicycle around the neighborhood... I don't know if it's much of a life for him either. It doesn't make sense," Thomas said on "Good Morning Britain." Shortly after the interview aired, Thomas earned himself a new nickname. Keep reading to find out what people are calling Thomas — and why.
Thomas Markle is being slammed on Twitter following his interview with Good Morning Britain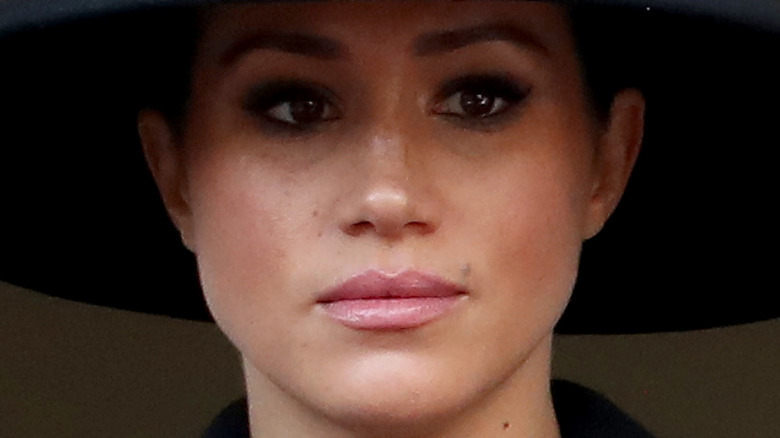 Chris Jackson/Getty Images
Perhaps unsurprisingly, Thomas Markle received a ton of negative feedback following his appearance on "Good Morning Britain," and one social media user gave him a new nickname — "deadbeat dad," according to Newsweek. "Thomas Markle must be desperately broke...again. What a deadbeat dad attacking his child for profit [and] notoriety. Shameless...Meghan Markle is right to cut him off from her kids' lives," tweeted UK-based Shola Mos-Shogbamimu, an anti-racism activist. Meanwhile, best-selling author Claire Allan accused Thomas of "gaslighting." 
"I see [Good Morning Britain] is allowing Thomas Markle to gaslight the hell out of Meghan Markle again. What [Thomas] is doing amounts to coercive control...A loving father does not go on TV to badmouth his child," she tweeted following the interview. And the tweets have continued pouring in. UK-based writer Mike P. Williams called Thomas an "utterly vile individual," in a tweet, while TV host Benjamin James also tweeted that Thomas is "gaslighting" his daughter in these interviews. Podcaster Sophie Eggleton called Thomas' actions "harassment/emotional blackmail," in a tweet. Regardless of the feedback, we're sure this isn't the last interview Thomas will do.