Meghan Markle's Estranged Father Has Something To Say About Her Time 100 Cover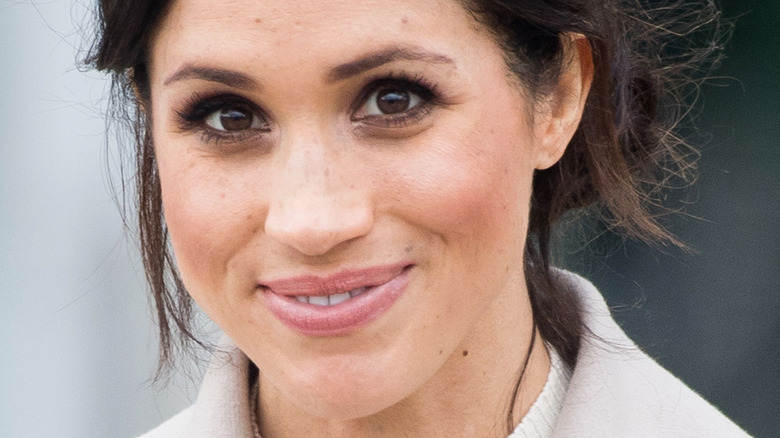 Naresh777/Shutterstock
We may receive a commission on purchases made from links.
When Meghan Markle and Prince Harry make headlines, it's a given that Thomas Markle will weigh in. There are dysfunctional families, and then there is the Markle family. Meghan's dad Thomas never misses a chance to make himself part of the news about his daughter; since the royal wedding, Mr. Markle has seemingly been on a quest to get his 15 minutes of fame.
When the Duke and Duchess of Sussex welcomed their daughter Lilibet Diana to the world on June 4, Thomas ruined the happy moment by booking an interview with Australia's "60 Minutes." According to The Daily Mail, Lilibet's grandpa tries to play the victim card when it comes to the relationship with his daughter. Thomas told The Daily Mail, "I'm not an axe murderer. I made one dumb mistake and I've been punished for it ... they [Meghan and Harry] talk about compassion, there's no compassion for me."
Poor Meghan and Harry, right? When Thomas takes a break from trying to steal the spotlight, the Sussexes have to worry about Meghan's siblings. Her half-sister Samantha Markle and half-brother Thomas Markle Jr. have turned their sister's fame into a cottage industry. In 2021, Samantha wrote a book, "The Diary of Princess Pushy's Sister Part 1," while Meghan's brother Thomas Jr. is starring on the Australian reality TV show "Big Brother VIP." If you want to cringe read Thomas's latest comments about Meghan and Prince Harry, keep scrolling.
Thomas Markle thinks there are 'far more influential people' than his daughter
Most fathers would be proud that their child made the cover of Time magazine, but Thomas Markle isn't like most fathers. So naturally, Meghan Markle's father had to tell the world his two cents about the Time100 cover. According to Fox News, Thomas is not "impressed" that his daughter Meghan and her husband Prince Harry were named part of the Time100 list of the world's most influential people. Fox News showed a video of Thomas at a Los Angeles newsstand; when Meghan's dad was asked why he didn't buy the Time100 edition of the magazine, Thomas said, "Well that is only Time magazine's opinion, there are far more influential people, like the queen." Sure, Jan.
Meghan and Prince Harry were honored for their activism and philanthropy by their friend chef José Andrés, who is considered a hero in many circles for his work. Other people named to the Time100 list include Olympian Simone Biles, superstar and vaccine investor Dolly Parton, and Russian dissident Alexei Navalny, to name a few. In his essay about the couple, chef Andrés wrote, "They turn compassion into boots on the ground through their Archewell Foundation. Hand in hand with nonprofit partners, they take risks to help communities in need."
As mentioned, most fathers would be over the moon, but Meghan's estranged father isn't like most dads. Thank goodness Meghan has her mother Doria.