Hugh Jackman's Throwback Photo Is Melting The Internet's Heart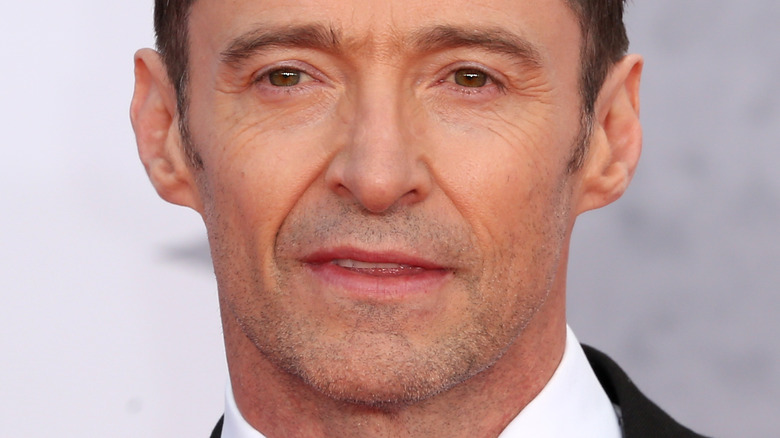 Cubankite/Shutterstock
There are a few people in this world that actually get more charming and lovable the more they post to social media, and is anyone really shocked that one of those people is beloved Australian actor Hugh Jackman? For seemingly no particular reason at all, Jackman took to Twitter on Thursday to post one of his own childhood photos with his grandma and it has the internet collectively squealing. Not only was Jackman the cutest little squish, but his message about the photo was seriously heartwarming. 
It's not the first time recently that Jackman has shared a sweet photo referencing his family. In August, the actor posted a photo to his Instagram of himself with his arm around his mom, captioned simply, "Mum." But the warm and fuzzies really dial-up when you learn the backstory. Jackman and his mother didn't always have a close relationship, as she had left him and the family when he was just eight years old. It took a long time, but Jackman and his mother eventually reconciled, as he learned that she had been suffering from untreated post-natal depression, as he explained to The Australian Women's Weekly. And now, back to the latest post that has everyone gushing.
Hugh Jackman's baby photo is adorable
Over on Twitter, Hugh Jackman posted a black and white baby photo of himself and his mother on October 21, writing, "My Mum sent this photo to me last week. Grandma Agnes dressing me for my baptism. February 2, 1969. I will treasure it always." The photo shows a baby Jackman — with the biggest smile you've ever seen on an infant — in the arms of his grandmother, who appears to be tickling his chin. The internet, predictably, is loving it. 
Some tweeters reacted with the sad eyes emoji, while actor Daniel Logan wrote, "Adorable!". A few others made the not completely inaccurate observation that Jackman's grandma looks a very small amount like another famous action star. "I deada** thought that grandma was Liam Neeson. Nice picture tho," one person wrote, along with a thumbs up emoji for emphasis. Another user joked, "I actually refuse to believe Hugh was ever a baby like no sir you were created in god's image and zapped into existence at age 30." 
All kidding aside, we can all agree the photo is a beautiful snapshot of a clearly happy baby and his equally joyous gran. In conclusion: Aww!