Everything We Know About The Director Alec Baldwin Injured On Set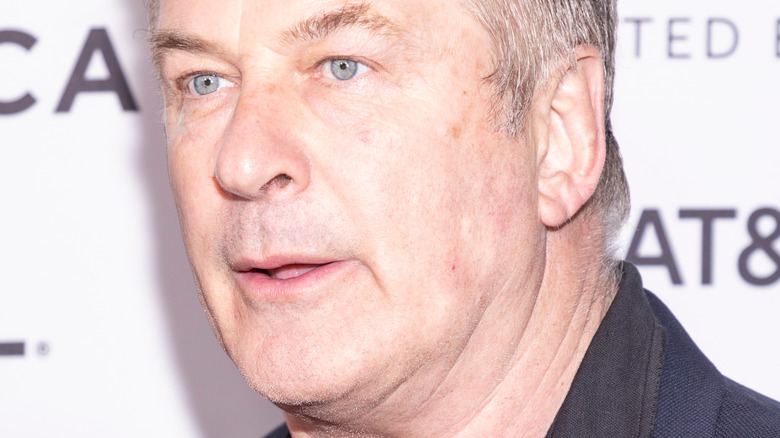 Sam Aronov/Shutterstock
Alec Baldwin is known for his frequent — and sometimes violent — outbursts, but his most fatal incident seemingly occurred entirely by accident. While filming his latest film "Rust," the famed actor was handling a prop firearm when it went off, killing the film's cinematographer, Halyna Hutchins, and injuring the director, Joel Souza, per the New York Post. According to Showbiz 411, Baldwin — in a state of shock — kept asking why he was handed a gun with live ammunition instead of blanks. "In all my years, I've never been handed a hot gun," he reportedly said.
Understandably, production was immediately halted, and it's unclear if the project will ever be finished. "Rust" was a low-budget production, with a total budget of less than $6 million, per Showbiz 411. Aside from its stars, Baldwin and Frances Fisher, its key figures are independent filmmakers instead of Hollywood big shots, per IMDb. So who is "Rust" director Souza, and what else has he done?
Joel Souza wrote and directed Crown Vic, which Alec Baldwin also produced
According to IMDb, Joel Souza is a filmmaker based not in Hollywood, but in the San Francisco Bay Area. His first feature film was "Crown Vic," which premiered at the Tribeca Film Festival in 2019. Per the festival's website, the film depicts one crazy night in the lives of two partner cops, one a veteran, the other a rookie. Alec Baldwin is also credited as a producer on this film.
Souza and Josh Hopkins, one of the stars of "Crown Vic," sat down with U Interview in 2019 to discuss the film. Hopkins noted that unlike most directors, Souza was open to following the actors' leads and adapting his vision as things unfolded in rehearsals. "A lot of directors wouldn't come off their plan ... For [Souza] to do that, that's a huge strength in a director," he said. "To be like, 'I'm going to throw everything out the window. This is better storytelling.'"
The Numbers reports that "Crown Vic" had a budget of $3.6 million. It's unclear exactly what the budget was for "Rust," but it makes sense that it was higher, considering the success of Souza's previous flick.