How Tall Is Kelly Ripa?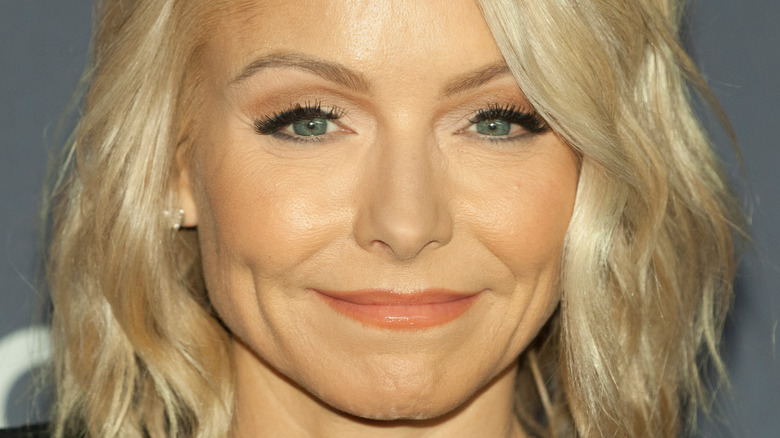 lev radin/Shutterstock
Kelly Ripa is someone who takes immense pride in staying healthy and fit, especially considering that she is someone who is always in front of the cameras. In a 2020 interview with Good Morning America, the "Live With Kelly and Ryan" host said that with each passing birthday, she realized just how important it was to take care of herself, both inside and out. She said, "I definitely think that when I turned, I would say like 45, I noticed that things I did mattered more — whatever I did, the recovery time was longer. If I exercise the recovery time was longer, if I went out dancing with my friends and I stayed out till three in the morning, the recovery time from that was significantly longer."
But of course, that hasn't stopped Ripa from doing what she loves the most, and that's staying active while also making sure that she is up and ready each day for her morning gabfest in front of the cameras. It's no secret that appearance is often everything in the entertainment industry, so a lot of her fans can't help but wonder just tall she is, considering how petite she sometimes appears in front of her guests. But then again, the camera can be deceiving, right? With that said, here's how tall Kelly Ripa is.
Kelly Ripa knows that appearance is everything, especially in the television world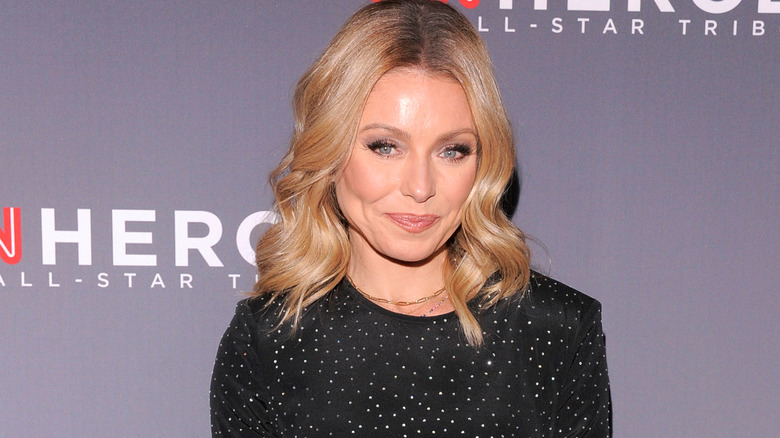 Ron Adar/Shutterstock
Kelly Ripa might not be as tall as some of her guests on her show, but she's certainly not the shortest person in the entertainment industry, either. According to Celeb Heights, Ripa stands at 5 feet and 2-and-a-half inches. And while there are some television personalities who might obsess over looking picture perfect every day that they are in front of the camera, Ripa is not that kind of person. 
In fact, she allows herself to indulge in her everyday sweet treats, just like her fans. Back in 2012, she told Good Housekeeping, "I'm not militant about anything. If there's cheesecake in the house, I'll have some. If I'm in the mood for something, I'll have it. I don't obsess about anything. I could have three or four cheat days in a week and then not have dessert for another three months."
In other words, Ripa is someone who feels very comfortable in her own skin, especially when it comes to who she is. In perhaps the most sound advice ever given by a celeb, Ripa told Bustle in May that your best bet is to always listen to yourself. "Your instinct that you're born with, they call it women's intuition, but I think it's human intuition. Listen to it, because it's not lying to you," she said. Her intuition also told her to clap back at a troll who dared to height shame her husband Mark Consuelos on social media. Here's what happened.
Kelly Ripa is always standing tall, no matter where she is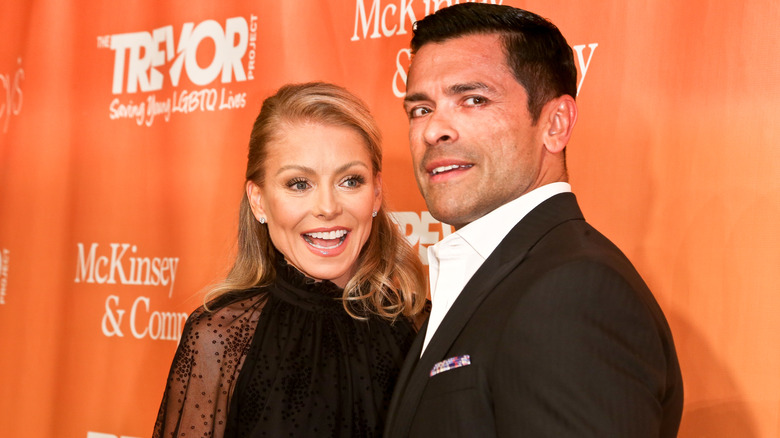 Debby Wong/Shutterstock
Back in 2018, an internet troll woke up and chose to attack Kelly Ripa's husband Mark Consuelos for something that he — and every other human being on this planet — can't control: his height. Ripa made it clear that if there's one thing she won't tolerate, it's seeing her husband height shamed on social media. 
According to Revelist, the Instagram account @commentsbycelebs picked up a burn that Ripa served to one troll after they commented on Consuelos' height. After Ripa shared a throwback photo of the couple from 2008, the troll wrote, "Too bad he's short when he tries to look taller. It looks funny. Just be who you are." That's when Ripa responded with, "He's tall where it counts babe."
In other words, you can always count on Ripa to be the tallest person in the room, especially when it comes to her larger-than-life personality and her ability to always stay on top.