Why The Bachelor's Sean Lowe Called His Wife Swap Episode Totally Fake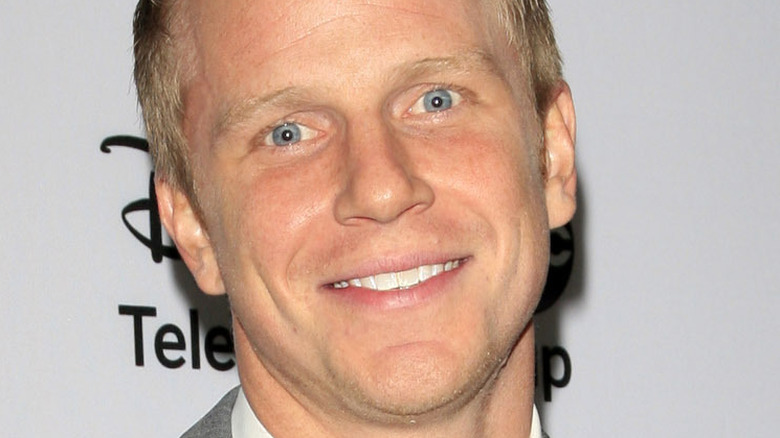 Joe Seer/Shutterstock
Sean Lowe has been a prominent member of Bachelor Nation for years, as he was the first male lead to marry his final rose recipient. Sean was seen as an All-American guy from a close family, who played football in school and was a bit of a prankster. When Sean and his wife, Catherine Giudici Lowe, took part in "Wife Swap" after getting married, it showed what seemed to be a very different side of him. He's since claimed the episode was entirely fake, but why?
Fans first met Sean as he competed for Emily Maynard's final rose during her run as "The Bachelorette" in 2012 and he then headlined Season 17 of "The Bachelor." His journey aired in 2013 and as ABC News noted, he got engaged to Catherine. In January 2014, they got married in a televised wedding. Catherine admitted she didn't initially expect to receive Sean's final rose though. "The first time I met Sean I was suuuper awkward because I was thinking, 'The hottest guy in the entire world won't be into me, there's no way,'" she told D Wedding. "I knew he was way out of my league but I thought he was such a nice, family guy. Blonde, blue-eyed, beefy, genuinely kind with strong values? Diamond in the rough, if you ask me!" she added.
Her perception of Sean was similar to what "The Bachelor" fans saw, but many were left scratching their heads after the couple's "Wife Swap" appearance.
Sean Lowe felt Wife Swap completely misrepresented him
The year after Sean Lowe married Catherine Giudici, they signed up to do "Wife Swap," noted E! News. Catherine traded places with another former "The Bachelor" contestant, Molly Mesnick. Molly met her husband, Jason Mesnick, when he was "The Bachelor" for Season 13 in 2009. Molly didn't receive his final rose, but he ultimately realized she had his heart. The two reunited and got married in February 2010 (per Us Weekly). During Molly's time in Sean and Catherine's home, she found herself stunned by some of what took place.
As Molly's week began, she faced a detailed to-do list. She was directed to iron Sean's socks, cook him bland dinners, and do a lot of deep-cleaning, painting "The Bachelor" star as a demanding man of the house. In addition, Molly faced resistance from Sean as she made him give up his sports car for a minivan. In response to the "Wife Swap" episode, Sean tweeted that Catherine "would scratch my eyes out if I ever gave her a to-do list."
Sean went into more detail in a Patheos post. "I've never written a list of chores for Catherine to do and if I did, I'm pretty sure she would laugh at me," he said. He noted he did most of the cleaning in their home, as he's "the neat freak between the two of us," and he insisted Catherine was not one to stay "at home all day waiting for me."
Sean and Catherine Lowe have moved on
After filming "Wife Swap," Sean Lowe admitted he had been "really bothered" by how he was portrayed (per Patheos). "I was painted as a domineering, selfish, controlling husband – a jerk," the former "Bachelor" star wrote. He added he felt he'd been made to look like "a husband who seemed to only care about himself and not his wife," although he acknowledged he had "no room to complain" as he'd agreed to do the show. He'd hoped "Bachelor" fans would "be able to see through the 'character' they created," insisting he wasn't like that in real life at all.
Luckily, Sean had the support of his wife, Catherine Giudici Lowe, and his "Wife Swap" partner, Molly Mesnick. After the episode aired, Catherine took to Instagram and praised Sean, explaining she'd "been blessed with the most humble, selfless, wonderful husband." She also noted, "TV has been great to us and sometimes it hasn't, but I am always confident knowing @seanloweksu's heart is good."
As for Molly, she detailed on Instagram Sean was "an incredible person who adores his beautiful wife more than anything in the world." Sean and Catherine were able to put that distorted version of themselves featured on "Wife Swap" behind them. In the years since taping the episode, they've welcomed three children — Samuel, Isaiah, and Mia — and seem to have certainly found their groove as a happy family.