Mariska Hargitay's Hollywood Walk Of Fame Star Is In A Meaningful Place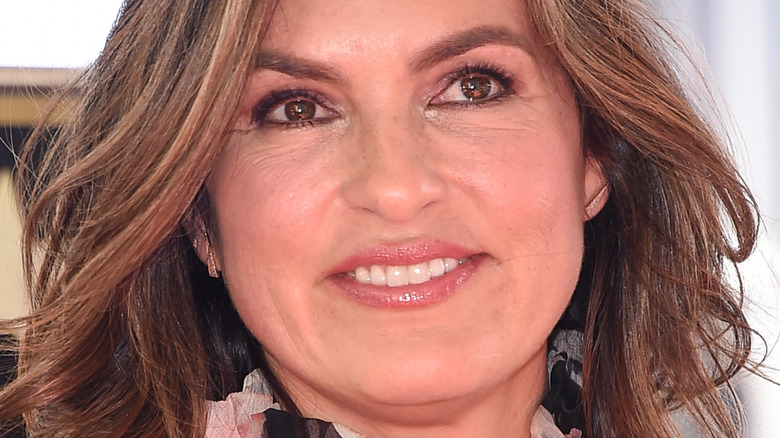 DFree/Shutterstock
Mariska Hargitay has captivated fans as Detective Olivia Benson since "Law & Order: SVU" premiered in 1999. Fans loved Benson and partner Elliot Stabler (Christopher Meloni) bringing bad guys to justice, and Hargitay's role as the iconic detective has worked out well for her. Celebrity Net Worth notes Hargitay is worth $100 million, earning $13 million to $15 million a year from the NBC crime drama.
This year, former "SVU" star Meloni returned for the spinoff "Law & Order: Organized Crime," featuring crossover episodes with Hargitay. Fans went wild, as the chemistry between Hargitay and Meloni is electric. The actors are close friends, with Hargitay telling People, "My father, my husband, [Law & Order creator] Dick Wolf, and Chris are the four pillar men in my life." Meloni might be one of Hargitay's rocks, but many look up to the "SVU" star. 
In May, an 11-year-old Florida girl foiled a kidnapper after watching her favorite TV detective Olivia Benson, per Today. Hargitay wrote the girl a sweet message on Instagram, saying, "Alyssa, first and most important, I am so relieved and grateful to know that you are safe. And I am so honored to be part of your incredible story. You are one BRAVE, Strong and Smart young woman ... With all my love, your number one fan, Mariska."
It's no surprise, then, that the "Law & Order: Special Victims Unit" actor received her star on the Hollywood Walk of Fame in 2013. Here's the meaningful place her star is located.
Mariska Hargitay's Hollywood Walk of Fame star is next to Jayne Mansfield's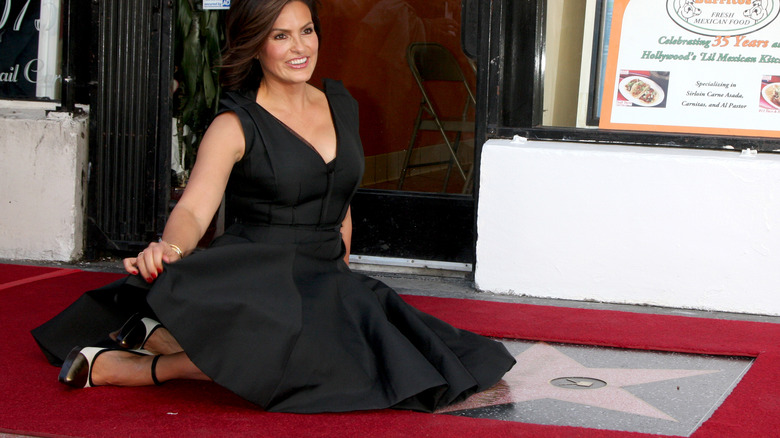 Kathy Hutchins/Shutterstock
Mariska Hargitay's star on the Hollywood Walk of Fame is in a special place: right next to her mother, Jayne Mansfield. The beautiful Mansfield was killed in a car accident in 1967, while Hargitay and her brothers Mickey and Zoltan slept in the backseat, per History. The "Law & Order: SVU" star shared her feelings about her famous mother with People in 2018. "Someone once said about [remembering] my mother: 'All you have to do is look in the mirror,'" she continued, "She's with me still." It's amazing how much Hargitay looks like Mansfield, who rose of fame in the 50s and 60s.
In 2013, E! News reported on Hargitay's Walk of Fame ceremony, as the "Law & Order: SVU" star was praised by peers and friends. "Law & Order" franchise creator Dick Wolf called Hargitay an "icon for millions of women not only here, but all around the world." Friend Hillary Swank said Hargitay's spirit was "something beyond extraordinary." At the event, the "SVU" star said, "I am so moved by you and so grateful to all of you and you're what, as I said, makes today possible."
And while her Hollywood Walk of Fame star is physically close to her mother's, Hargitay feels close to her mother no mater where she is. 
Mariska Hargitay said being a mother makes her feel close to her mom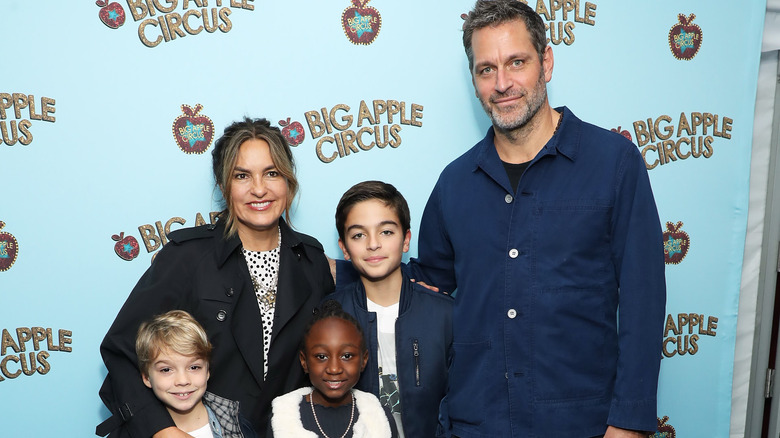 Thomas Concordia/Getty Images
Mariska Hargitay said that motherhood has made her feel closer to her mom, Jayne Mansfield. In a 2018 interview, Hargitay explained to Closer Weekly, "Being a wife and mother is my life, and that gives me the most joy. I understand [my mother] in a new way that gives me peace. Now I understand the love she had in her, and it makes me feel closer to her." Hargitay is married to Peter Hermann, and the celebrity couple share three children: August, Amaya, and Andrew. 
The "Law & Order: SVU" actor told Closer Weekly that losing her mom so young was "the scar of [her] soul." But Hargitay has found a way to heal from the loss of her mother. In 2018, she told People, "The way I've lived with loss is to lean into it. As the saying goes, the only way out is through ... I'm not saying it's easy, and it certainly hasn't been for me. There's been a lot of darkness. But on the other side things can be so bright." The "SVU" actor continued, "My mother was this amazing, beautiful, glamor­ous sex symbol — but people didn't know that she played the violin and had a 160 IQ and had five kids and loved dogs." 
Hargitay added she felt her mom was "so ahead of her time" and an" inspiration." It's safe to say Mansfield would be proud to see all that her daughter has accomplished.