Suits Star Shows A Candid Throwback Photo Of What Spending Time With Meghan Markle Was Really Like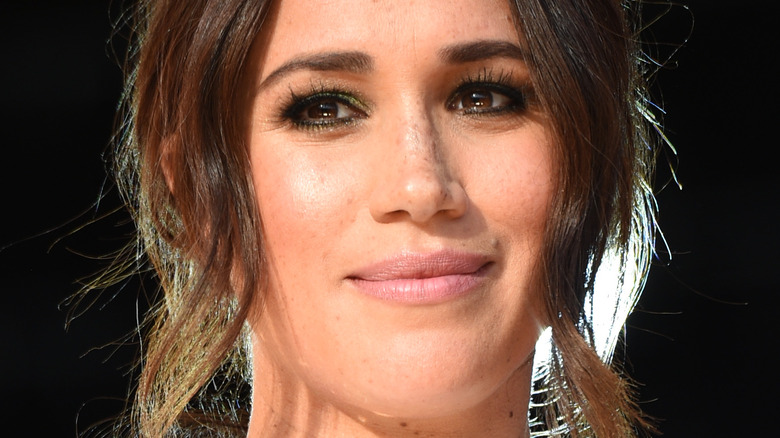 Kevin Mazur/Getty Images
Before becoming a member of the royal family, Meghan Markle was busy cutting her teeth in Hollywood. With small appearances in films such as "Horrible Bosses" and "Get Him to the Greek," the Duchess of Sussex struggled to find her footing in Tinseltown — that is until "Suits" came along. The USA Network series saw Meghan cast in a main role as paralegal Rachel Zane, where she worked from 2011 until her royal entrance in 2018.
After tying the knot with Prince Harry, Meghan's life did a complete 180 when she was thrust under the eyes of British media. Now a member of the royal family, every one of Meghan's actions was dissected with unbearably intense scrutiny. And despite having a "strong as ever" relationship with Queen Elizabeth, both the Duke and Duchess of Sussex eventually chose to step away from their royal duties, moving halfway across the world to suburban California in the process.
But before the royal limelight, Meghan was just another actor trying to make her way in Hollywood. In fact, former "Suits" co-star Rick Hoffman is now peeling back the curtain on what Meghan was truly like before becoming a duchess.
'Suits' star Rick Hoffman reflects on the 'Good ol days' with Meghan Markle
Taking to Instagram in late October, former "Suits" actor Rick Hoffman shared a sweet throwback alongside the Duchess of Sussex and former co-star, Meghan Markle. In the photo, the two are seen drinking wine during a night out in the city, which Hoffman refers to as the "Good ol days." Hoffman is seen sporting a black leather jacket and cap while Meghan sported a black turtleneck. And while it wasn't divulged what was so funny, Meghan is seen laughing up a storm in the flick — perhaps due to Hoffman's shenanigans.
Hoffman wasn't the only person whose life was touched by Meghan. Amidst allegations of bullying at the hands of the duchess, many of her "Suits" co-workers stood up to defend her — including executive producer Silver Tree. In a series of tweets, Tree said of Meghan: "She is one of my very nearest and dearest. Like all her friends I love her madly. She is the friend who insists on always hearing the details of your life, your day, your kids life, your kids day, before hers. Always before hers." In another tweet, Tree wrote, "She's not a headline. She's my friend. I love her," which Hoffman ultimately "liked." Even if things have changed a lot since "Suits," Meghan's former co-workers clearly still have her back.