Why Hilaria Baldwin's Latest Social Media Post With All Of Her Children Is Causing Such A Stir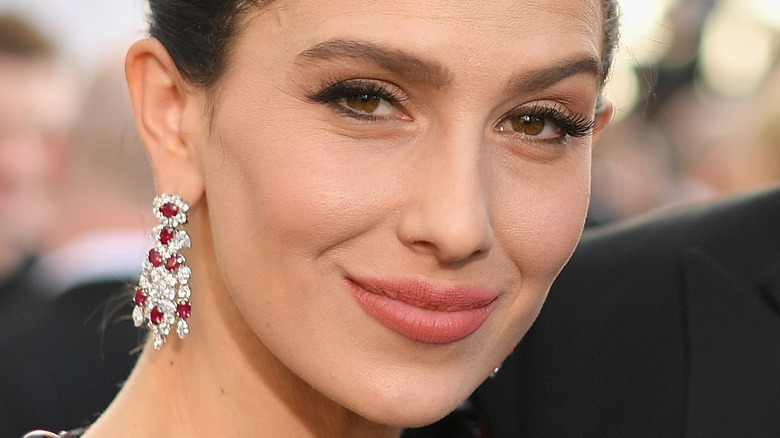 Mike Coppola/Getty Images
Following the news that Alec Baldwin shot and killed the director of photography Halyna Hutchins on the set of his film, "Rust," he reconnected with his wife Hilaria Baldwin and their family in Vermont. According to the New York Post, a reporter from Backgrid caught up with the Baldwins and conducted an impromptu interview while on the side of a road near Manchester, Vermont. With his wife Hilaria standing beside him and filming everything on her cell phone, Baldwin explained, "There are incidental accidents on film sets from time to time, but nothing like this. This is a one in a trillion episode, a one in a trillion event." Baldwin also added that he and Hutchins were friends: "When I arrived in Santa Fe to start shooting, I took her to dinner. We were a very, very well-oiled crew shooting a film together when this horrible event happened."
Hutchins died of her gunshot wounds while Joel Souza, the director of the film, was also wounded but later discharged from the hospital. Given the tragic events, a lot of critics are slamming Alec's wife Hilaria for posting a photo on social media. And it's not the content of the photo that is bothering people, but the timing of it. Here's the deal.
Hilaria Baldwin wasn't about to cancel Halloween for her kids
Critics on social media are slamming Hilaria Baldwin for posting "happy family photos" of her and Alec Baldwin and their six children dressed up in Halloween costumes, according to the Daily Mail. The photo was posted a mere ten days after Alec shot a prop gun on the set of his movie that killed Halyna Hutchins. Hilaria shared several photos of her children in her Instagram post, along with one of a smiling Alec dressed up, and captioned it with, "Parenting through this has been an intense experience, to say the least. Today, we rallied to give them a holiday. Last min costumes...a little hodge-podge...but they were so happy and that warmed my mama heart."
Naturally, critics are calling the post "inappropriate and tasteless," seeing how Halyna's husband Matthew Hutchins and her son Andros are still mourning her loss. While Alec and Hilaria are celebrating Halloween with their children, Halyna's father Anatoly Androsovych told The Sun that his grandson Andros "fell silent for two days" after hearing the news that his mother had died. "Matt was really worried because the boy withdrew into himself and couldn't say a word for two days," he told the outlet. "This tragedy has wrecked a beautiful perfect family – everyone who knows them is destroyed by sorrow." No word — or Instagram post — on how the Baldwins feel about that.