What Were Halyna Hutchins' Last Words?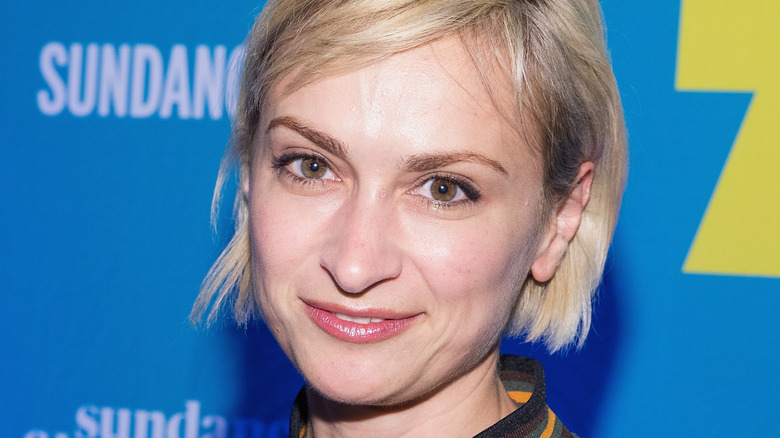 Mat Hayward/Getty Images
This article contains mentions of violence.
Alec Baldwin became the focal point of an on-set tragedy when a gun he used for a Western movie — that was not supposed to have live ammunition — fired a live round and killed cinematographer Halyna Hutchins. Leading up to the fatal incident, Baldwin was reportedly adamant about keeping the working conditions as safe as possible. "Alec was pretty concerned about safety on set," a camera technician told the Los Angeles Times. "He wanted to know where I would be standing when he drew his gun," the film crew member said. "I told him I was going to be standing in a different place, and he said, 'Good.'"
Being involved in the tragic accident had an understandably devastating effect on Baldwin. Besides a statement on Twitter, the actor had been mostly quiet about the incident and retreated to Baldwin, Vermont with his family to find some peace. The "Glengarry Glen Ross," actor decided to address a group of paparazzi on October 30 in hopes that they would relent. Baldwin revealed that he considered Hutchins a friend. "It's an active investigation in terms of a woman dying. She was my friend. She was my friend," he told reporters (via CBS News). "The day I arrived in Santa Fe to start shooting, I took her for dinner with Joel [Souza] the director."
Now, first-hand accounts from the crew members that were present for Hutchins' final moments are being released. 
Halyna Hutchins immediately knew the injury was serious
Anthony Harvey/Getty Images
On October 31, the Los Angeles Times released an article that featured interviews with multiple crew members who were present when Halyna Hutchins was fatally shot. "I guess I'm gonna take this out, pull it, and go, 'Bang!'" Alec Baldwin said to the film crew as he did a walkthrough of the shootout scene. The Colt .45 was supposed to be filled with blanks, but it discharged a live round which hit Hutchins directly in the chest, and also caught director Joel Souza in the shoulder. "What the f*** was that? That burns!" Souza shouted after being struck.
According to the Daily Mail, who cited the LA Times, Hutchins fell into the arms of electrician Serge Svetnoy, and told him, "I can't feel my legs." He immediately recognized the injury was serious. "Oh, that was no good," Svetnoy, said. "No. That was no good. That was no good at all," Hutchins replied. She died hours later.
Souza was devastated by the death of his cinematographer and collaborator. "I am gutted by the loss of my friend and colleague, Halyna," he told Deadline. Speaking to the recent throng of reporters (via CBS News), Baldwin revealed that Hutchins' husband was also inconsolable. "I met with her husband Matthew and her son ... The guy is overwhelmed with grief," Baldwin said. The actor revealed that he and his wife, Hilaria Baldwin, were "in constant contact with him cause we're very worried."