The Truth About Elton John's Songwriting Partner Bernie Taupin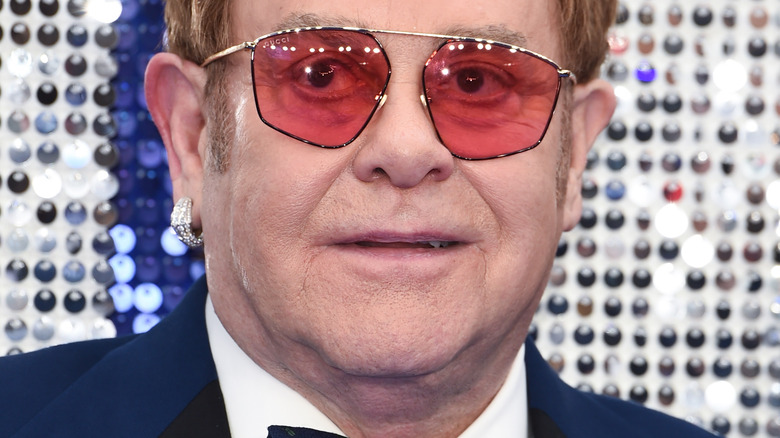 Featureflash Photo Agency/Shutterstock
Elton John has written his name in music history — not only thanks to his talent as a composer and a pianist but also to the skillful showmanship he displays on stage. His colorful persona — paired with the catchy tunes he has been putting out for more than half a century — has earned John a spot among the world's best-selling artists, as Forbes noted. In his 50-plus years in the industry, John has sold more than 300 million records worldwide, per the outlet. Interestingly enough, "Candle in the Wind 1997," the song John revamped in honor of his friend Princess Diana, is his all-time best-selling single, with more than 33 million copies sold, per Collider. 
John's massive success earned him a long list of awards, including two Oscars, six Grammys and a Tony — and also a knighthood from Queen Elizabeth II in 1998, which makes him a "sir." 
Key (no pun intended) to his success was lyricist Bernie Taupin, with whom John has been collaborating since the beginning — a partnership that has produced more than 30 albums, per Forbes. In 1992, John and Taupin were inducted into the Songwriters Hall of Fame together. "Elton's readily identifiable melodic piano style has proven to be a perfect accompaniment to Bernie's razor sharp lyrics about relationships and living on the edge of life both in good and bad times," songwriter Jimmy Webb said of the pair. Here's more on their partnership.
Elton John and Bernie Taupin responded to the same ad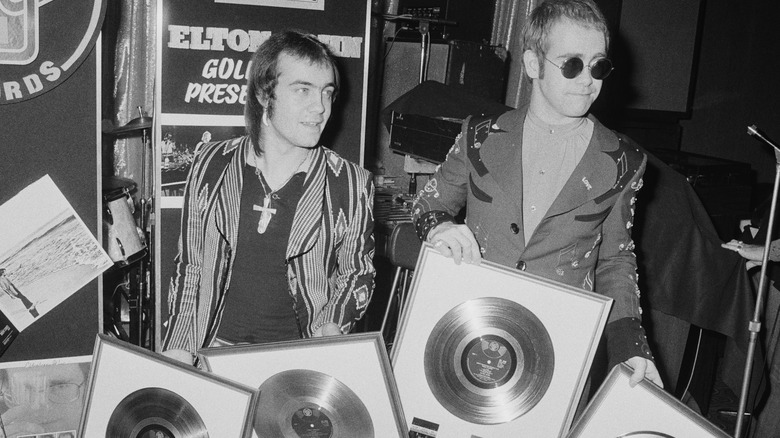 Michael Putland/Getty Images
In 1967, when Elton John still went by his given name Reginald Dwight, he responded to an ad Liberty Records had placed in the "New Musical Express" searching for songwriters and musicians, according to Billboard. Bernie Taupin responded to the same ad. They were partnered up and began writing songs for Dick James Music, Billboard detailed. Thanks to a magazine ad, one of the industry's best-selling duos were born! 
Taupin grew up in a household where love for literature flowed. In a 2011 interview with Esquire, Taupin explained that his maternal grandfather was a literature teacher, a passion that was passed down to his mother. "When I was about ten or eleven, I could recite Macaulay's 'Lays of Ancient Rome," he said. Taupin's way with words was perfect for John, who found little trouble finding the perfect piano melodies for them. "The way we write songs is unusual. He gives me a piece of paper. [His] lyrics come first. I put my hands on the keyboard and go from there," John said on-stage in 2018, according to Forbes.
In contrast with John's exuberance, Taupin seems to have a tendency for self-deprecation. "Don't call my lyrics poetry. It's an insult to real poets," he told Esquire.
Bernie Taupin described their songwriting partnership as a 'non-sexual love affair'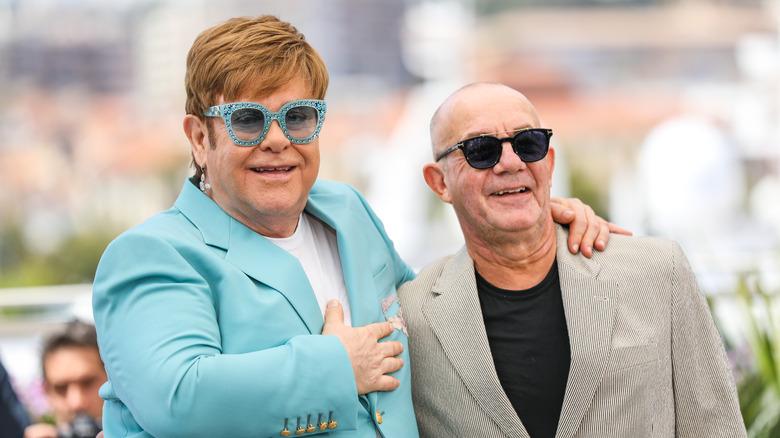 taniavolobueva/Shutterstock
Bernie Taupin hails from Lincolnshire, a British working-class county in the East Midlands. "Lincolnshire is the Idaho of England. You were either going to drive a tractor for the rest of your life or head for the city to work in a factory," he told Esquire in 2011. Those were the choices he felt he had when he saw that fateful ad. Taupin was no musician. In fact, he had no musical knowledge whatsoever. "Answering a magazine ad placed by a new record company looking for talent was a form of desperation," he told the outlet. "I had no concept of a bridge or a chorus," he added. And yet, he got a callback. 
Yet, self-depreciation seems to be at play here too, as Elton John has often said he would be nowhere without Taupin. "Our relationship is better than ever in a difficult business. I'm deeply grateful for that," John said in 2018, per Forbes. In a 2019 TIME interview, Taupin described his relationship with John as a "non-sexual love affair." Ha!
Having been partners since their non-famous days, Taupin and John have been through a lot. Early on, they lived with Taupin's mother, sharing a room equipped with a bunk bed, according to Time. "When Elton and I started out, we were literally kids. Then we became young adults. Then we became adults. Now we're old men. But old men with distinctly young ideas," he told Esquire.