The Strange Connection Tommy Lee Has To John Travolta Revealed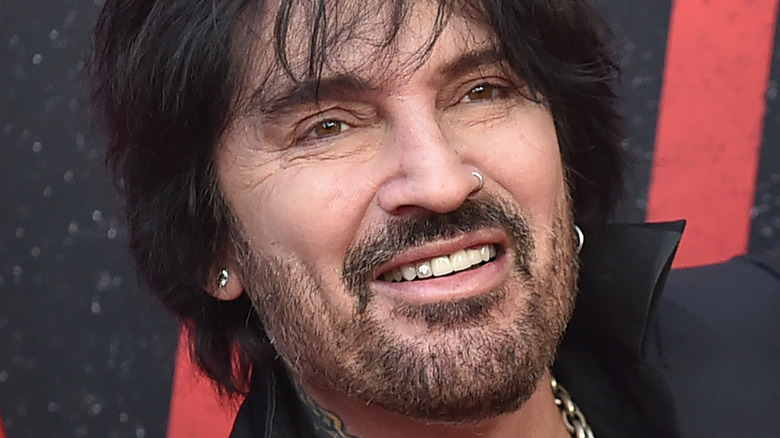 DFree/Shutterstock
When it comes to Tommy Lee, it seems as if he's reinvented himself as the modern-day "Dr. Feelgood." As the Mötley Crüe drummer, Lee has embodied the lifestyle of a true rockstar over his four-decade career. In starting Crüe, Lee helped usher in a new era of heavy music known as glam metal — a genre codified by spandex, boisterous hairstyles, androgynous attire, and high-octane, guitar-driven leads.
Alongside contemporaries in Skid Row and Twisted Sister, Mötley Crüe marked a definitive sound of the 1980s — with Blabbermouth noting their "legacy and influence in the global music scene cannot be underestimated." To this day, the sounds of Mötley Crüe are still revered by metalheads and '80s purists alike. But as their heyday came to an end (that darn grunge music!), members Nikki Sixx, Mick Mars, Vince Neil, and Lee all found themselves on diverging paths — despite the band still remaining together (barring a brief 2015 hiatus).
Sixx would go on to form Sixx A.M.; Mars would remain active musically; Neil, unfortunately, would become an easy target for metal publications. Lee, though? He's found an interesting hobby, which strangely has tied him to Hollywood legend John Travolta. Here's how.
Tommy 'Chef Boyarlee' Lee's sweet treats have enchanted John Travolta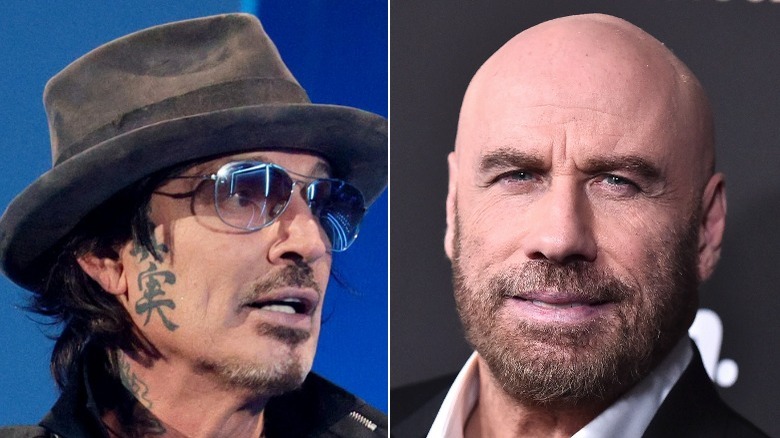 Theo Wargo/Getty & DFree/Shutterstock
Remember when we said Tommy Lee has become the modern-day "Dr. Feelgood?" Yeah, we weren't joking. Under the pseudonym "Chef BoyarLEE" (clever!), the Mötley Crüe drummer has taken to Instagram to show off his hidden talents of cooking and baking! And after taking a quick gander at his Insta, our stomachs would surely "feel good" (if you're not tired of this joke already) after devouring his delectable concoctions.
Things took an interesting turn, however, when it was revealed that Lee has some A-list support from the unlikeliest of sources. John Travolta was revealed to be a huge fan of Lee's culinary creations, as evidenced in a TikTok uploaded by the musician. In the video, Lee shows off a text thread between him and the "Grease" star, the latter of whom inquired, "Tommy can you send me that peanut butter Chico [sic] chip cookie recipe you have." Lee complied.
Travolta was thankful for the recipe (and was met with a swift "You're welcies!!!!!!!" from Lee) and went on to make his own batch. At the end of the video, Travolta was seen asking, "Who would've thought that two superstars would spend their Wednesday nights making brownies and cookies?" Lee chimed in at the end in a separate clip, noting that he and wife Brittany Furlan were also wondering the same thing. Well, we wouldn't have guessed it, but we sure as heck want some of those cookies!