How Tall Is Pete Davidson?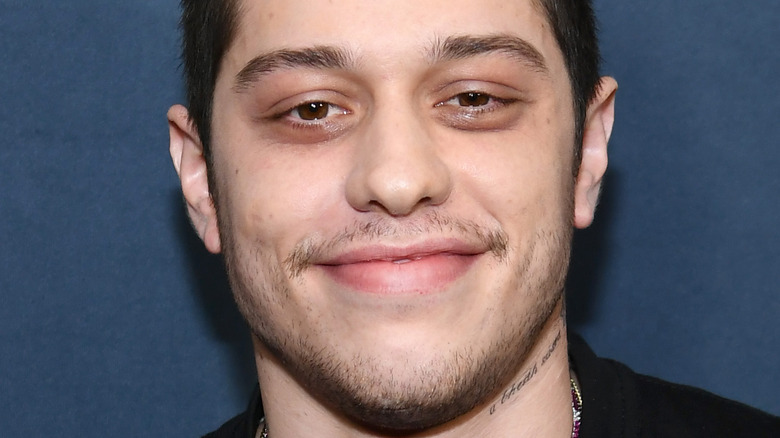 Dimitrios Kambouris/Getty Images
It's a question that many women have to grapple with at one point: "Do I really like him, or is he just tall?" And they're far from the minority. A 2014 study showed that 55% of women preferred taller men, with the researchers noting that possible explanations include feeling protected and safe when with a taller partner. 
Of course, a lot of this heightism could be a hangover from old-timey ideas of masculinity and femininity — with men expected to be dominant providers and women submissive and meek. And yet, for all our societal progression, tall men are still very much in vogue. Case in point: Pete Davidson.
The lanky comedian is known for his considerable height, boundary-pushing jokes, and hilarious "SNL" characters. Oh, and also for consistently being romantically linked to some of the most beautiful and famous women in the world. But just how tall is "The Set It Up" star really? And could his height explain his extraordinary success with women?
Reports on Pete Davidson's height vary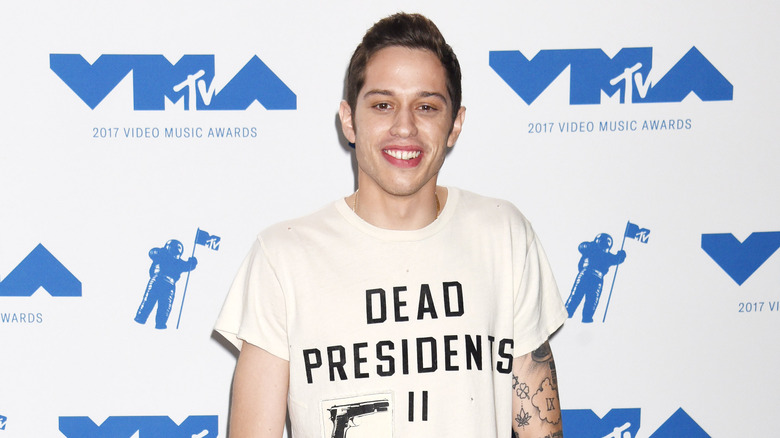 Ga Fullner/Shutterstock
As with all subjects of extreme importance, reports about Pete Davidson's true height vary. His IMDb page lists him as 6-foot-3, but noted expert site CelebHeights measure him at a measly 6-foot-and-1-and-a-half-inches. The most credible source is probably Davidson himself, who confirmed his height as 6-foot-3 in a 2015 "SNL" sketch, remarking that with his lanky frame, "I kind of look like I should be outside a car dealership flapping in the wind."
Though impressive, it's not his height that keeps "The King of Staten Island" actor in the headlines. First thrust into the spotlight for his whirlwind romance (and subsequent broken engagement) with pop star Ariana Grande, he has since been spotted with a number of glamorous female celebs. Rumored partners include Kate Beckinsale, Margaret Qualley, Kaia Gerber, and — shockingly — Kim Kardashian.
So, does Davidson serve as living proof that women prefer tall men? Or does he have a few other tricks up his sleeve?
Pete Davidson being tall isn't his only asset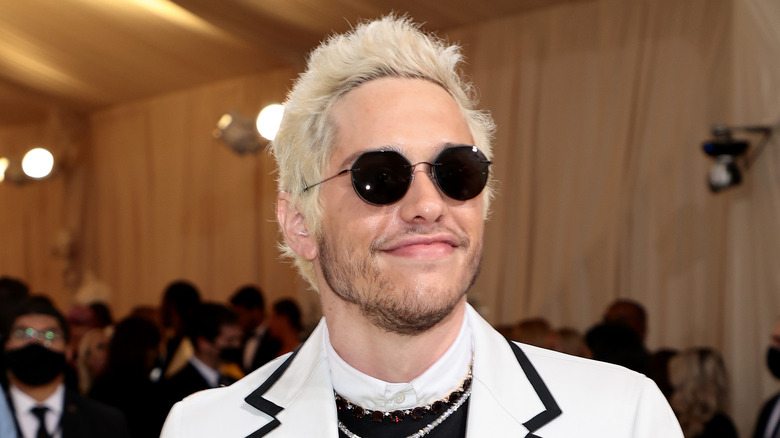 Dimitrios Kambouris/Getty Images
When Pete Davidson was spotted holding hands with Kim Kardashian, as per HollywoodLife, the internet had a complete meltdown. Just what was it about the "Trainwreck" star that made him catnip to gorgeous women? Apart from the possibility that they're all just curious about his ex Ariana Grande's infamous claim about his, ahem, "manhood" (via People), the reasons actually seem pretty simple.
For one, Davidson is clearly very funny. Although they haven't officially confirmed their relationship status, a source close to Kardashian told E! News that she finds him "hilarious," adding that "Kim loves that they just laugh the entire time they are together and she is really enjoying hanging out with him."
Plus, he seems like a decent and generous person. As per BuzzFeed, he bought his mom a $1.3 million Staten Island home in 2016, even living with her before moving out earlier this year. Even his ex, Kate Beckinsale, still appears to hold him in high regard, recently liking an Instagram post that read, "I love how every time Pete Davidson starts dating another beautiful celebrity... everybody refuses to entertain the possibility that he might have a nice personality."
In conclusion, it seems like Davidson has no shortage of height or charm!