Roger Stone Just Issued A Threat To Ron DeSantis. Here's What He Said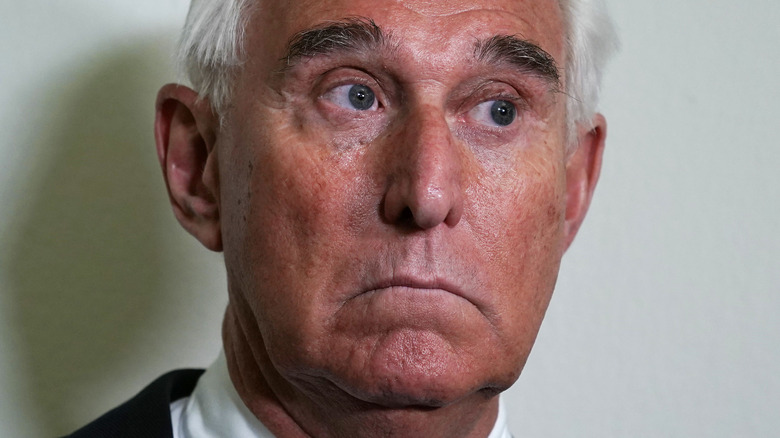 Alex Wong/Getty Images
Is that a threat or a promise?
Conservative politician turned felon and longtime Donald Trump supporter Roger Stone has made it clear that, under no uncertain terms, he expects full and unwavering loyalty from Republican Florida Gov. Ron DeSantis when it comes to the former president. Tensions first started mounting when Stone penned a post on the social network Gab, wherein he demanded that DeSantis essentially do Trump's bidding and call for an audit of Florida's 2020 election results — a state that Trump won, but we digress. "If Florida governor Ron DeSantis does not order an audit of the 2020 election to expose the fact that there are over 1 million phantom voters on the Florida voter rolls in the Sunshine state I may be forced to seek the Libertarian party nomination for governor Florida in 2022 #ByeRon," he penned in the aggressive post (via CNN).
Alas, now it appears he's threatening the Florida governor for an all new reason.
Roger Stone threatened to run for Governor of Florida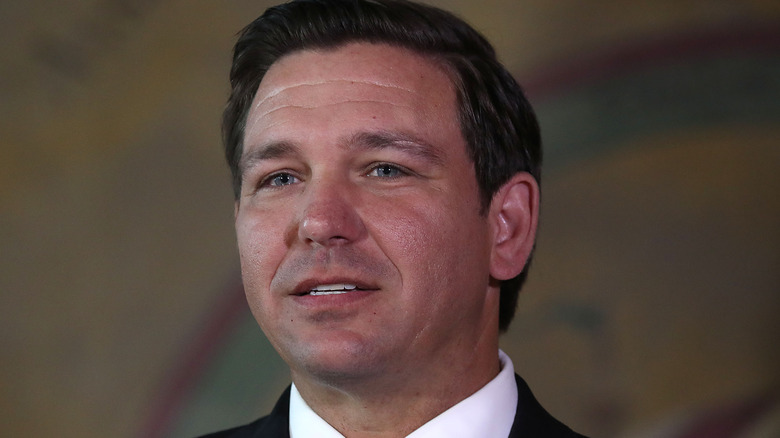 Joe Raedle/Getty Images
Roger Stone, the man whom political consultant George Arzt famously referred to as "the wicked seed who has poisoned the tree of democracy," (via Politico) is now threatening Florida Gov. Ron DeSantis: Run for president in 2024 and prepare for major blowback.
On Friday, November 5, Stone told CBS Miami that, unless DeSantis "pledges" to not run in the 2024 presidential election, he will run against him solely in an effort to steal just enough votes away in his re-election for governor. "It's time for the governor to stand up and talk about the need for former President Donald Trump to be our candidate in 2024," Stone ominously cautioned. When pressed further, Stone claimed that he only had the citizens of Florida's best interests at heart. 
Stone said he believed DeSantis should "pledge to the people of Florida that he will fill out all four years of a second term" before adding, what he didn't want to see "is for him to be reelected and then immediately abandon Florida to run off and run for president, particularly if he's running against Donald Trump." Only time will tell if DeSantis plans to call Stone's bluff...