How Much Is Ron DeSantis Actually Worth?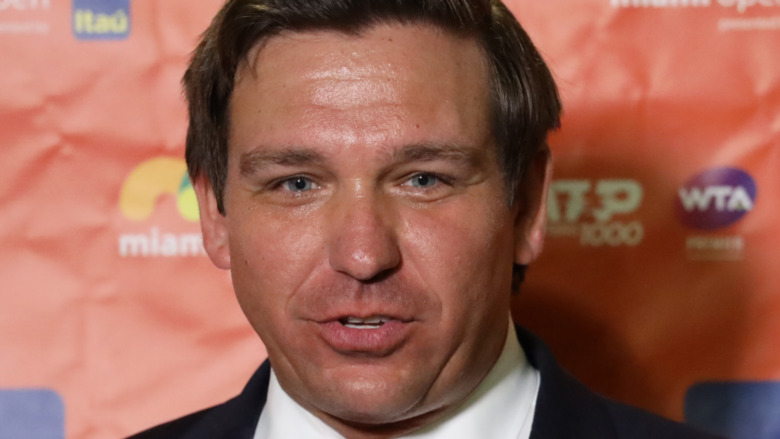 Shutterstock
Florida Governor Ron DeSantis might see the numbers on his bank account increase as he looks toward a potential presidential run in 2024. The 42-year-old has been tapped by former President Donald Trump as a potential running mate for the 2024 election, according to Politico. "He's a friend of mine. I endorsed Ron, and after I endorsed him, he took off like a rocket ship," Trump said in an interview with Maria Bartiromo on Fox Business on April 29, 2021.
Trump added that demand for his VP ticket is high, but that DeSantis "would be considered," because "he's a great guy." DeSantis, on the other hand, has not yet responded to Trump's comments on a potential VP run amidst rumors of him launching his own presidential run, per USA Today.
Talks of DeSantis's presidential run comes at an opportune time for the governor who has been praised by Republicans and some Floridians on how he deviated from other states in handling the COVID-19 pandemic. As USA Today notes, DeSantis's popularity among Republicans has presented him with big-money donors and opportunities to speak at events. These opportunities also mean that DeSantis is getting paid more so how much is he actually worth? Read on to find out.
Ron DeSantis's net worth keeps on increasing
Joe Raedle/Getty Images
According to Tampa Bay Times, Ron DeSantis has a net worth of around $291,449 as the Governor of Florida. The figure was reported by DeSantis himself in 2019, though it has likely increased in the past two years due to an increase in state taxes or income from public events. USA Today reports that governors like DeSantis have no set salary. Instead, they are paid an annual salary with fluctuations. DeSantis has a salary of $130,273 through his four-year term.
In his financial disclosure report in 2019, DeSantis reported his 130K state salary was his only income. His assets, though, included $97,770 in a retirement savings and investment plan, and $205,500 in a USAA Federal Savings bank account, per Tampa Bay Times. DeSantis had invested in a home worth $460,000 but sold it shortly before he filed his financial report.
Considering DeSantis's position as the highest-ranking public official in Florida, there is much potential for this number to grow. We will have to wait and see whether he looks to increase his wealth before his term is over.