Is Travis Scott Still Planning On Releasing A New Album After The Astroworld Disaster?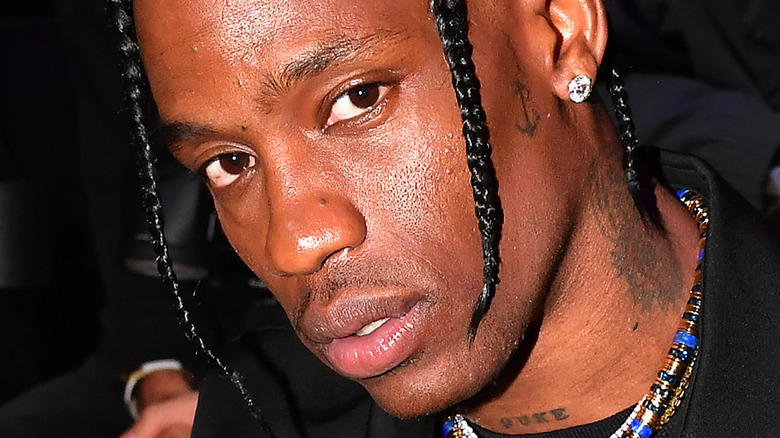 Jeff Kravitz/mtv Vmas 2021/Getty Images
Travis Scott is considered one of rap's biggest stars and, looking at his resume, it comes as no surprise. As of this writing, the "SICKO MODE" hitmaker has earned himself eight Grammy Award nominations, two No. 1 albums on the US Billboard 200, and four chart-topping singles on the Billboard Hot 100.
However, Scott, who is expecting his second child with reality star Kylie Jenner, has made headlines for things besides his music, too. On November 5, eight people were killed and hundreds were crushed in the crowd at his Astroworld Festival in Houston. According to BBC, one of the fans in attendance, Kristian Paredes, is suing Scott and surprise act Drake for $1 million for allegedly inciting the crowd. "Many begged security guards hired by Live Nation Entertainment for help, but were ignored," the lawsuit said, going on to describe "severe bodily injuries." As reported by CNN, Scott took to his Instagram Story to explain he was working to "identify the families so we can help assist them through this tough time." Meanwhile, Kylie, who was in attendance, expressed how "broken and devastated" she was via her Instagram Story. "I want to make it clear we weren't aware of any fatalities until the news came out after the show and in no world would have continued filming or performing," she wrote. 
On the day of the festival, Scott dropped two new songs. With the tragedy that just happened, is he still planning on releasing a new album?
Travis Scott has describes his next album as 'psychedelic rock'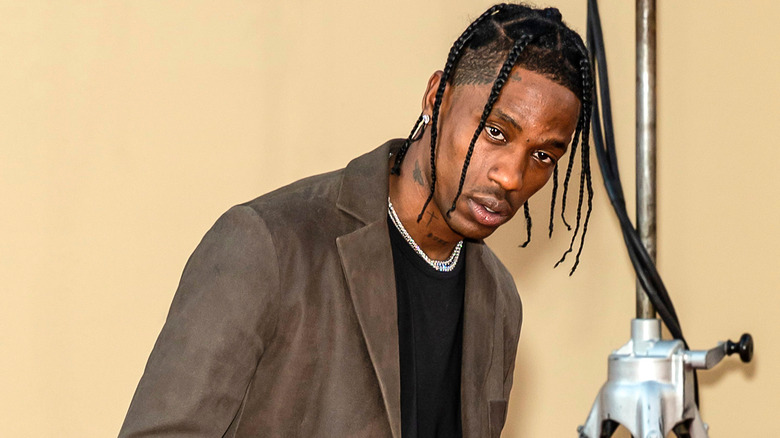 Ovidiu Hrubaru/Shutterstock
On November 5, Travis Scott released two new songs: "MAFIA" and "ESCAPE PLAN." According to Billboard, both of the tracks are said to be "lifted" from his third solo mixtape, "Dystopia." As noted by the outlet, Scott has plans of dropping his fourth studio album, "Utopia," shortly after. As of this writing, no release dates have been confirmed for either project. 
That being said, Scott has discussed the sound fans can expect from the upcoming album. "I'm in this new album mode where it's like psychedelic rock," he told WWD earlier this year. "So even just like the field of cactuses and mushrooms, you might get tripped out." In an interview with i-D, Scott also opened up about his process regarding evolving his sound through his career. "I never tell people this, and I'm probably going to keep it a secret still, but I'm working with some new people and I'm just trying to expand the sound," he said. "I've been making beats again, rapping on my own beats, just putting everything together and trying to grow it really. That's been one of the most fun things about working on this album. I'm evolving, collaborating with new people, delivering a whole new sound, a whole new range."
The album art for the singles promised "The true dystopia is here," but after the events at Astroworld Festival, it hasn't been revealed whether Scott is still pushing forward with the project, or whether we'll hear any more new music any time soon.