The Real Reason Amanda Knox Kept The Outfit She Wore In Prison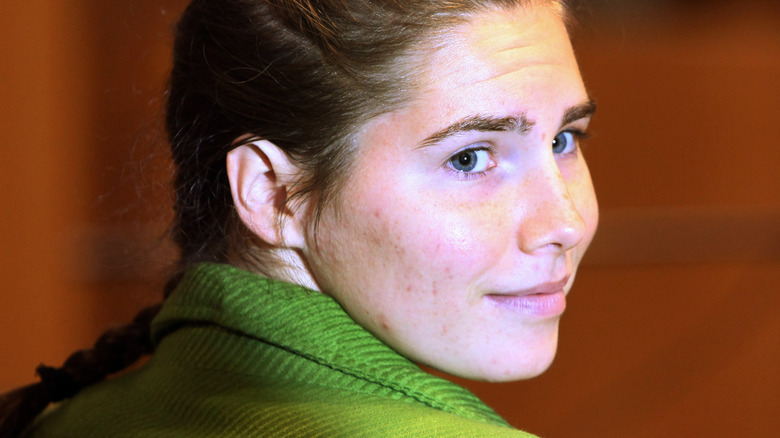 Oli Scarff/Getty Images
We may receive a commission on purchases made from links.
During the years-long coverage of Amanda Knox's many trials for the murder of 21-year-old Meredith Kercher — Knox's British roommate abroad who, in 2007, was found dead in their shared cottage in Perugia, Italy — Knox was arguably maligned by the press. As the New Statesman put it in 2016, the cause was being "a photogenic young woman." 
Knox was ultimately acquitted of Kercher's murder in 2016, but not before enduring years of abuse within Italy's prison system (as illustrated in her 2013 memoir), as well as sensationalist, misogyny-tinged media coverage. Immediately after her initial arrest in 2007 — only days after Knox and her then-boyfriend, Raffaele Sollecito, discovered Kercher's body — the then-20-year-old was the subject of derision for everything from being a sexually active college student to her subsequent behavior during her interrogation. The criticism of Knox was arguably fueled by rampant misreporting at the time, aforementioned gender bias, per NPR, and the less-than-aboveboard motivations of Italian prosecutor Giuliano Mignini (who was convicted of abuse of power in 2010 for an unrelated case, per The Guardian).
In 2020, Knox again once made headlines for what appeared to be another instance of strange behavior. But this time, unlike the years she spent as a prisoner of the Italian penal system, Knox had something on her side she didn't then: a way to make her own voice heard. Here's the empowering thing she did involving her prison outfit.
Amanda Knox wore her prison uniform while preparing for her wedding
As CNN reported, in January 2020, Amanda Knox caused a stir after posting an Instagram photo of herself (pictured above) dressed in what she identified as the prison uniform she wore while incarcerated in Italy — while preparing for her wedding to Christopher Robinson. "40 days left until the wedding and 267 tasks left on the wedding To Do list," Knox wrote in her caption. "I've locked myself in the craftroom and I'm wearing my old prison uniform. Literally the very same sweatshirt and sweatpants I lived in in Casa Circondariale Capanne, Perugia."
While the comments section of the post was rife with expressions of disbelief and rage over her choice in garb, others took the post as a symbolic representation of Knox's intent to forge a brighter, happier future while keeping in mind the hardships she endured in her past. (In her 2013 memoir "Waiting to Be Heard," Knox chronicled the years of abuse she survived during her incarceration in Italy, in which she suffered repeated incidents of sexual harassment and rampant emotional abuse.) 
As one commenter wrote, "I think I would have burned it, but what courage it takes for you to put it back on." As another stated, "You've come a long-a** way since that uniform. I'm so effing glad you got your life back." Rocking a power stance, it's definitely an empowering choice!
Amanda Knox forges ahead while remembering the past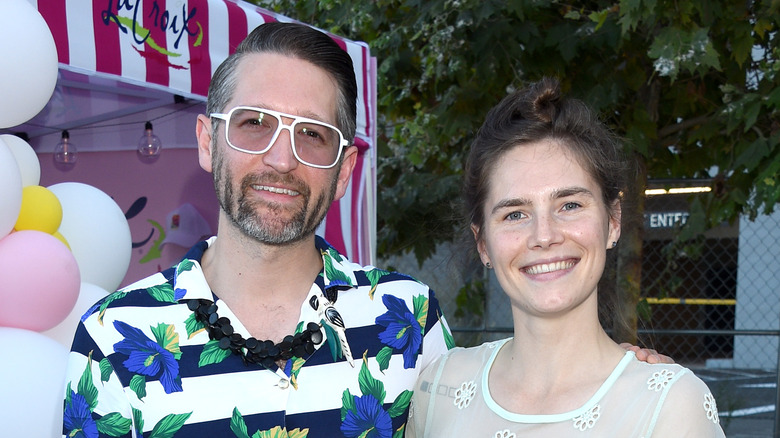 Gregg Deguire/Getty Images
Amanda Knox's life post-prison adds a bit of extra context to her decision to post the prison outfit photo while doing wedding prep for her 2020 marriage to Christopher Robinson (pictured above with Knox). 
Since her 2011 return to the U.S. and her 2015 exoneration (via the Daily News) for charges related to the 2007 murder of Meredith Kercher, Knox has dedicated her life to criminal justice advocacy and activism, per CNN. In 2018, Knox launched her own podcast in partnership with SundanceTV, entitled "The Truth About True Crime," which focuses on expanding the narratives of famous true crime cases. Knox has also spoken publicly about her experiences as a woman both falsely imprisoned and demonized by the media.
This isn't to say, however, that Knox hasn't had her share of missteps. In 2020, Knox tweeted a joke in November 2020 following President Joe Biden's electoral victory over ex-President Donald Trump, in which she chided: "Whatever happens, the next four years can't be as bad as that four-year study abroad I did in Italy, right?" Though many understood her one-liner as a reference to her past incarceration, many criticized Knox for trivializing the experiences of people from marginalized groups during the Trump administration, as well as diminishing the tragic death of Kercher. Clearly, however, it's all part of her mission to take control of her own narrative.