Why Is Gladys Knight's Son Going To Prison?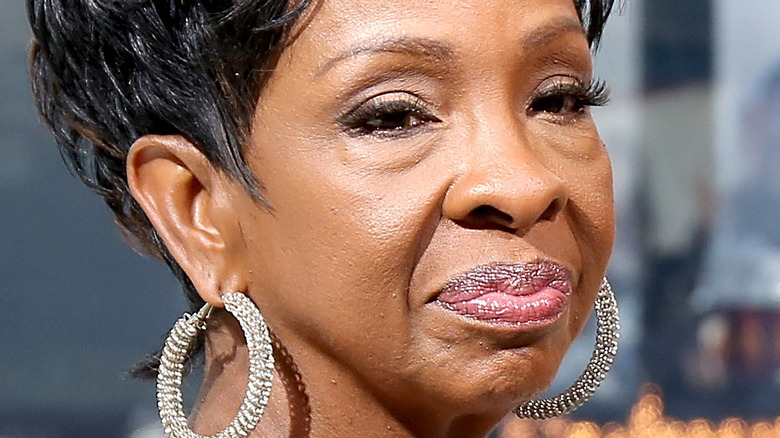 Paul Zimmerman/Getty Images
Many children of legendary stars have faced serious consequences for their misguided decisions over the years. Former NBA Basketball star Nick Van Exel's son, Nickey Van Exel, was sentenced to 60 years in prison for murdering his friend, Bradley Bassey Eyo, per The Dallas Morning News. Actor Billy Bob Thornton's oldest but estranged daughter, Amanda Brumfield, was sentenced to 20 years in prison for aggravated manslaughter. Brumfield was watching her friend's toddler, when later the toddler was found dead with "a three-and-a-half inch fracture on [her] skull and bleeding and swelling to her brain," per Daily Mail.
Musician Goldie aka Clifford Price's son, Jamie Price, was sentenced to 21 years minimum in prison after being convicted of stabbing and killing an alleged rival gang member, 21-year-old Marlon Morris. Goldie knew the victim's father and told the Mirror that the sad situation affected him tremendously. "I am devastated at the loss of someone's life ... I felt more sorrow that someone's mother had woken up without a son, that played more on my mind than anything else," Goldie said. "I've lost friends and people that I've admired. The loss of any life is a travesty."
Even though they are the children of celebrities, it seems like not even the gravitas of celebdom could save these people from their ultimate fate. Now legendary soul singer Gladys Knight is unfortunately a part of the club of celebrity parents who will have to see their child behind bars.
Gladys Knight's son failed to pay 'payroll taxes'
According to Daily Mail, Gladys Knight's son, Shanga Hankerson, was sentenced to two years in prison due to withholding payroll taxes for his multiple restaurants. Hankerson owns four of the Gladys Knight's Chicken and Waffles restaurants, located in Washington, D.C. and Georgia. Hankerson "had failed to remit more than $1 million in payroll taxes between 2012 and 2016," per Daily Mail. U.S. Attorney Kurt R. Erskine said to Fox 5 Atlanta, "Hankerson willfully disregarded his tax obligations for many years."
Even though the restaurants are under his mother's famous name and likeness (most likely to help promote the business), Hankerson is the sole owner of the business ever since he first started it in 1997, per Fox News. "While ownership of a well-known restaurant in our community has its perks, it also comes with great responsibility," IRS Criminal Investigation Special Agent in Charge James E. Dorsey said in a statement to Fox 5 Atlanta. "Paying taxes is a way to give back to the community, but unfortunately Hankerson chose to use those funds for other means. This sentencing emphasizes that all employers, big and small, have equal responsibility to collect, report, and pay over their payroll taxes."
Well, let's hope Knight did not have to wait to hear about her son's arrest through the grapevine.