Piers Morgan Is Lashing Out At Travis Scott. Here's What He Said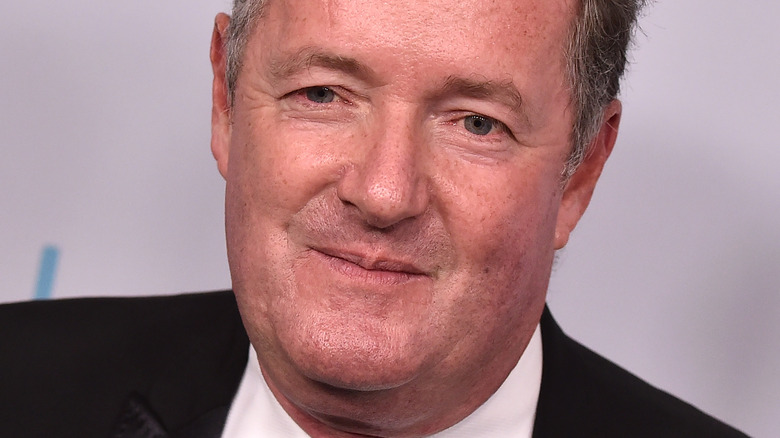 DFree/Shutterstock
No one is safe from the tongue lashings Piers Morgan dishes out on a regular basis. The brash, outspoken broadcaster often finds himself the center of attention with his unapologetic demeanor and divisive opinions. An ardent defender of Queen Elizabeth II and the royal family, Morgan has trashed Meghan Markle innumerable times as a result.
In fact, according to The Hollywood Reporter, communications regulator Ofcom received nearly 60,000 complaints after Morgan discredited the Duchess of Sussex's remarks over her decaying mental health in her bombshell interview with Oprah Winfrey. Morgan has even accused Meghan of "downright lies" regarding her marriage to Prince Harry, per Fox News, and still carries out his years-long crusade against the duchess today.
Earlier this year, Morgan also attacked tennis star Naomi Osaka, who withdrew from the French Open citing mental health concerns. In an op-ed for the Daily Mail, he slammed Osaka as "narcissistic" for her "cynical exploitation of mental health." But now, the influential personality is taking a break from bashing women of color. Now, Piers Morgan has his sights set on a new target: Astroworld's own Travis Scott.
Piers Morgan slams Travis Scott as 'arrogant' and 'shameful'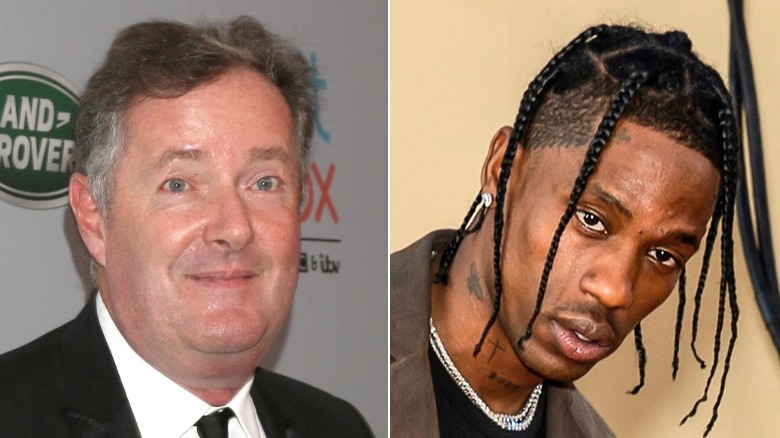 Kathy Hutchins & Ovidiu Hrubaru/Shutterstock
It wouldn't be a certified Piers Morgan moment if he didn't criticize anyone. In the Brit's latest attack on American current events, Morgan has now penned an op-ed tearing rapper Travis Scott following the Astroworld Festival tragedies. To catch you up, following this weekend's Astroworld Festival in Houston, eight people were left dead and many injured in a crowd surge that quickly spiraled out of control, per CNN.
Now, Morgan is making his voice heard about the situation. Writing for the Daily Mail, he stated, "[F]orgive me if I find Mr Scott's shocked disbelief to be a load of disingenuous self-protective claptrap. If there was one nailed-down guarantee, it was that something terrible like this might one day happen at one of his concerts." He added, "This is a man who thrives on chaos and mayhem during live performances." Furthermore, he stated that "Travis Scott has repeatedly given a snarling middle finger to the safety of his fans" and called the disaster "predictable."
Morgan did, however, cite a number of sources in which Scott encouraged fans to openly defy safety measures at previous concerts. The broadcaster also mentioned Scott's run-ins with the law, which stemmed from his encouragement of disobedience at prior shows. Kyle Green, who attended a Scott concert in New York City in 2017, was left partially paralyzed after the rapper encouraged another fan to jump off Terminal 5's indoor balcony — with Green falling off as well.