How Snoop Dogg's New Jewelry Honors His Late Mom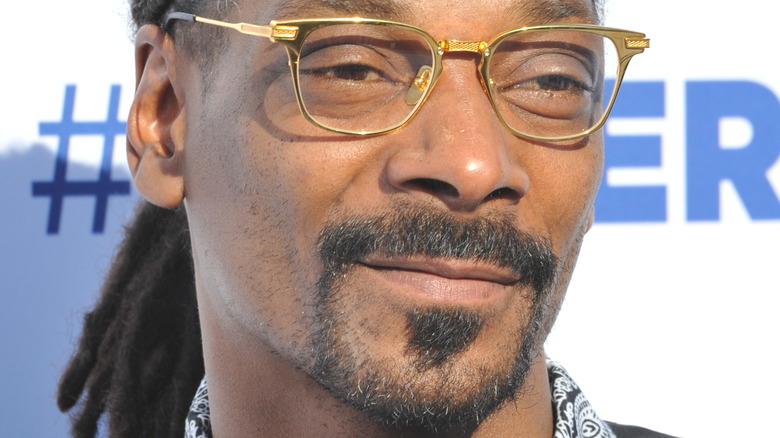 Jaguar PS/Shutterstock
Snoop Dogg bid farewell to his beloved mother, Beverly Tate, on October 24. Although the cause of death is unclear, the iconic rapper's mother had been dealing with undisclosed health issues, resulting in hospitalization earlier this year, per People. On May 7, Dogg took to Instagram, writing, "I need all my prayer warriors for momma right now please and thank you." The post also included a photo of his smiling mother in a red outfit. 
Since his mother's death, essentially all of the content Snoop has shared on his Instagram page has been to honor her memory. "Thank u god for giving me an angel for a mother," he wrote in one post. Snoop grew up largely without a father, leaving much of his upbringing to Tate, as Spin noted in 1993. "U taught me how to read and write how to struggle and fight and all l the facts of life. now you finally got ya wings mama. Godspeed," he wrote in another Instagram post.
A few hours after Dogg announced Tate's death, he played at Madison Square Garden in Boston and sang "Stand By Me" in her honor, as CBS Boston reported. "Before we leave, we're gonna play this record for my mama," he told the crowd. Clearly heartbroken, Dogg is even wearing special jewelry to keep Tate close.
Snoop Dogg has a chain with his mother's photo
In addition to all the touching ways Snopp Dogg has been honoring his mother, Beverly Tate, since her death, the rapper also found a way to always carry her close to his heart. In a November 8 Instagram post, Snoop uploaded a short clip showing a sparkly necklace with a round photo pendant of the two of them together. The jewelry appeared to be lying on a wooden table, creating a dark background for the video on which Snoop added part of the lyrics to his song "Beautiful." He wrote, "Beautiful, I just want you to know / (Oh, hoo) You're my favorite girl / (Ehh, oh yeah, there's something about you)."
Of course, Snoop has been celebrating Tate long before she died. As USA Today pointed out, Snoop wrote a song for his mother titled, "I Love My Momma," in 1999. In the lyrics, Snoop thanked Tate for always being there for him and for teaching him what he knows. He even Snoop went as far as to say, "I hope you bury me / Instead of the other way around." Crushing.
At least Snoop has a good support system, which includes his four kids and longtime wife, Shante Broadus.