The Truth About Teresa Giudice's Plastic Surgery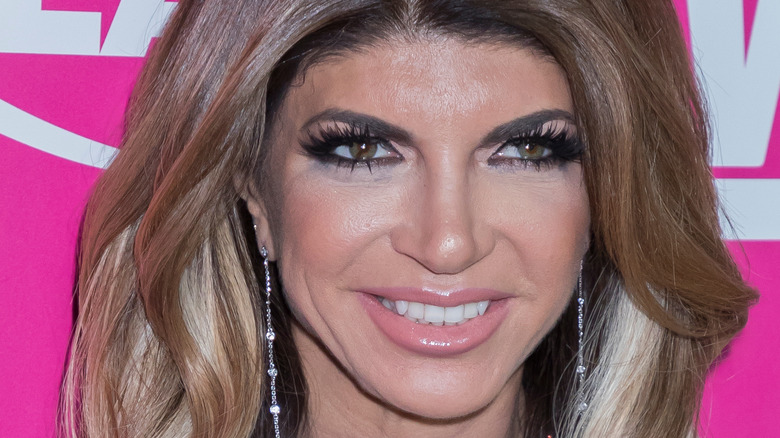 Sam Aronov/Shutterstock
Teresa Giudice is best-known for her role on "The Real Housewives of New Jersey." She has been a housewife on the reality television program since its first season, allowing fans an intimate look at the ups and downs of her life, including a front-row seat to her infamous family feud and the legal troubles that landed her in prison. It's no secret that Teresa has been through a lot, but fans love tuning in to see the precious moments with the daughters that she shares with her ex-husband Joe Giudice: Gia, Gabriella, Milania, and Audriana. 
In October, Teresa fans received good news from the "RHONJ" star, a nice change from some of the more unpleasant news she's shared over the years. People reported that she and her boyfriend, Luis "Louie" Ruelas, got engaged at the Amanzoe Resort in Greece. Apparently, Louie went all out for the proposal, incorporating candles, rose petals, fireworks, and more into the scene to make it as romantic as possible. A source told People that the proposal was "absolutely exquisite" and "Teresa was completely surprised." Teresa posted a video of the proposal to her Instagram page alongside a touching shout-out to her now-fiancé in which she called him her "soulmate" and her "everything."
The engagement came just a few weeks prior to yet another announcement from the reality television star. At the New Jersey Ultimate Women's Expo on November 7, Teresa revealed that she had recently undergone another plastic surgery; this time, it was a nose job.
Not everyone approved of Teresa Giudice's nose job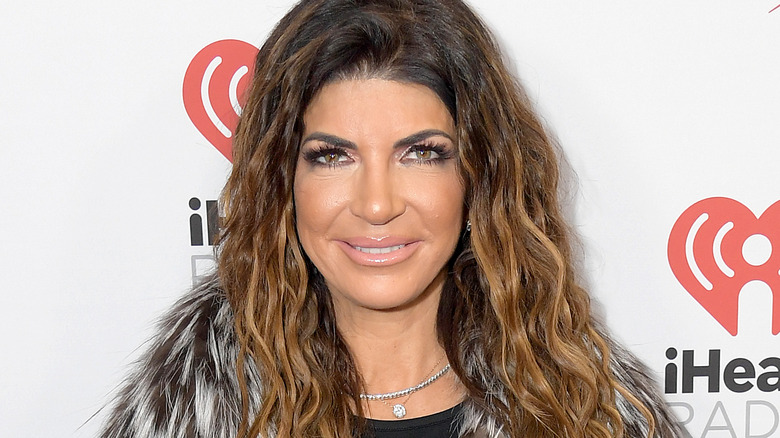 Michael Loccisano/Getty Images
Teresa Giudice recently made headlines following the New Jersey Ultimate Women's Expo where she was a keynote speaker, as per US Weekly. During her talk, she revealed that she pursued a nose job after years of feeling self-conscious about the tip of her nose. Teresa told the audience that she went to Dr. Tobias, a plastic surgeon operating out of New Jersey, and that she was "so nervous about getting it." It seems like everything went well, however, because she announced that she "didn't feel [any] pain whatsoever." 
"The Real Housewives of New Jersey" star didn't have the full support of everyone in her life when she decided to opt for yet another cosmetic surgery. Thankfully, her fiancé, Luis "Louie" Ruelas, was completely on board. His main concern was that Teresa felt good in her own skin. Her co-star Margaret Josephs, on the other hand, had a very different reaction, reportedly telling Teresa, "No you don't need to do it." To this, Teresa laughed, feeling that Margaret was being a hypocrite given her own rap sheet of cosmetic surgeries. 
Ironically, at the 2019 New Jersey Ultimate Women's Expo, Teresa once again spoke on the topic of plastic surgery and her philosophy on who should get it, as per Life & Style. She told reporters, "I do believe in if you are not happy with yourself and you want to do plastic surgery, I think you should because ... it does make you feel better."
Teresa Giudice has likely undergone multiple cosmetic procedures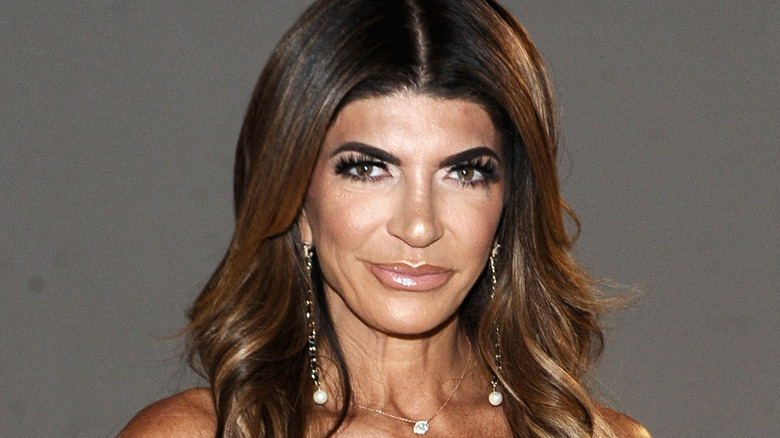 Daniel Zuchnik/Getty Images
In addition to the more recent nose job, Teresa Giudice has only ever admitted to going under the plastic surgeon's knife for one additional procedure: a breast augmentation. In January 2020, the reality television star announced on Instagram that she had undergone a second augmentation 10 years after the first. In the post, she expressed her gratitude towards her surgeon, Dr. Preminger, and added that she "could not be happier with the results." The procedure didn't come without anxieties for Teresa, however. She admitted to her followers that she was "very nervous to re-do [her] breasts" but wanted to "feel like [her] best self." The "RHONJ" star also recommended that her fans consider cosmetic procedures if they aren't feeling "their best self."
While Teresa hasn't been as transparent about other possible cosmetic procedures, many speculate that she has had fillers put in her face and lips, as per The Blast. In an interview with the publication, plastic surgeon Dr. Frank Agullo gave his take on the procedures he believes Teresa has undergone, including "a full facelift with a possible neck lift and fat injections to the face." Dr. Pam Agullo also gave her opinion, telling The Blast, "she probably had a full face rejuvenation with neurotoxin and fillers under her eyes, cheekbones, and marionette lines." She praised the reality star's "overall refreshed and rejuvenated look." However, both doctors were unable to say decisively which procedures Teresa has opted for without examining her face to face.