Doug Emhoff's Ex-Wife Explains Why He's A Better Husband To Kamala Harris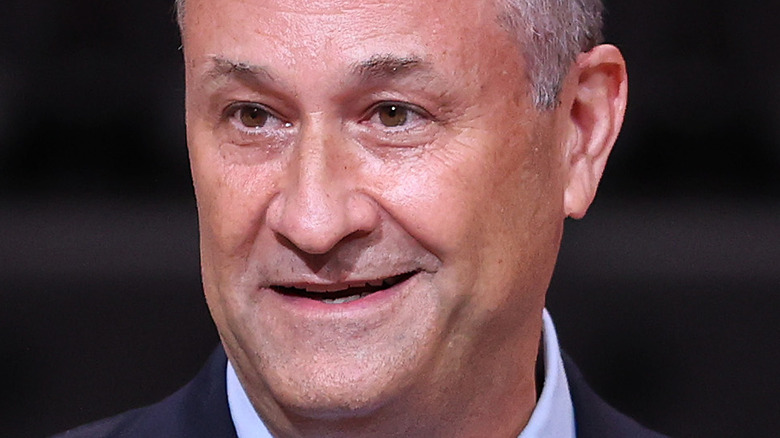 Gregory Shamus/Getty Images
When did you first fall a little in love with Doug Emhoff, Kamala Harris's husband? Was it when he leaped on stage to defend her against an aggressive protestor in 2019? When he adorably read "The Very Hungry Caterpillar" to preschoolers? Or has his continued support of his wife, from her initial campaign run to her current role as vice president, always given you butterflies? Some might say Emhoff has set a new standard for husbands everywhere.
Of course, Emhoff isn't exactly new to the marriage game. In fact, the former entertainment lawyer was married to film producer Kerstin Emhoff for 16 years, before splitting up in 2008, per Today. The ex-couple share two grown-up kids: son Cole, and fashion model daughter, Ella. 
So, how does the family feel about Emhoff moving on with such a high-profile figure? And has he always been such a seemingly stellar partner? As it turns out, his ex-wife has some opinions on the matter.
Doug Emhoff's ex-wife says he does this differently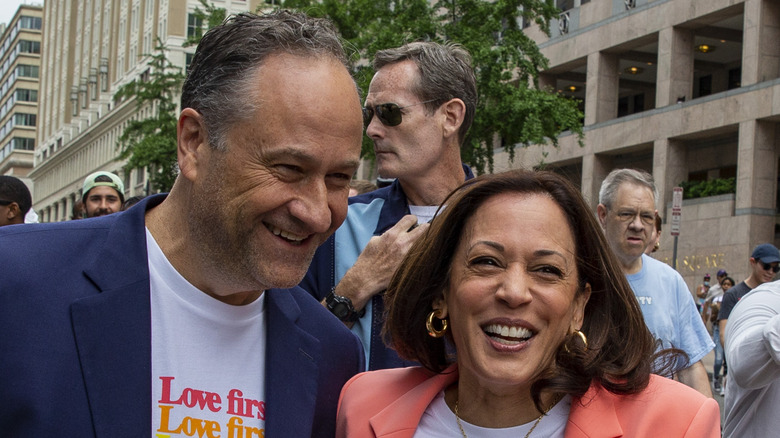 Bloomberg/Getty Images
Breakups are complicated, and even exes who manage to stay friends can struggle when their former partner moves on. That being said, upon hearing Doug Emhoff was dating Kamala Harris, his Kerstin Emhoff was more than supportive. Speaking to Marie Claire in 2020, Kerstin gushed: "I just thought, 'Wow, that's cool. Don't mess this up!" Luckily, the feeling was mutual for Harris, who told Elle in 2019 that the two "hit it off" are "dear friends." Even Cole and Ella have nothing but love for their stepmom, affectionately referring to her as "Momala."
But Doug admits that he wasn't always the perfect husband, telling Time on November 9 about how he learned to "listen more than you talk," since marrying Harris. Kerstin also noted how Doug takes Harris on more romantic getaways, something she herself missed out on. "Of course he's a better husband, and that's great," she said. "That's how it should be." 
Of course, it's always heartening to see such a strong and wholesome bond between blended families.