The Real Reason Matthew McConaughey's Comments About The COVID-19 Vaccine Are Raising Eyebrows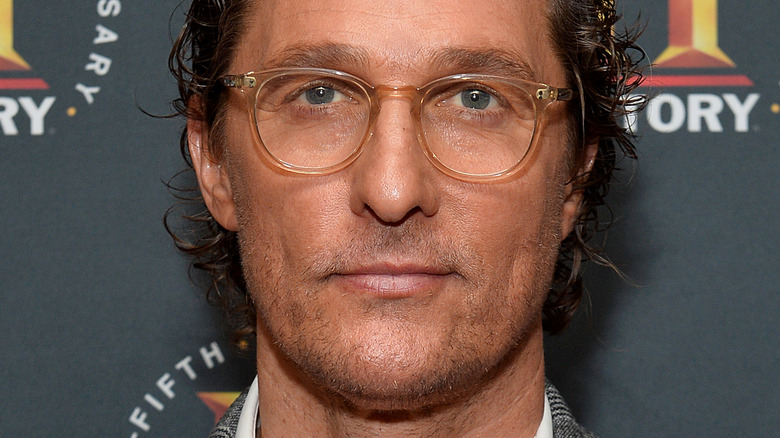 Noam Galai/Getty Images
Actor and producer Matthew McConaughey raised a few eyebrows while discussing the COVID-19 vaccine at The New York Times' DealBook summit.
As reported by The New York Times, McConaughey admitted to journalist Andrew Ross Sorkin that he believed that much of the issues surrounding the pandemic had been "politicized" by both the right and the left. He was also adamant that he was pro-mask and made it clear under no uncertain terms (ahem, Aaron Rodgers) that he and his wife were vaccinated. "I didn't do it because someone told me I had to — [I] chose to do it," he explained. McConaughey also said he "quarantined harder" than many of his friends and was still relying on a "heavy amount" of COVID-19 testing, though he was aware not everyone was in the same position to be able to do so.
Still, some of his remarks at the DealBook conference managed to ruffle a few feathers.
Matthew McConaughey needs 'more information' before supporting a vaccine mandate for children
Although Matthew McConaughey is vaccinated against COVID-19 he has seemingly drawn a strict line in the sand when it comes to mandating a vaccine for children.
"Right now I'm not vaccinating mine, I'll tell you that," McConaughey emphatically declared to The New York Times journalist Andrew Ross Sorkin when asked about mandating COVID-19 vaccines for children. According to McConaughey, even prior to the coronavirus, he and his family opted to "go slow" on vaccinations. "I still want to find out more information," he explained further regarding his stance on mandating vaccines for kids. McConaughey was careful, however, to admonish those perpetuating any conspiracy theories surrounding the vaccines. "Do I think that there's any kind of scam or conspiracy theory? Hell no... We all got to get off that narrative. There's not a conspiracy theory on the vaccines," he declared.
As one can imagine, the backlash was swift and Twitter was effectively set ablaze with many calling the actor out for his line of thinking. "Matthew McConaughey is for protecting himself but his children are on their own?" one user tweeted. Meanwhile another user alluded to McConaughey's potential political aspirations of running for Texas Governor with a tweet that read, "Disqualifying for any vote from this Texan."