The Real Reason Elon Musk Lost $50 Million In Two Days
Pascal Le Segretain/Getty Images
Tesla CEO Elon Musk has been engaging in a space race with Amazon CEO Jeff Bezos since the two billionaires launched aerospace companies SpaceX and Blue Origin, respectively, and started sending rockets into the vast, dark sky. According to The Washington Post, Musk is currently leading this race. But Musk is also ahead in another, maybe less glamorous, race. In January, Musk surpassed Bezos to become the world richest person for the first time when his fortune reached $185 billion, as the BBC reported at the time.
Mere months later, in late September, Musk's fortune surged above $200 million, but Bezos had beat him there the previous month, according to Forbes. However, in the space of that month, Bezos lost $1 billion when Amazon's stocks fell by 0.6% and Musk's Tesla's rose 2.2%, putting the South African native back in the lead, as Forbes detailed.
Musk was seemingly on top of the world — and beyond — throughout October. By the time the month ended, Musk had left the $200 billion milestone behind when his fortune surpassed the $300 billion threshold, skyrocketing to $323 billion, as Insider noted. But November rolled around with bad news for the multi-billionaire. In just two days between November 8 and 9, Musk saw his fortune decrease by quite a few billion dollars, or $50 billion to be exact, amid what became Tesla's worst two-day drop in the company's history, as the Daily Mail pointed out. This time, though, his back luck was his own doing. 
Elon Musk's fortune dropped after he launched a Twitter poll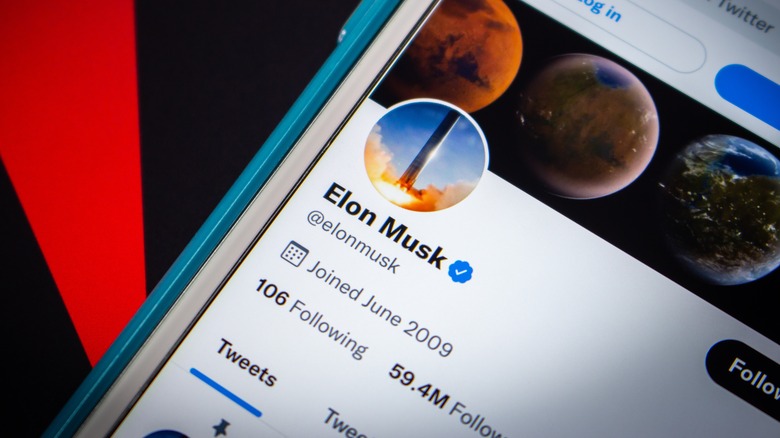 Koshiro K/Shutterstock
Between November 8 and November 9, Tesla's stock value dropped a whopping 16%, translating into a $50 billion loss for Elon Musk, Insider reported. While different factors go into measuring these indexes, the sharp drop came two days after Elon took to Twitter to ask his 63-plus million followers — and the internet in general — to vote on whether he should sell 10% of his Tesla stock to cover taxes and vowed to stick to it if the majority voted "yes." Nearly 58% of respondents said he should sell his stocks, the tweet shows. The market responded accordingly. By November 8, Tesla share prices had dipped 7%, according to Insider. The following day, they dropped even more. 
While the markets responded to his Twitter poll, they also responded to a now-deleted tweet by short-seller Michael Burry, who suggested Musk sell Tesla stocks to pay off personal debt, per Insider. These events added fuel to the fire that started burning the previous week, when the director of the EV company, Kimbal Musk, sold $109 million of his Tesla stocks, according to Business Insider. The last name is no coincidence. Kimbal is Musk's cousin and a member of Tesla's board of directors, the report detailed. And that is not all. Elon Musk's younger brother also donated 25,000 shares to charity that week. 
Despite his recent losses, Musk is still ahead of Jess Bezos by $82 billion, according to the Bloomberg Billionaires Index.