The True Meaning Behind 'Who's In Your Head' By The Jonas Brothers
DFree/Shutterstock
The Jonas Brothers have everyone feeling like it's 2008 again. Back in the mid-2000s, Nick, Joe, and Kevin Jonas rose to fame with hits like "Year 3000" and "S.O.S," but they broke tween hearts worldwide after disbanding in 2013. At the time, the JoBros were vague about what caused the split, with Nick telling his brothers he felt "trapped," per People. But it wasn't until Joe hopped online for a Reddit AMA in 2016 that fans got the real story. "Nick brought it to the table that he wanted to focus on different things, like acting and doing music on his own," Joe revealed.
Thankfully, Nick redeemed himself and brought back the JoBros in 2019. Haters may have been skeptical, but the trio debuted with a bang, thanks to the smash success of their single "Sucker." The song rocketed to No. 1 on the Billboard Hot 100. Since then, the brothers have released bops like "What A Man Gotta Do," "Leave Before You Love Me," and "Who's In Your Head." Additionally, Nick and Joe's marriages to Priyanka Chopra and Sophie Turner, respectively, have cemented their status as true rockstar A-listers. 
As we reflect on their growth from teeny boppers to some of the biggest pop stars on the planet, let's take a look at the meaning behind of one of the JoBros' newest hits: "Who's In Your Head."
Who's In Your Head is about being unsure where your partner stands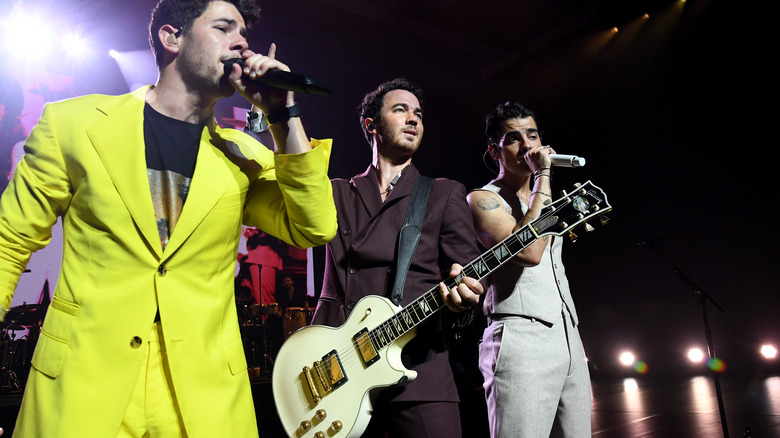 Kevin Mazur/Getty Images
In September, Nick, Joe and Kevin Jonas teased the release of "Who's In Your Head" via TikTok. "Right now you're listening to our new song ... we just performed it for the first time at Red Rocks on the Remember This tour," the group wrote, alongside concert footage of them performing the tune. 
Of the song — which is the brothers' third studio single this year — Genius notes that it's all about the fear your significant other is thinking of someone else. Someone ... from their past. Lyrics like, "I wanna know who's in your head? / Stealin' your heart while I'm still bleedin' / Who's in your bed? / Wrapped in your arms while I ain't sleeping," underscore the theme of wondering whether a partner is thinking about his/her current partner or not. And as the singers reflect on all the reasons why they fell in love with their significant other in the first place, they also wonder whether those traits were really red flags all along.
In May, Nick opened up to Entertainment Tonight about the music he and his brothers have been creating this year. "[We're] always kinda keeping on the grind a little bit, trying to find new songs and new inspiration," he said, hinting that there's still lots more to come.
Was the song inspired by a real-life experience?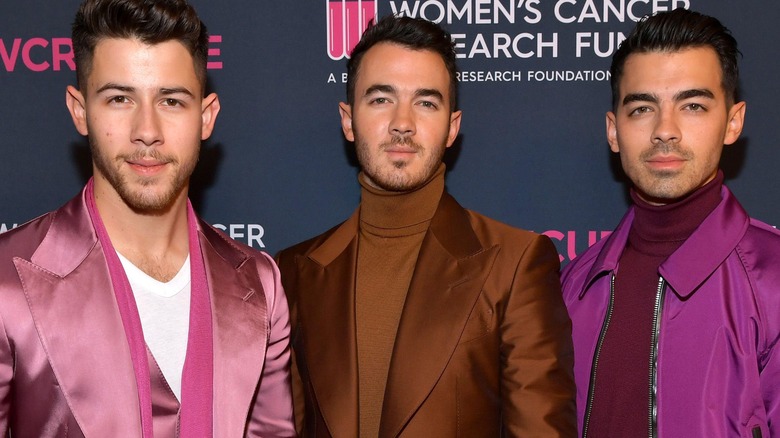 Emma Mcintyre/Getty Images
In September, the Jonas Brothers dropped the music video for "Who's In Your Head," which was honestly packed with product placements from Aperol Spritz to Lay's Potato Chips. For Nick Jonas, the video debut was also a way to celebrate his recent birthday. "New @jonasbrothers music is here!! #WhosInYourHead just dropped. Happy Birthday to me ... Can't wait for you guys to see the video we shot too," he wrote on Instagram.
In the video, the action cuts between Joe lounging with a cup of coffee, Kevin riding a scooter, and Nick singing at a hair salon. The video's quirky nature is reminiscent of "Sucker," which showed the brothers' three wives decked out in feathers and glittery outfits. But as fun as "Who's In Your Head" is, was it inspired by an unfaithful partner?
This doesn't appear to be the case. As of this writing, all three JoBros are happily married, and the rumor mill hasn't said anything about cheating. Back in 2008, Joe made headlines for his messy split with Taylor Swift, and though she pointed the finger at Camilla Belle for breaking up the relationship, Joe denied any evidence of wrongdoing. Per Us Weekly, the star insisted he "never cheated on a girlfriend" via his MySpace. None of the JoBros have spoken out about any incidents that inspired "Who's In Your Head," and for right now, it appears to just be a groovy bop.