Inside Tyler Baltierra's Devastating Breakdown On Teen Mom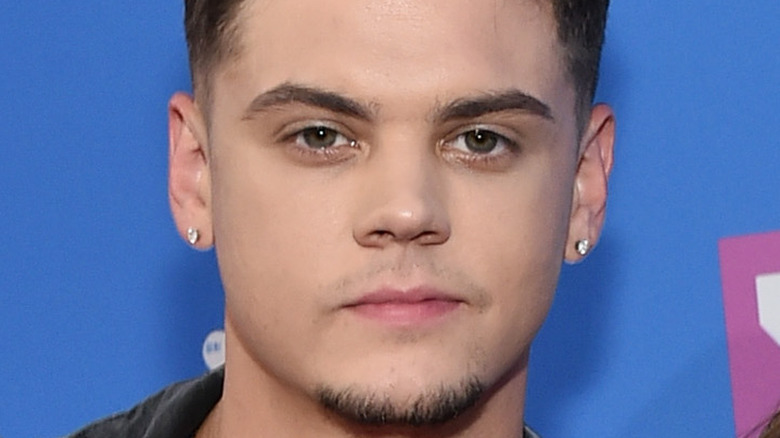 Mike Coppola/Getty Images
Thanks to his role as a teen dad on "16 and Pregnant," Tyler Baltierra has risen to stardom and he now appears in the MTV series "Teen Mom OG." We've watched the Michigan native evolve from a boy to a man, and we've been through so much of his life. Unlike many other couples on the "Teen Mom" franchise, Tyler and wife Catelynn Baltierra gave up their daughter for adoption because they felt she would have a better life.
In the series, their visits with Carly are often highlighted when her adoptive parents let them be. In the beginning, we saw a lot of the couple's interactions with their daughter, but lately, Carly's adoptive parents (Brandon and Teresa) have not allowed the cameras to film out of respect for their privacy. "We didn't see her [in 2020] at all because of the pandemic. Like nobody was, you know, flying anywhere, going anywhere," Catelynn shared with In Touch Weekly in February. "So yeah. That never happened. That didn't happen this year." Catelynn also said that while they didn't physically see Carly, they at least used other means of communication. "We've done a FaceTime, like Novalee and [Carly] FaceTimed. But yeah, like visit-wise, it's just kind of up in the air until things calm down or people are vaccinated," she told the outlet, stating that future plans were up in the air.
Tyler and Catelynn are also proud parents to daughters Novalee and Vaeda, but Carly's absence still leaves a hole in their hearts.
Tyler Baltierra worries about the uncertainty of seeing Carly
No matter how much time goes by, it never gets easier for Tyler Baltierra to say goodbye to his biological daughter Carly. The reality star has always been incredibly candid about his yearning to see his daughter more, but he's usually at the mercy of Carly's adoptive parents. On a November episode of "Teen Mom OG," Tyler and his wife, Catelynn Baltierra, visited their daughter for the first time in two years and emotions were high.
Tyler took to Twitter to share a post from the MTV "Teen Mom" account that read, "These goodbyes are always the hardest to watch. #TeenMomOG." The post included a GIF of a visibly upset Tyler wiping tears from his eyes following the visit. Tyler accompanied the re-post with some heartbreaking words of his own. "I tried to hold it in as long as I could. Saying goodbye is honestly devastating," he wrote. "Especially when we don't know what the future holds or how long it will be until the next visit." 
Fans were quick to lend their support to Tyler, empathizing with his situation and sending their love. "My heart always breaks when you guys say goodbye because I'm so sure that you guys wish she could come home with you guys I am so proud of the parents you guys have become been a watcher since the very beginning," a fan of Tyler's commented. While Tyler is undoubtedly in a challenging situation, it's incredible to see such support from fans.