The Astroworld Tragedy Takes Another Devastating Turn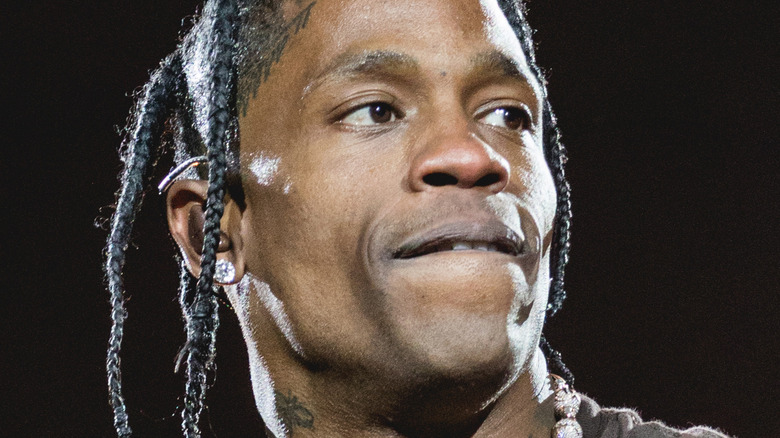 Rick Kern/Getty Images
In even more evidence of "the world has gone mad today," the horrific tragedy that took place at Travis Scott's Astroworld music festival has gotten even worse. What should have been a fun musical event after months of isolation ended in multiple fatalities as the massive crowds surged the stage, trampling and injuring people in the process.
Scott started the Astroworld festival in 2018, held annually at NRG Park in Houston, Texas, former home of the Six Flags Astroworld park, according to The U.S. Sun. While the 2020 festival was canceled because of the pandemic, Scott brought the 2021 festival back on November 5, with some 50,000 people in attendance. The day started with chaos as concertgoers crashed through the gates. But things turned deadly during Scott's Friday night set: the crowd rushed the stage, pressing forward and causing a panic, which caused further injuries, according to CBS News. There were also reports of drug spiking, with one security guard claiming he felt a needle prick in his neck before he fell unconscious. He was given the overdose treatment Narcan, though police later reported he was hit in the head and not injected with anything, per CBS News.
While the exact cause of death for many of the victims is not yet known, Houston Fire Chief Samuel Peña told MSNBC, "We took 11 that they were performing CPR on en route to the hospital." "That [death toll] number may rise," Peña explained, as "a total of 23 patients were transported..." Sadly, that statement is proving true.
A Texas A&M student is now among the victims
Adding to the death toll of the deadly Astroworld Festival, CBS News reported that 22-year-old Bharti Shahani died in the hospital on the evening of November 10. She succumbed to her injuries sustained at the concert almost a week before, becoming the ninth casualty from the event. Her family's attorney confirmed her death on November 11. Shahani was a college student at Texas A&M University, working toward a degree in computer science. She attended the festival with her younger sister Namrata, and their cousin Mohit Bellani. Hospital staff told Bellani, who was the first family member to arrive at the hospital, that Shahani had been intubated after suffering two heart attacks.
"They suffocated Bharti," Bellani said in a press conference, per ABC13. "They did this to the 9-year-old boy right now in the ICU who's fighting for his life. They did this to the other 8 people who also lost their lives that night. There're so many families grieving in hospitals right now." Shahani leaves behind another sister, as well as her mother and father, and a beautiful dog named Blue.
The other eight deaths from the festival are all young people, mostly in their twenties, and mostly from Texas, though one came from Washington, and two best friends came from Illinois. The oldest was 27-year-old Houston resident Mirza Baig. The two youngest victims were teenagers from Houston: high schooler Brianna Rodriguez was only 16, and John Hilgert was a Memorial High School freshman, only 14 years old.