Why Emma Roberts Holding Hands With A Man Other Than Her Boyfriend Is Raising Eyebrows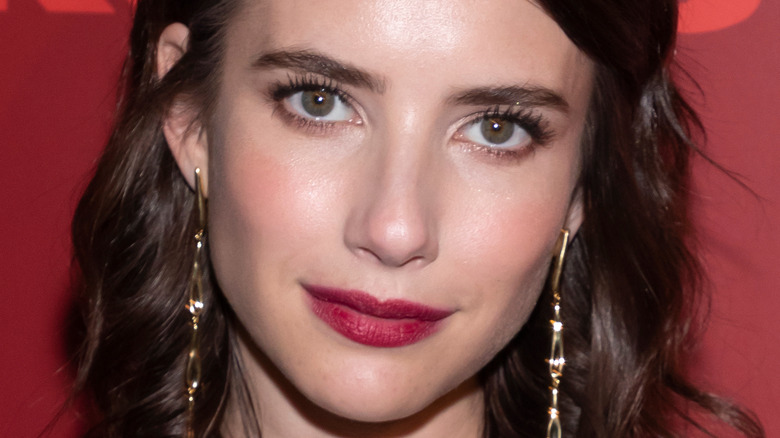 Sam Aronov/Shutterstock
Emma Roberts' life in the last few years has completely changed. The star went from being in a seven-year on-again, off-again relationship with fiancé and "American Horror Story" co-star, Evan Peters, to ending her engagement in 2019 and starting a romance with Garrett Hedlund shortly after. Since then, the pair have been quietly dating and aside from some sweet moments of PDA, they have never openly talked about each other or their connection.
It makes sense, given the fact that Roberts previously told Cosmopolitan, "I never want to talk about relationships I'm in or that are ending or have ended ... It's hard enough to be with someone by yourself, let alone with an audience." She stayed true to her world because, in August 2020, the actor surprised the world by announcing she was pregnant and expecting a baby with Hedlund. Their son — Rhodes Robert Hedlund — was born on December 27.
But nearly a year after welcoming their child, some people think there might be trouble in paradise after Roberts was spotted with another man.
Did Emma Roberts and Garrett Hedlund break up?
The Daily Mail published photos of Emma Roberts holding hands with Britney Spears' longtime manager Cade Hudson on November 11 while attending Paris Hilton's wedding to Carter Reum in Los Angeles. The "Scream Queens" star's boyfriend, Garrett Hedlund, was not present. The photos and the actor's noticeable absence raised some eyebrows via Twitter with one person questioning, "Are Emma Roberts and Garrett Hedlundno more?"
It's unclear if the couple broke up, but the Daily Mail reports they've unfollowed each other on Instagram. Also, the last time she posted about him was back in February for Valentine's Day. Alongside a black-and-white photo of him looking at her adoringly, she wrote: "Happy Valentine's Day my love." They were last photographed together back in April at an Oscar Party (pictured here with Evan Ross) and in June, E! News reported Roberts and Hedlund were closer than ever. Sources said the two were "in a much better place since welcoming their son" and "worked through all the ups and downs together" after going "through a rough patch" while she was pregnant.
As for her relationship with Hudson, E! News referred to them as "best friends." Roberts has also posted photos with Hudson in the past.