The Real Reason Adele Felt Embarrassed About The Split With Her Ex-Husband
Luca V. Teuchmann/Getty Images
British singer Adele is one of the most famous musicians on the planet, but tries to maintain as much privacy as possible. With that being said, the "Rolling In The Deep" hitmaker isn't shy about expressing herself through her songs.
As of this writing, Adele is currently dating sports agent Rich Paul. During her interview with British Vogue earlier this year, the Grammy Award winner revealed the couple are "very happy" together. Adele also mentioned that Paul is "frazzled" by her huge fame around the world. Prior to their relationship, Adele was married to Simon Konecki, who she wrote a song about on her third studio album "25" titled "Water Under The Bridge."
"It was sort of about a relationship suddenly getting really, really serious, and then getting a bit frightened by it, and then realizing that 'I think this must be right. This is the relationship that I want to be in for as long as I can possibly be in it'," she told Rolling Stone in 2015. According to Us Weekly, the duo shares a son, Angelo, who Adele gave birth to in 2012. In 2018, Adele and Konecki tied the knot and called it quits that same year, per Music News. Now that Adele's divorce is public knowledge, she has openly admitted in a new interview that she was embarrassed by the situation.
Adele thought she knew who she was at the time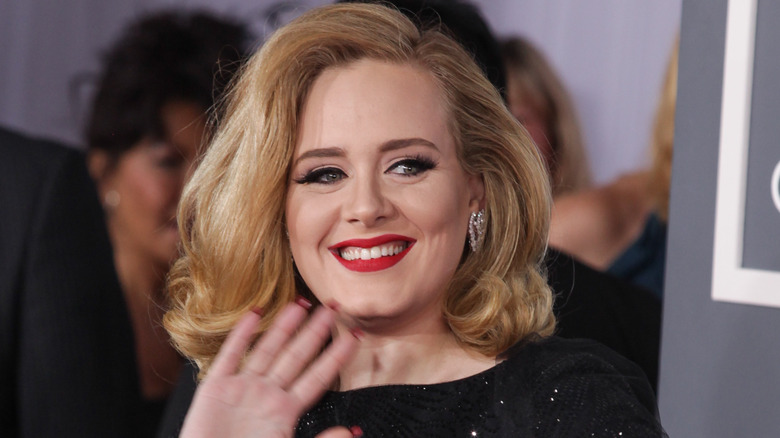 DFree/Shutterstock
Adele graced the latest cover of Rolling Stone magazine. While the singer may not do too many interviews about her personal life, she did get candid about her divorce from ex-husband Simon Konecki. "I didn't really know myself. I thought I did," Adele told the outlet, adding, "I don't know if it was because my Saturn return or if it was because I was well and truly sort of heading into my thirties, but I just didn't like who I was. I didn't really know myself. I thought I did. But I just didn't like who I was."
According to Music News, Adele and Konecki first hit things off in 2011, but ended things the same year they walked down the aisle — in 2018. Adele didn't inform fans of their split until the following year and admitted it upset the award-winning star to have to deal with their divorce in the public eye. "So many people I don't know know that I didn't make that work... It f***ing devastated me," she revealed to "Rolling Stone." "I was embarrassed. No one made me feel embarrassed, but you feel like you didn't do a good job."
Adele will release her long-awaited fourth studio album, "30," on November 19, which she said on Instagram Live will reflect on her divorce from Konecki.