The Real Meaning Of Particles By Jessica Simpson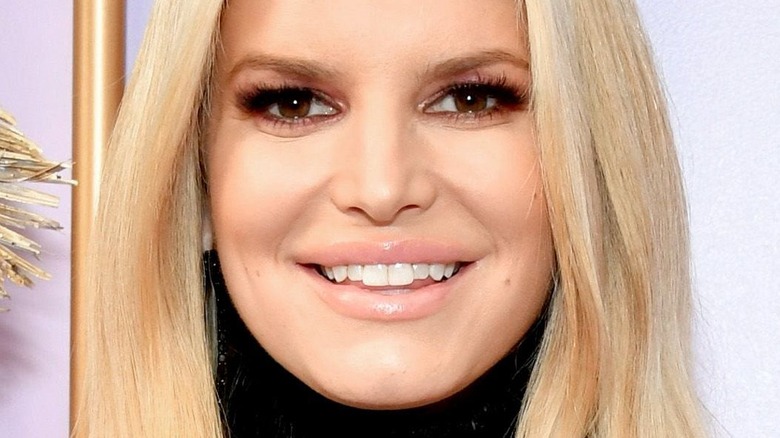 Amy Sussman/Getty Images
Jessica Simpson is back in the music game! The star who dominated the charts in the early 2000s, alongside pop artists like Britney Spears and Christina Aguilera, is making a triumphant return to her pop music career with a cover of Nothing But Thieves' "Particles."
The artist took to Instagram to announce the release of her lucky cover on 11/11, and a corresponding music video. The cover is the first time fans have heard new music from the star since she released six songs coinciding with her audiobook "Open Book" back in February 2020, according to Entertainment Tonight. The few singles were the first songs to come from Simpson in a decade.
With the release of "Particles" fans are hopeful the star is ready to get back into pop music after Simpson struggled through years of alcoholism. "The whole idea of music heals is an honest truth to me," wrote the star on Instagram to announce her cover of "Particles." "This song saved a broken piece of me." So, what is "Particles" really about?
Jessica Simpson sings about addiction in new cover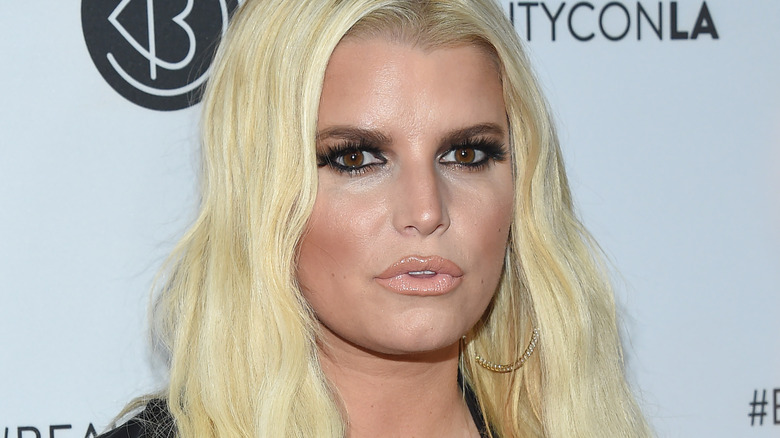 DFree/Shutterstock
While Jessica Simpson's newest music release is a cover of Nothing But Thieves' "Particles," the artist found the song relatable to her own life story. "Flirting with an addiction I can't shake off / My mouth is dry, I self medicate," sings Simpson in the ballad version of the 2017 single.
According to Genius, the original stemmed from lead singer of Nothing But Thieves Conor Mason's addiction. This song is about lead singer Conor experiencing insomnia and sleep deprivation and becoming addicted to sleep medications during tours. "I wasn't sleeping that well in the tour bus and I was worried 'cause I had to sing ... So I went to a pharmacy and just got, you know, run-of-the-mill sleeping aid tablets," the artist told FaceCulture. "It just spiraled and for a year it just got worse and worse. And I was so addicted to taking these things."
Simpson celebrated four years of sobriety on Instagram in November, showing fans an old photo of herself and the moment she realized she needed to overcome her addiction. "I needed to stop drinking alcohol because it kept my mind and heart circling in the same direction and quite honestly I was exhausted," Simpson wrote. The pop singer previously opened up about her experience in her memoir, "Open Book," where the artist revealed she was "killing [her]self with all the drinking and pills" (via USA Today). "I was mad at that bottle. At how it allowed me to stay complacent and numb."
Jessica Simpson left music for nearly a decade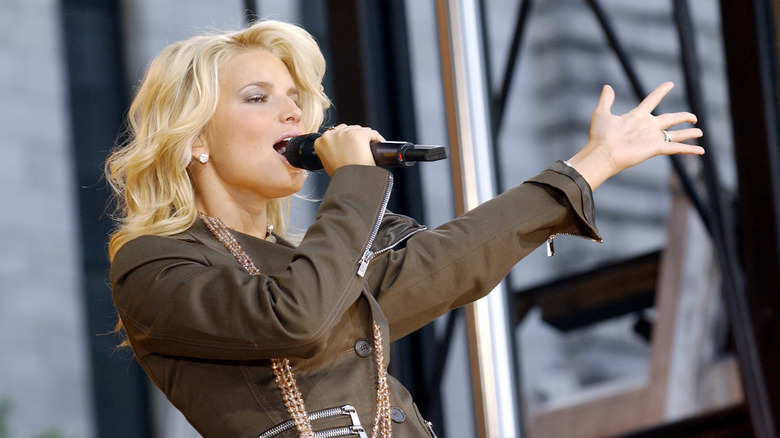 Everett Collection/Shutterstock
Jessica Simpson's struggle with addiction may have played a role in the star's absence from music for nearly a decade. Simpson first came on the scene in 1999 with her debut album "Sweet Kisses." The album hit the Billboard 200 at No. 25 and was just the beginning. In 2001, the celeb released "Irresistible" to fans' delight, and in 2003, Simpson landed her highest-selling album "In The Skin."
Around that time, the star broke into reality television, giving fans an inside look of her marriage to 98 Degrees singer Nick Lachey. The show, "MTV's Newlyweds" ended up being detrimental to Simpson's brand, as fans quickly took sides when the couple split in 2005, and re-labeled the singer as just a "dumb blonde." Publicist Michael Sands told Today at the time that Simpson's marriage was "out of character ... she's not the cover girl anymore."
While the artist did attempt to regain her respect in music with 2006's "A Public Affair," and even a country album in 2008, the momentum was gone. Simpson's last album, "Happy Christmas" released in 2010. A decade later, the "I Think I'm In Love With You" artist opened up to Entertainment Tonight, saying music played a role in finding sobriety and "inspired" her to write her memoir, "Open Book." "I realized when I was going down into my studio, even though I was in the comfort of my house, I had to drink to numb the pain that I was about to experience to write."
If you or anyone you know is struggling with addiction issues, help is available. Visit the Substance Abuse and Mental Health Services Administration website or contact SAMHSA's National Helpline at 1-800-662-HELP (4357).