Jessica Simpson's Seriously Honest Message On Being Four Years Sober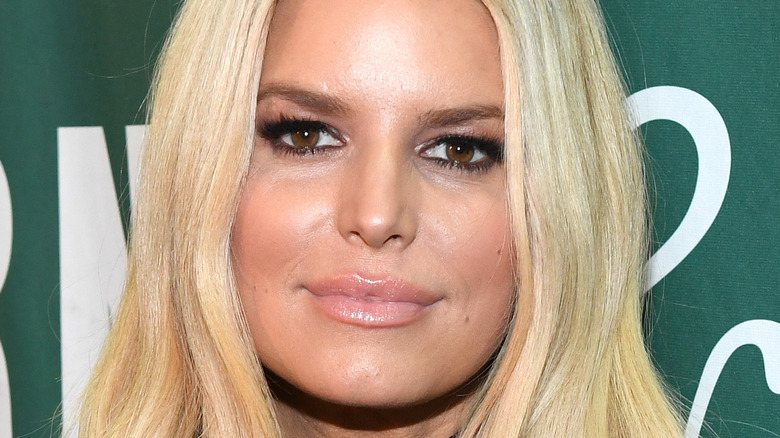 Kevin Mazur/Getty Images
We may receive a commission on purchases made from links.
Unlike some media-shy celebrities, Jessica Simpson has always been candid about her life. From her days starring on "Newlyweds" with then-husband Nick Lachey to exposing her toxic past with John Mayer, Simpson is essentially an "Open Book." And her bombshell memoir laid bare some of her darkest secrets, such as her childhood sexual abuse, bullying, negative body image, and alcohol and sleeping pill addiction, according to The New Yorker. As the singer revealed in her 2020 memoir — which she initially intended to be a motivational book — the alcohol dependency stemmed from the sexual abuse she experienced as a young girl, which she says her parents swept under the rug.
It wasn't until Simpson was an adult she finally dealt with the buried pain in therapy. "With work, I allowed myself to feel the traumas I'd been through," she wrote in "Open Book," per People. Now the star has found direction in peace, taking to social media on November 1 to celebrate four years of sobriety, complete with a seriously honest message and throwback picture of herself on the morning she began her journey of self-discovery.
Jessica Simpson faced hard light of day
Since quitting alcohol, Jessica Simpson is hopeful that her path might help someone else who is struggling with similar issues. Her November 1 Instagram post proves this, as she opened up about the work she's done to accept the "failure, pain, brokenness and self-sabotage" in her life. "This person in the early morning of Nov. 1, 2017 is an unrecognizable version of myself," Simpson captioned a throwback pic. "I had so much self-discovery to unlock and explore," she continued. "I knew in this very moment that I would allow myself to take back my light, show victory over my internal battle of self respect and brave this world with piercing clarity." She explained how for her, alcohol had to go because it "kept" her "mind and heart circling in the same direction." 
Since 2017, Simpson welcomed her third child, Birdie, scored a deal with Amazon, and released an essay book on motherhood, to name a few accomplishments. And it's safe to assume this new outlook helped her get to that place. "I didn't love myself. I didn't respect my own power," she said in the post. "Today I do. ...I am wildly honest and comfortably open. I am free." 
As it turns out, Simpson isn't the only one in her family who's sober today. In March, she appeared on "The Tamron Hall Show" and revealed that her husband Eric Johnson gave up alcohol with her. "Eric and I, both, we look at each other, like, we could not have drank through this," she added.