Luann De Lesseps' What Do I Want For Christmas? Music Video Has Fans Reeling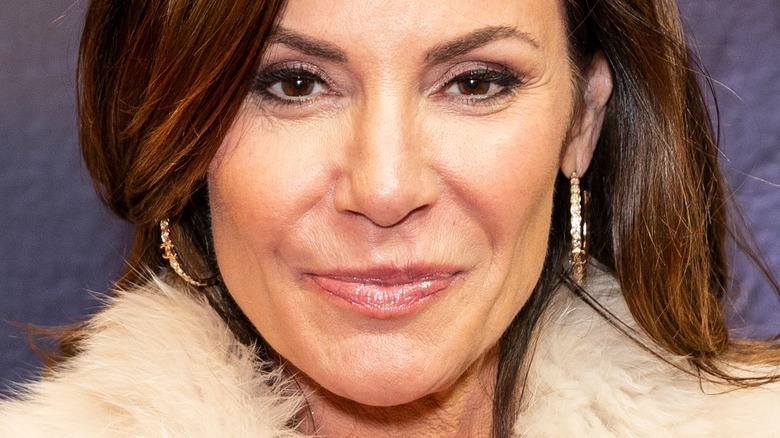 lev radin/Shutterstock
"What do I want for Christmas?" Well, according to Luann de Lesseps, a new Christmas song just in time for the holiday season is exactly what you need. However, the reality star kept it real and admitted that besides "you" for Christmas, she wouldn't mind a Cartier watch, a Ferrari, and a Tiffany bracelet too. At least she's being honest! The "Real Housewives of New York" star dropped her latest single on November 12, and it is everything.
Luann took to Instagram to announce the release of her new track. She is also trying to spread some holiday cheer. In her caption, she wrote, "Thank you fabulous #RHONY girls & lovely ladies of the @fortunesociety for being part of this very special, original new #Christmas song." She then confirmed, "Song proceeds to benefit @FortuneSociety."
The performer's latest offering is part of her new cabaret show, "A Very Countess Christmas," per People. Luann appeared on the "Chicks in the Office" podcast and dished that "'What do I want for Christmas' was a fun, catchy song" that was "light and cheerful." In the video, her fellow "RHONY" stars Ramona Singer, Leah McSweeney, Sonja Morgan, and Eboni K. Williams make cameos. Luann teased that she included everybody "so nobody could b***h at her." As for getting back on stage, Luann shared, "I love it, to have the fans there and feel that love. And it's the holidays, so there's so much to celebrate."
Luann's new music video features her RHONY castmates
Luann de Lesseps has released a music video for her latest single, "What Do I Want For Christmas?" and it is fire. The video starts with footage of snow falling in New York City. Luann's husky voice then sings, "What do I want for Christmas? What is it gonna be? What's gonna magically appear beneath the Christmas tree?" as she gazes into the mirror. Pretty soon, the "Real Housewives of New York" star is crooning while sitting on piano played by composer and pianist Billy Stritch, per Bravo. Luann is decked out in a sparkly strapless number and a dazzling statement necklace that only she could pull off.
The rest of the "RHONY" cast join her as they sing around the piano and sway their hips in time to the music. Sonja Morgan wore a shimmering wrap-around dress in a shimmering, while Leah McSweeney donned a form-fitting gown in a soft green. Ramona Singer stunned in a plunging gown, and Eboni K. Williams sizzled in a red dress with a split down the side. At one point in the video, the women are gathered around a large spinning globe and singing about "circling the globe until [they] find the perfect man." Fans will likely remember that Leah previously asked Luann if they would be singing on the track, per Bravo. Luann answered, "I haven't even thought about that part yet." But, it seems as if she answered "yes."
Luann de Lessep's Christmas song sizzles on social media
The "Real Housewives of New York" star Luann de Lesseps has sparked fierce interest with her new Christmas song. The tune was a hit with the Bravo show's fans and they waxed lyrical about it on social media. "I'm going to be jamming this all day!" a fan raved. Another said, "The Christmas miracle we all needed!" A third viewer threw a little shade at Luann by suggesting that she chose a promo pic where she outshone the rest of her "RHONY" castmates. "I love how Luann chose an album cover where she clearly looks the best in true countess fashion," they teased.
One group of people who were vocal about their gratitude was the Fortune Society. According to their website, the non-profit organization's aim is "to support successful reentry from incarceration and promote alternatives to incarceration." They believe that this helps by "strengthening the fabric of our communities." Fortune Society posted, "Thank you @countessluann for supporting Fortune!" As Luann noted in her Instagram share, the proceeds will be donated to this charity.
Sonja Morgan also tweeted about Luann's "What Do I Want For Christmas?" In true Sonja style, she responded tongue-in-cheek, tweeting, "Diamonds on my Panties." A fan complimented Sonja on her appearance in the music video. They wrote, "yay my Sonjarita you looked so gorgeous in that video love you mamacita." Luann's song has evidently given us a good dose of cheer just in time for the holidays.