Judge Judy's Granddaughter Looks Exactly Like The Famous Judge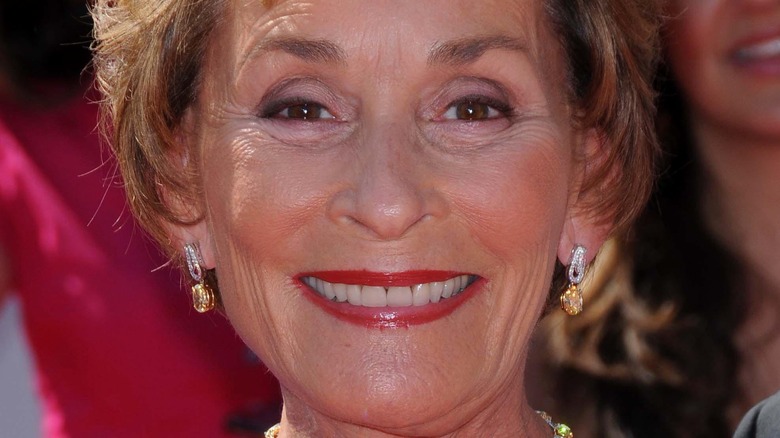 s_bukley/Shutterstock
We may receive a commission on purchases made from links.
Judge Judy Sheindlin is moving on to the next phase of her life. Her eponymous syndicated courtroom show recently came to an end after 25 years, and on no one's terms but her own. "I like to see things tied up in a bow," she told The Hollywood Reporter. "Nobody says, 'Oh, they did that show for 27 years.' That's not a number!" She also noted that she wanted to end the show while it was still relevant. "[I]t's always good to leave everybody wanting a little bit more," she added.
Now, she has a brand new show, "Judy Justice," streaming on IMDb TV. While the premise of the show is the same as the classic "Judge Judy," nearly everything else is different — from the cast to the courtroom set. "It's a new show and it can't look the same as the old show," executive producer and director Randy Douthit told Variety. Included in the new cast is law clerk Sarah Rose, who happens to be Sheindlin's granddaughter. Not only does she look just like her famous grandmother, but it seems she's following in her footsteps, too.
Sarah Rose is about to become a lawyer herself
Judge Judy Sheindlin introduced the new cast of "Judy Justice" in a press release. And she had only glowing things to say about her granddaughter and law clerk Sarah Rose. "She's smart, sassy, and opinionated," Sheindlin said. "Who knows where she gets those traits?" Sheindlin also noted that Rose will be a third-generation female lawyer.
In a letter to her grandmother published in Good Housekeeping, Rose revealed how much inspiration she has drawn from her "Nana." "You taught me that the way to build confidence is to be independent and do work in your life that is meaningful and impactful," she wrote. "You have had a significant impact on many young ladies' lives, as evidenced by the fans who come up to you to share that you're their inspiration for success." She also called her Nana her "very best friend." Aww!
Sheindlin told the New York Post that she "instinctively knew" her granddaughter belonged on the show. "[S]he is articulate, good-looking, youthful ... what you want from a clerk on a [court] program." Sheindlin also noted that Rose is not afraid to speak her mind. "She even disagreed with a decision I made and I said, 'I can see your side of the equation,' which is a big leap for me," the judge said.