The Real Meaning Of Somos Nada By Christina Aguilera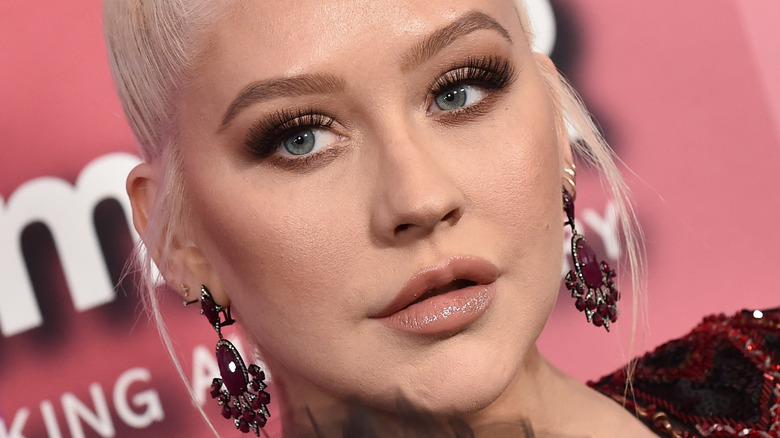 DFree/Shutterstock
Twenty years into Christina Aguilera's career, the singer is slowly opening doors for audiences to experience a Spanish project of epic proportions. On October 22, she released the single "Pa Mis Muchachas," featuring Peluso, Becky G, and Nicki Nicole. Then, on November 18, she dropped another new song, "Somos Nada," which was released during the GRAMMYs, according to Hello!
This new project marks a major shift for the pop icon. She released her first Spanish album, "Mi Reflejo," in 2000, and following this, she focused mainly on English pop music until now. So this change in her career is monumental. "I really want to embrace authentic things and not just go for whatever was reflective of being popular," Aguilera told Billboard. "We didn't go the direct reggaeton route out the gate."
Aguilera spoke about this project at large. "I wanted to embrace this as a body of work and you'll see different elements and sounds that will be gradually released well into 2022. We did it in a matter of having three different chapters." While all of this is incredibly exciting, Aguilera's "Somos Nada" is particularly remarkable.
'Somos Nada' taps into emptiness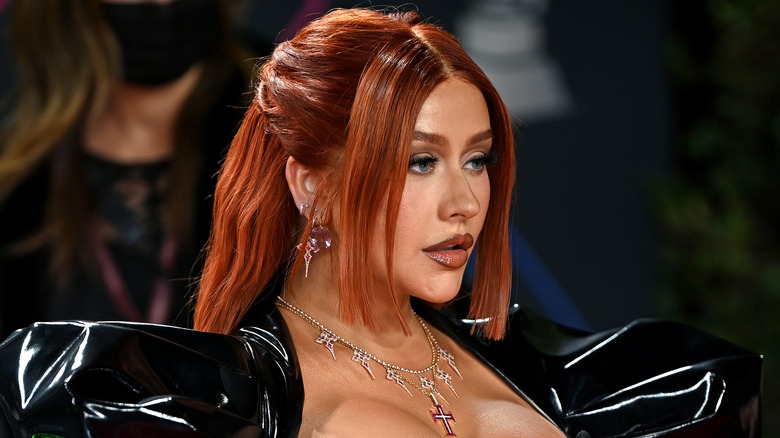 Denise Truscello/Getty Images
While originally sung in Spanish, Christina Aguilera's "Somos Nada" taps into the universal theme of vulnerability and strength. The title of the song translates to "We Are Nothing" and Aguilera sings about the contrast of the strong shell and the soft interior. "Although you see me made of metal / I fly with wings of crystal / In front of the cliff, standing and trembling / I'm going to jump," according to a translation by Lyrics.
Despite the pain and desperation, Aguilera shifts to strength. "Although the pain suffocates me / I don't lose the faith in love," she sings, then turns back to anguish. "I was a heap of doubts and anxiety / In a dark sea that I couldn't navigate / I'm drowning in silence," she goes on. Aguilera ends the song in ambiguity. "We are nothing," she sings. "We are everything." The general theme of the song focuses on emptiness, but in that state of nothingness, everything is possible. Interestingly, Aguilera is less interested in romantic love. Instead the overarching focus of her new project is women moving through different stages of their lives. 
Fans can't get over 'Somos Nada'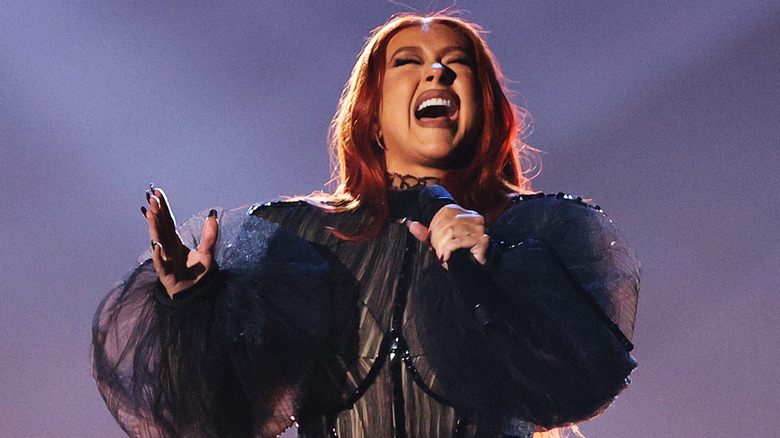 Kevin Winter/Getty Images
Christina Aguilera is at a remarkable point in her career and one that marks a major shift for the pop star who has remained relevant for two decades. In speaking about her major new work, Aguilera told Billboard: "It's been a project that I wanted to follow up for so long but I'm so happy that it's happening now as a grown woman."
"Having been a mother, having experienced the career I have, I bring a different view and set of passions," Aguilera added. "Now it's coming from a deeper perspective and wanting to explore." This exploration isn't easy, though. "It can be intimidating and scary to put yourself out there in a way you know will be challenging," Aguilera said. "I don't write in Spanish the way I do in English, but I know my heart."
Well, everyone else seems to appreciate Aguilera's commitment to push herself to her limits. In the comments on YouTube for "Somos Nada," fans were ecstatic. "I've been a fan since the beginning and I just love Xtina making music, being creative and singing her heart out! Love you Xtina, that was amazing!" someone said. "Fun fact: Christina doesn't have a bad song. She didn't just deliver, she SERVED," another person added. "Christina you are the best singer and performer on the face of the earth," someone else said. Clearly, the song's earned rave reviews all around.