The Real Meaning Behind Christina Aguilera & Becky G's Pa Mis Muchachas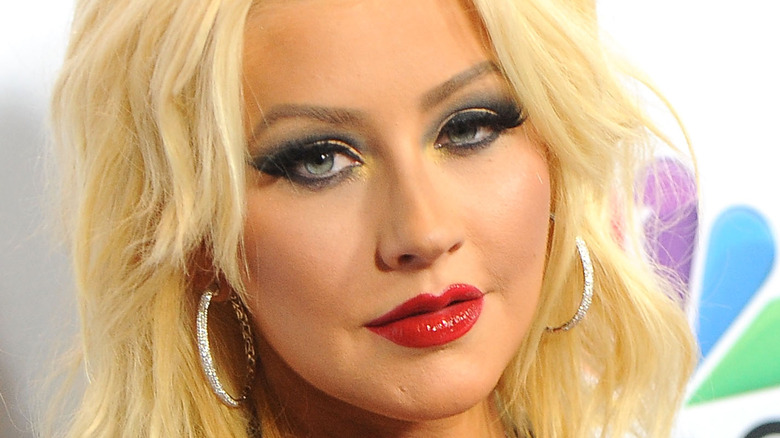 Angela Weiss/Getty Images
Christina Aguilera began her career as a young cast member on "The All New Mickey Mouse Club" — just like fellow Mouseketeers-turned-superstars Justin Timberlake, Britney Spears, and Ryan Gosling. However, it wasn't until 1999, following her debut self-titled album, that she really burst onto the scene. At 18 years old (per CapitalFM), she (quite literally) unleashed her breakout single, "Genie in a Bottle," which earned her a Billboard No. 1. She also won the 2000 Grammy Award for Best New Artist — and the rest is history. A star was indeed born.
Since then, the singer has had a very successful music career. Aguilera has released eight studio albums, dropped four more No. 1 hits, and earned five total Grammys. She also starred in the movie "Burlesque" alongside Cher, Stanley Tucci, and Kristen Bell. Aguilera also went on to be a judge on "The Voice" and landed her own Las Vegas residency. Now, she is gearing up to release her first album in three years — actually, she's releasing two, including her first Spanish album in 21 years. Fans are buzzing. The rollout includes the new single "Pa Mis Muchachas," so let's dive into this exciting Spanish track.
Christina Aguilera's new song is an 'homage to women'
On October 22, Christina Aguilera dropped the music video for "Pa Mis Muchachas," which means "fo' my girls," featuring Nathy Peluso, Becky G, and Nicki Nicole. 
The singer revealed that the track is an "homage to women," telling Billboard, "We wanted to make sure that this was definitely a representation of Latin women who are the strength of a family, the backbone." She added, "In the song we mention that I'm a woman that is strong because I was raised by a woman that was strong and so was she before that. It's something that gets passed down by generations." She added, "I chose Nathy, Becky and Nicki because of the strength they exude."
The tune includes lines like (via Genius, as translated by Google): "A woman as tough as me / She was the one that taught me all this flow" and "I'm not just a pretty face / I have strength, fire and dynamite/ If I'm skinny or curvy, how do you like it? / Be careful with this mamacita." These lyrics also echo Aguilera's press release comments about "Pa Mis Muchachas" being about "owning who you are and accepting others free of judgment." We love the message ... and that the superstar is putting out more Spanish music!
Christina Aguilera said writing in Spanish again was 'intimidating and scary'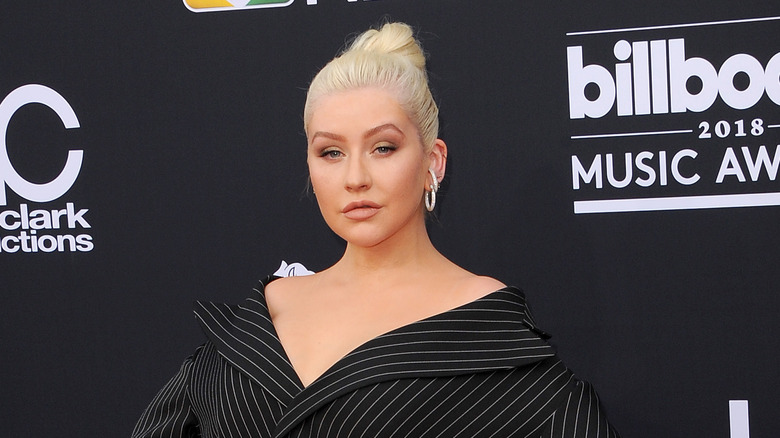 Tinseltown/Shutterstock
Christina Aguilera said that writing the song "Pa Mis Muchachas" was "intimidating and scary" because she had to "put herself out there in a way you know will be challenging." Indeed, as the singer added to Billboard, "I don't write in Spanish the way I do in English, but I know my heart. It's a layered journey I've been on but now having kids of my own, I want them to see that mommy doesn't know everything." She continued, getting vulnerable. "I'm still learning too and I'm not going to back down from something I'm truly passionate about because I'm scared or I'm afraid what people will think. This is me being me on my own journey of life. I could cry about it."
The star also explained to People that her new music is a "full-circle moment" for her because she's now able to "dive deeper into something that I'm so passionate about" as opposed to in the past, admitting "some of my most commercial successes were not my happiest moments. ... I've been in music for a really long time, but there's nothing like being around Latin musicians and artists," she added.
"Pa Mis Muchachas" is Aguilera's first single off her upcoming Spanish album, per People, and "her first in over two decades" as we previously mentioned. And we cannot wait to hear more.