Tetona Jackson On The Housewives Of The North Pole, Working With Halle Berry, And Being A Disney Princess - Exclusive Interview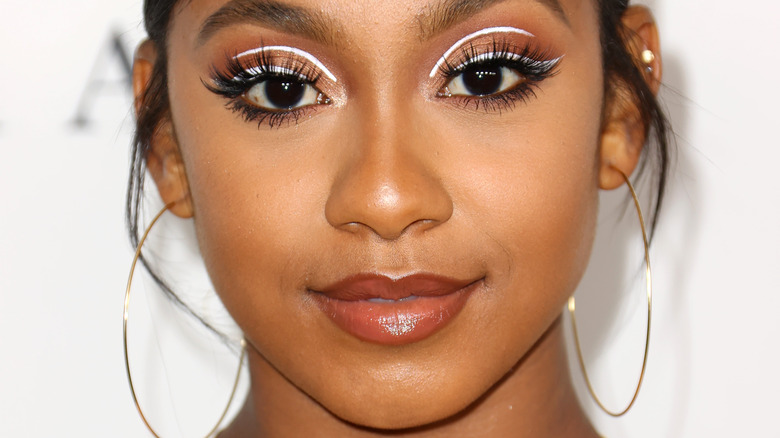 Jc Olivera/Getty Images
The holiday season is upon us, and Tetona Jackson is about to hit our screens in Peacock's very first holiday movie, "The Housewives of the North Pole." The multi-hyphenate already has a plethora of credits under her belt, from her starring role as Tiana in Disney on Ice show "Let's Celebrate!" to playing Simone Graham in BET's "Boomerang" remake. As well as being a prolific ice skater and actor, Jackson is also a musical talent, as the daughter of Grammy-nominated singer Freddie Jackson. And Peacock's first Christmas movie is about to make her a household name.
"The Housewives of the North Pole" follows Trish (Kyle Richards) and Diana (Betsy Brandt), the reigning champions of the Best Holiday House decorating competition. That is, until Kendall (Jackson) arrives and makes the competition a little more interesting.
Nicki Swift sat down with Tetona Jackson ahead of the release of "The Housewives of the North Pole" to find out all about the new holiday movie, what it was really like working with executive producer Halle Berry on "Boomerang," and whether she has any plans to return to music in the future.
Tetona Jackson is ready for the holidays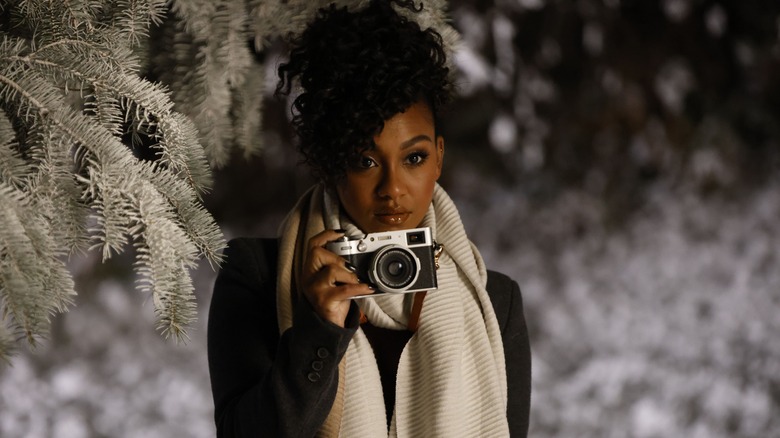 Fred Hayes/Peacock
What drew you to Peacock's "The Housewives of the North Pole"?
Honestly, I have always wanted to do a Christmas movie. I think they're so much fun. They're so cute. And my dream came true.
So the movie co-stars Kyle Richards from "The Real Housewives of Beverly Hills." What was it like working with a real Real Housewife? And are you a fan of the show?
First of all, she is so amazing to work with. She's super sweet, so much fun. I loved working with her and Betsy Brandt, and honestly the entire cast was a lot of fun to work with. I will be 100% honest. I haven't watched the show, "The Real Housewives of Beverly Hills." I mean, obviously it's such a huge show, so I've seen clips and I know of the show. But I have not actually watched. ... I feel like it's going to suck me in.
So what can you tell us about "The Housewives of the North Pole"?
So it is a very, very cute Christmas movie. Of course, it's Peacock's very first Christmas movie, which is very exciting. I'm really excited to be a part of that. But the movie is about these two women played by Kyle and Betsy and they are best friends. And they win this house decorating contest every year. And my character Kendall kind of comes in and stirs things up a little bit. So you kind of get to see this huge rollercoaster happen, and you get to find out what happens at the end.
So you get to create the drama by the sounds of it.
I do. Me and my boss. Alec Mapa plays my boss in the movie and he is so much fun to work with. We kind of stir things up a little bit.
Are you a fan of Christmas movies, and do you think you'll make more after this one?
I am a huge fan of Christmas movies and I hope I get to be in more Christmas movies after this. It's a lot of fun to do.
Tetona Jackson scored a role in ABC's Home Economics
You also recently wrapped on a project called "Work Wife." Is there anything you can tell us about it?
So "Work Wife" was a pilot that I did back in November. It was, again, such a fun show, such a great cast. But I'm currently working on this show called "Home Economics," which is also on ABC. So that's my current project now. 
So you've got a lot of stuff going on at the moment ...
I do, which is always a blessing. It's always good. And to be able to do that and still be a mother is huge for me. That's such a big thing for me. I'm very excited to be able to do both.
Is it difficult to juggle sort of your home life and your busy work life?
I will be 100% honest with you, this is the most challenging thing I have dealt with thus far in life. Juggling my daughter and my home life and also working and also breastfeeding full time, which is such a big thing for me ... It was something that I was very, very adamant about doing. I sometimes feel like I'm a chicken with its head cut off, but I'm managing. I'm getting it done.
Meeting Halle Berry was a blast
You starred in "Boomerang," BET's TV version, which was produced by Halle Berry. What was it like working with her and working on that show?
The show was so much fun to work on. Halle is such an amazing, such a beautiful soul. So kind, so humble. She was amazing to meet both her and working with Lena Waithe, as well, was a lot of fun. Lena is such a creative powerhouse. Working on the show, it was my first big project. It was kind of like my baby. Simone Graham is very, very dear to my heart. So I love the show. I love the character. I love the cast. Everything about the show was a lot of fun for me.

Your dad, Freddie Jackson, is a Grammy-nominated musician. Has he had a big influence on your career? And could we see you moving more into music in the future?
My father, I want to say is a huge part of why I chose to be in the entertainment industry. When I was younger, he used to take me on a lot of his gigs with him and I would sit backstage and kind of watch everything happen. And it was so fascinating for me. And I think from that moment forward was when I was like, I didn't know what in the entertainment industry I wanted to do when I was younger. But I knew that there was something about the industry that just kept drawing me in and I absolutely loved it. A lot of the reason why I'm in this industry is because of him. And he supports me so much. I mean, both my parents do. He's such a huge supporter, and he knows what it's like being in the industry as well. It's good to have someone like him on my side.
She loved becoming a Disney princess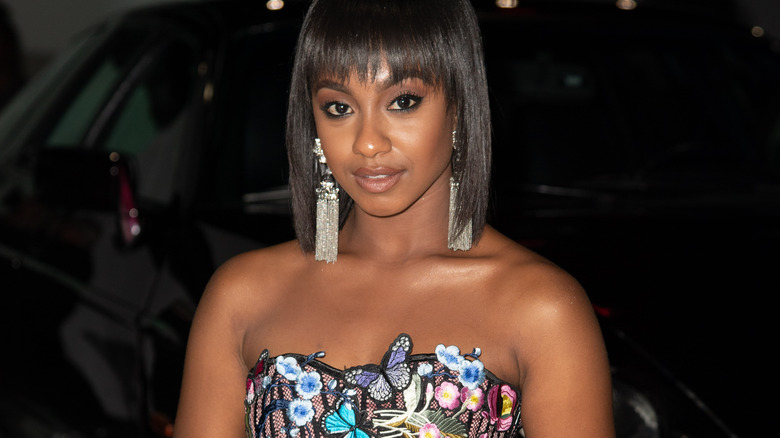 Earl Gibson Iii/Getty Images
Do you plan on moving back into music in the future?
I would love to step back into music. I haven't done it in such a long time. One of our goals in life has always been to work with each other musically. So hopefully that happens soon.
One of the first big things that you did was you were in the Disney on Ice show "Let's Celebrate!" as Disney Princess Tiana. What was it like and are you still skating?
I am not still skating. I haven't skated in a while, although I do miss it a lot. Being able to tour, first of all, being, being the first Tiana to ever appear, before the park princess opened, it was so much pressure, but I loved the character. She was such a fun character to play. And being on tour was such an eye-opening experience for me. Being able to travel all over the world and travel, doing what I love doing. And it was a lot of fun for me.
It sounds like such an amazing, but tiring, experience.
It's definitely draining, and takes a toll on the body doing as many shows as we did. But I loved it.
It probably prepared you well for working in TV.
Absolutely. I think growing up as a figure skater set me up for being an actress because I learned discipline at such a young age. So I'm able to carry that into my work now.
Tetona Jackson is a Love Island fan
So I know you don't watch "Real Housewives," but are there any reality TV shows you're watching right now?
It's honestly, at this point with a baby, it's kind of impossible to get through an episode of anything. It's funny, my co-stars on "Home Economics" turned me onto, I think it's called "Love Island." I just started watching that the other night. I texted my co-star, I was like, "I'm shook. We need to discuss. I need to know more about this show."
Oh no, but that's going to drain so much of your spare time.
I know. I'm like excited, but also nervous. Because I'm like, what? I felt the need to watch more. And I was like, oh no, what's happening.
Is there anything else you want viewers to know about "The Housewives of the North Pole"?
I just want everyone to go watch it. Go watch it. It's a really cute movie. It's a feel-good Christmas movie with an amazing cast. It's just really cute. So I think everyone should go watch it.
"The Housewives of the North Pole" will stream exclusively on Peacock in December 2021.