Are Selena Gomez And The Weeknd Collaborating On New Music Together?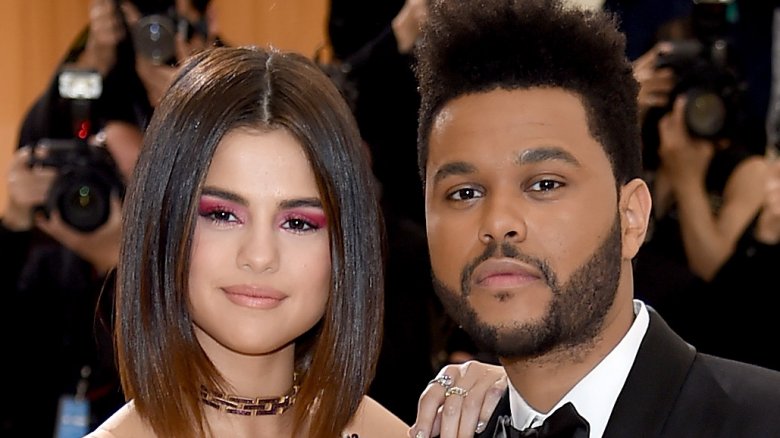 Getty Images
Rumor has it Selena Gomez and The Weeknd are about to take their relationship to the next level—with a musical collaboration!
Over the last month, Gomez has treated her fans to two new tracks, "Only You" and "Bad Liar." But the Internet is currently abuzz with anticipation for her upcoming song, "In Her Element," which is rumored to feature her "I Feel It Coming" crooner boyfriend.
As E! News reports, speculation around the prospective collaboration began swirling when the discography section of pop songwriter Max Martin's Wikipedia page first listed the track in May 2017. The post showcased Gomez, Nicki Minaj, Julia Michaels, Justin Tranter, and Ryan Tedder as the song's co-writers, and The Weeknd as its featured artist. 
The post has since been deleted, but Elle was able to snag a screenshot before it was taken down. And while Wikipedia admittedly may not be the most reliable source, it certainly makes sense that the talented duo would at some point make music together, especially since their sweet romance shows no signs of slowing down. 
Further fueling this rumor is the fact that "Bad Liar" might actually be about Gomez's new beau, rather than her ex Justin Bieber, as was initially assumed. As People reported, one of the song's writers, singer Julia Michaels, set the record straight on Twitter. In a reply that has since been deleted, she wrote to a fan, "It's actually about trying to hide magic feelings for someone new, but not being able to."
Gomez, 24, and The Weeknd, 27, have been dating since December 2016 but were first spotted together in January 2017. And earlier this month, the cute couple made their red carpet debut at the 2017 Met Gala. According to E! News, the adorable pair were totally aww-worthy and not at all shy with the PDA as they were overheard whispering "I love you" to one another over the course of the evening.