Selena Gomez And The Weeknd Make Red Carpet Debut At 2017 Met Gala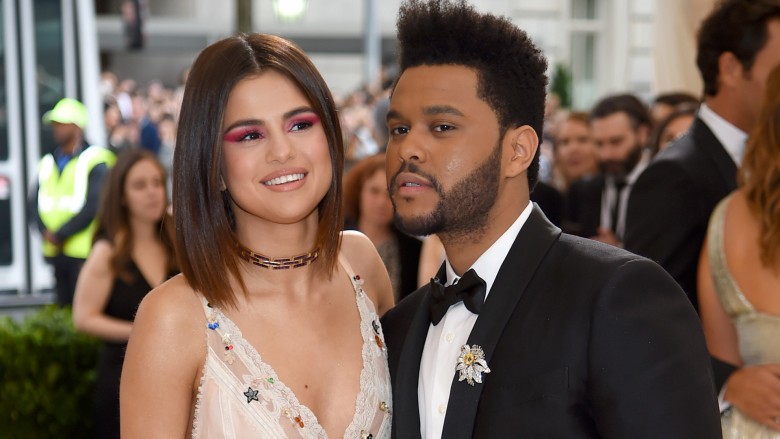 Getty Images
Selena Gomez and The Weeknd made their red carpet debut at the Met Gala on May 1, 2017.
The 13 Reasons Why producer and the "Starboy" singer were overheard whispering "I love you" to one another on the red carpet of fashion's biggest night, E! News reported. Page Six caught the pair getting quite cozy, with The Weeknd nuzzling his face in Gomez's cleavage.
What makes that all just somewhat sketchy? They did so when they were just a few feet away from The Weeknd's ex's mom, Yolanda Hadid—the Real Housewife mom of supermodel Bella, who The Weeknd dated for more than a year before they split in November 2016.
Gomez, 24, and The Weeknd, 27, first started hooking up in late December 2016 shortly after his split from Bella, though they weren't spotted together until January 2017. Leading up to their big debut, Gomez met The Weeknd's mother during a March 2017 trip to Toronto, and the couple flaunted their PDA on social media and at the Coachella Festival in April 2017.
The public statements come just over a month and a half after Gomez gave an inadvertently ironic interview for her first Vogue cover. She told the magazine in March 2017, "Look, I love what I do, and I'm aware of how lucky I am, but — how can I say this without sounding weird? I just really can't wait for people to forget about me."
The Coach spokesmodel also expressed views about fashion and Instagram that don't quite gel with her actions.
"As soon as I became the most followed person on Instagram, I sort of freaked out," she said. "It had become so consuming to me. It's what I woke up to and went to sleep to. I was an addict, and it felt like I was seeing things I didn't want to see, like it was putting things in my head that I didn't want to care about. I always end up feeling like s**t when I look at Instagram. Which is why I'm kind of under the radar, ghosting it a bit."
Looks like she's ready to be on the radar in a big way—with her new man by her side. Your move, Justin Bieber.