Camila Cabello Rocks Stunning New Look Amid Shawn Mendes Split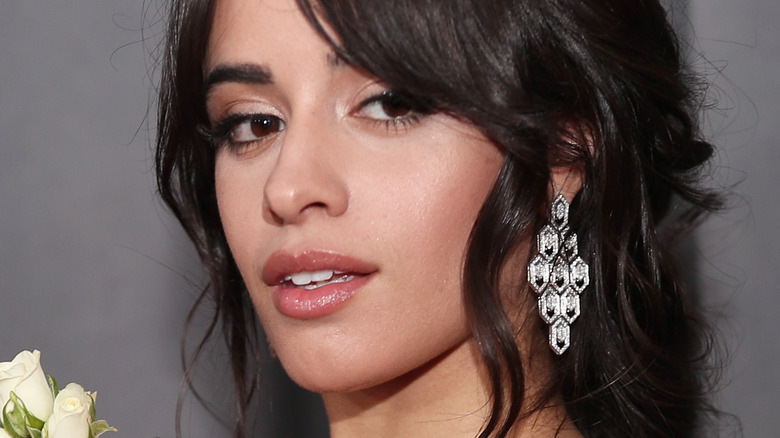 Christopher Polk/Getty Images
It was a sad day in the world of pop when Shawn Mendes and Camila Cabello announced their breakup via Instagram Stories last week. "Hey guys, we've decided to end our romantic relationship, but our love for one another as humans is stronger than ever," they wrote in a joint statement, (via Us Weekly). "We started our relationship as best friends and will continue to be best friends. We so appreciate your support from the beginning and moving forward. Camila and Shawn." The pair dated for more than two years and collaborated on music, like Cabello's mega-hit "Senorita," together.
Cabello was reportedly confronting her own mental and physical health in the months leading up to the breakup. As soon as the pandemic hit, Cabello was forced to slow down and confront her journey head-on. "I felt so anxious, cripplingly anxious. I just felt really unstable, and I just felt a mess because suddenly, this thing that was distracting me, my work and filming, was not there," Cabello said on a recent episode of Apple Fitness+ (via People). "It was getting in the way of my relationship. It was getting in the way of my friendships, my time at home."
Cabello began meditating and taking steps to improve her health, but the effects on her relationship with Mendes were evidently long-lasting. Fans have reason to smile, though. Thanks to a recent Instagram post, it looks like Cabello is getting her groove back after the split.
Camila Cabello is ready for a glow-up
Camila Cabello looked stunning in her Instagram selfie commemorating a hot new post-breakup look. The pop star rocked a frilly blue dress with icy hair to match in the November 21 post. "I clean up ok," she wrote. Fans were thrilled to see Cabello back in her element, looking happy and healthy after such a tumultuous year and devastating break-up. "YOU LOOK SO GOOD!," wrote one supportive commenter. "[I]t's giving hot," wrote another.
Cabello might have looked like the picture of Hollywood glam recently, but according to sources, she was heartbroken over the split. A source close to Cabello and Mendes told E! News that Mendes was the one who "initiated the conversation" about the breakup. "It was really hard for a few days, but she has been spending a lot of time with friends and keeping busy," the source said. "She has a huge support system and is feeling renewed now."
As for what happened and why Mendes wanted to split, apparently, the relationship had reached its natural end — with the source saying she "agreed" it was time. "The relationship was getting stale and complacent, and they decided they are better off being friends," the insider added. As for whether or not they are actually still friends that remains debatable. Mendes' name was noticeably absent from the list of names commenting in support of Cabello's icy new look.