What Was Jussie Smollett's First Red Carpet Appearance In Years After Alleged Hate Crime Attack?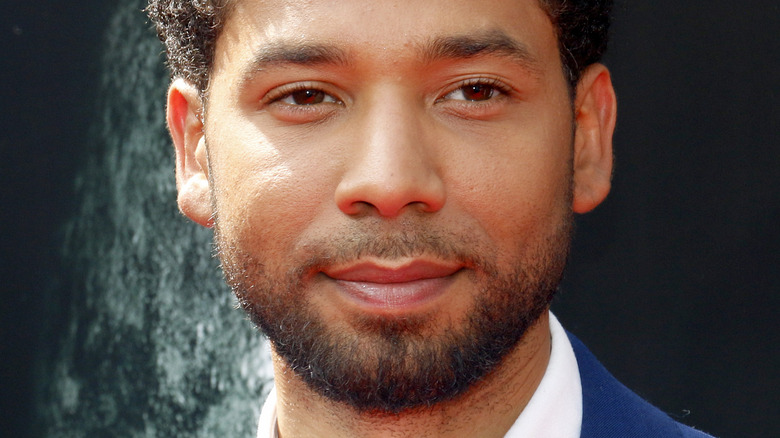 Tinseltown/Shutterstock
Jussie Smollett is back in action. The disgraced actor and former "Empire" star has long faded from the spotlight in recent years. Smollett's self-imposed exile came in 2019 after a controversial attack on him was proven to be staged (via TIME), leading to mass condemnation.
It all began in January of that year when Smollett alleged that he was the victim of a racist and homophobic attack. According to the BBC, the actor noted he was physically attacked and had an "unknown chemical substance" poured on him. He further added a noose was used in the attack and that the assailants "made reference to MAGA," via BBC — the acronym for former President Donald Trump's slogan, "Make America Great Again" — in their assault.
Eventually, the tables were turned when alleged assailants, Ola and Abel Osundairo, were questioned, while Smollett refused to hand his phone over to police. Smollett would eventually be charged with "disorderly conduct/filing a false police report" and was ultimately arrested. Chicago Police Superintendent Eddie Johnson slammed Smollett, stating he "took advantage of the pain and anger of racism to promote his career" as he was "dissatisfied with his salary." Though the charges were eventually dropped, Smollett's career never recovered. Now, almost three years after the incident, Smollett is making an impassioned return to the public.
Jussie Smollett reemerges on the red carpet to promote his new film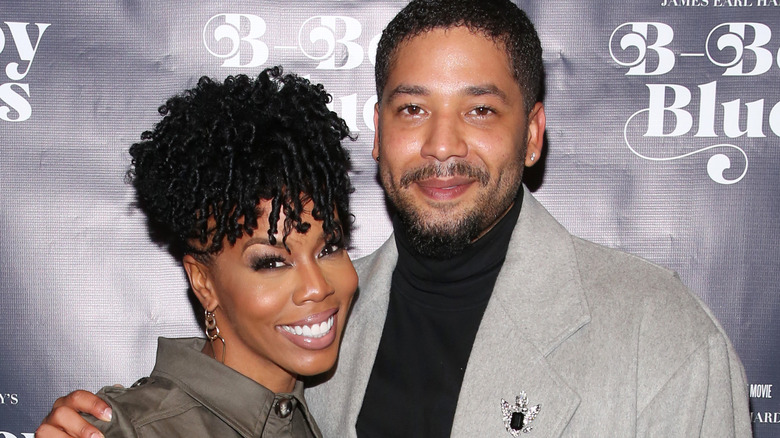 Rob Kim/Getty Images
Appearing at the AMC Magic Johnson Harlem 9 movie theater in Harlem, New York on November 19, Jussie Smollett hit the red carpet for the first time in two years. According to People, Smollett appeared in honor of his newest film, "B-Boy Blues," which stars Timothy Richardson and Thomas Mackie.
The film, which was written and directed by Smollett, is an adaptation of James Earl Hardy's 1994 book of the same name. The film tells the tale of two Black men — a journalist and a bike messenger — who fall in love amidst a homophobia-ridden world in the early 1990s. Following the film's successful screening, Smollett took to his Instagram Stories to reflect. "Beyond humbled by last night's screening," he wrote (via People), adding that "To see all the love for the film is crazy beautiful." He added, "More to come while I catch up but to everyone who came out last night with so much love and community ... on behalf of everyone @bboybluesthefilm, Thank you. We love y'all. Now to find a home for it so the whole world can see."
It's a bittersweet moment for Smollett, who is due back in court on November 29 for accusations of lying to police (via the Associated Press). According to lawyer Nenye Uche, the actor wants "nothing more than to go to a jury and clear his name" following his 2019 alleged assault case, according to the outlet.