The Real Reason Melania Trump Is Being Compared To Jill Biden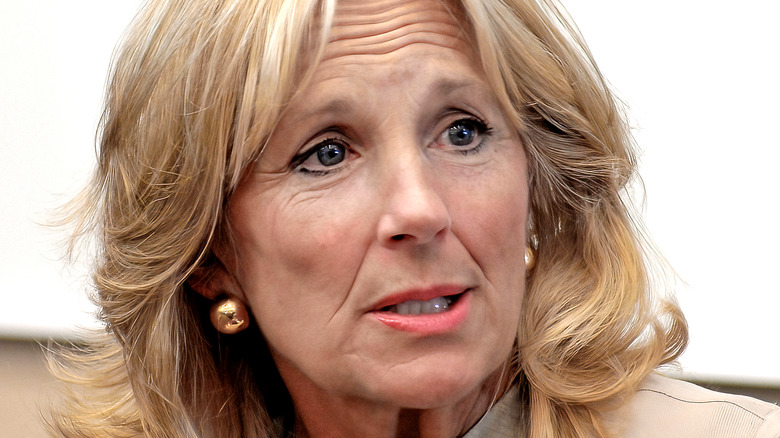 mark reinstein/Shutterstock
Former first lady Melania Trump and current first lady Dr. Jill Biden don't exactly have a ton of things in common, aside from the fact that they've both now been married to a president of the United States. But comparing the vastly different tastes, styles, and just general vibes of the two FLOTUSes appears to have become one of the internet's great joys.
During the Trump presidency, Melania more or less stayed out of sight until the holiday season came up and she had to do the normal first lady thing of showing off her White House holiday decorations. To say that her stark white trees and oddly sinister lighting was not a hit would be an understatement.
Well, now, as you are surely aware, we have come upon the first holiday season of the Biden presidency, which means it's Dr. Jill's turn to deck the presidential halls. And folks have noticed, well, a bit of a difference in demeanor.
Jill Biden and Melania Trump have different feelings about Christmas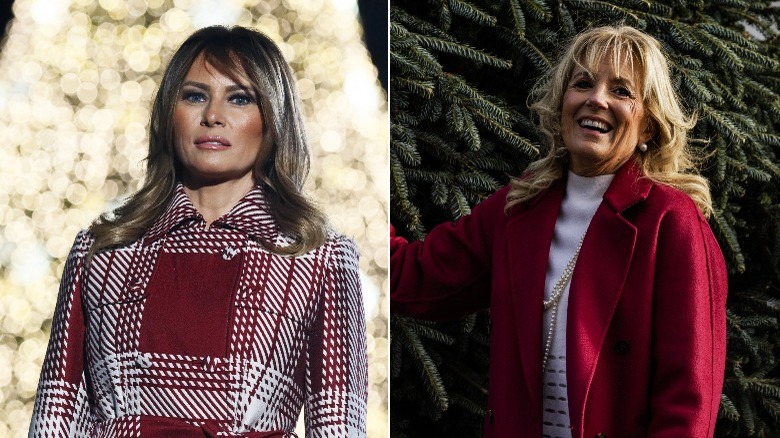 Paul Morigi & Bloomberg/Getty
If former first lady Melania Trump will be remembered for anything (aside from The Jacket), it will probably be for the time her former best friend leaked recorded audio of Melania saying something along the lines of, "F*** Christmas." We're not here to judge anybody's levels of holiday spirit, but we will say that Melania never gave off that holly-jolly vibe.
Current first lady Dr. Jill Biden, however, is basically dripping in holly-jolly. We can see her visiting Christmas-themed stores all year 'round. She probably has her own top secret hot cocoa recipe. So when the video of Jill receiving the White House Christmas tree appeared on Twitter, social media couldn't help drawing comparisons. "It's magnificent!" the first lady exclaims and then sticks her face into the branches to soak in that Christmas scent.
"After four years, thanks to First Lady Jill Biden, a normal, happy Christmas returns to the White House. It's the end of Melania Trump's dark, dystopian Christmases," opined one user. "I am *really* looking forward to seeing how Jill Biden decorates the WH for Christmas! No question that it'll be *so* much nicer than Melania's cheezy Handmaid's Tale sadness," wrote another. Along with a photo of Melania's dark red Christmas trees, one user joked, "With Melania Trump out of the White House we can safely say that the War on Christmas is officially over. Or at least the apocalyptic nuclear fall out has dissipated."