How Joe And Jill Biden Are Making The White House Their Own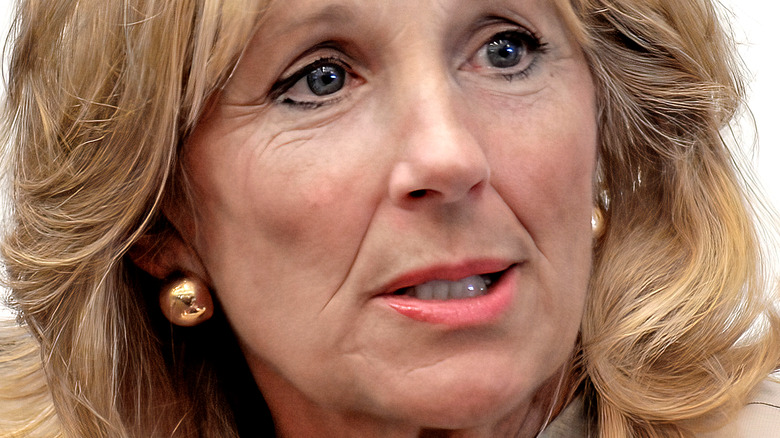 Mark Reinstein/Shutterstock
It seems like President Joe Biden and First Lady Dr. Jill Biden are making themselves very at home in the White House. Each political family that moves into the iconic building tends to put their own spin on what it looks like inside and outside the historical address — and that sometimes creates some controversy.
When the Trumps moved in to 1600 Pennsylvania Avenue under Donald Trump's presidency, Melania Trump raised a few eyebrows with her customization of the iconic Rose Garden. Before and after photos of the flowers, or lack thereof, went viral on social media, where many were pretty brutal about the overhaul.
Historian Michael Beschloss was also vocal in his disapproval of the big changes. He claimed on Twitter in August that the makeover had a "grim result" and that "decades of American history" had been "made to disappear." That caused Melania to hit back via her Twitter account, where she claimed the Rose Garden was still "in its infancy" and "is graced with a healthy & colorful blossoming of roses."
Taking things one step further, a petition for Jill to restore the Rose Garden to how it once looked also gained a whole lot of traction, receiving almost 85,000 signatures as of November. While it's not clear how much, if at all, Jill has changed Melania's vision, it has been revealed how she and Joe have made the White House their own...
The Bidens' White House renovations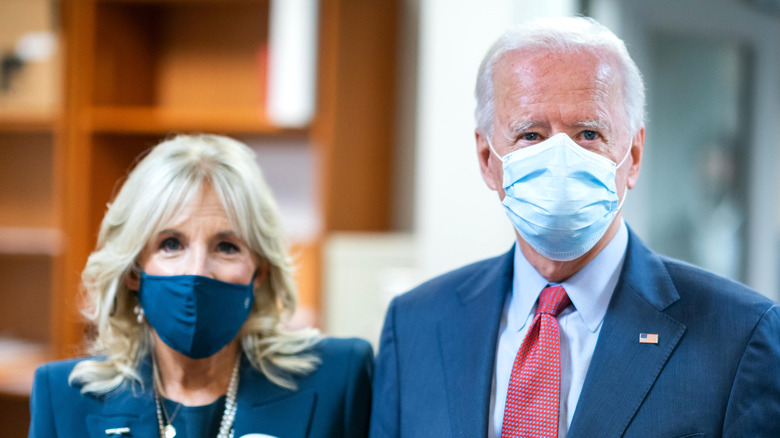 NumenaStudios/Shutterstock
Dr. Jill Biden opened up about the changes being made inside the walls of the White House while speaking during a gala celebrating 60 years of the White House Historical Association on November 4. "We're beginning to feel at home, like so many families before us," Jill said (via CNN), sharing she and her husband, President Joe Biden, were getting a swing set on the grounds for their grandson, Beau.
The Bidens — who'd already spent some time in their new home when Joe was Barack Obama's vice president — have already made plenty of memories since moving in, as Jill recounted a slew of big family moments they'd celebrated together. She shared they celebrated one of their granddaughters' graduations in the famous Blue Room, while Ashley Biden, their daughter, had her 40th birthday party in the controversial Rose Garden.
But that's not all that's happened. In January, TMZ reported that $1.2million was being spent on renovations inside the East Wing building, where Jill has her offices.
But the Biden's have left some things the same. One of those things was made clear by former First Lady Michelle Obama, who a snap on Instagram in February after Jill sent her produce from the vegetable garden she planted during her husband's, Barack Obama, time in office. "The garden is going strong," Jill told People, also confirming they have crib in the White House for little Beau.
Petition for a special White House episode of "Cribs," anyone?