Did Camilla Parker Bowles Really Say This After Meeting Prince William For The First Time?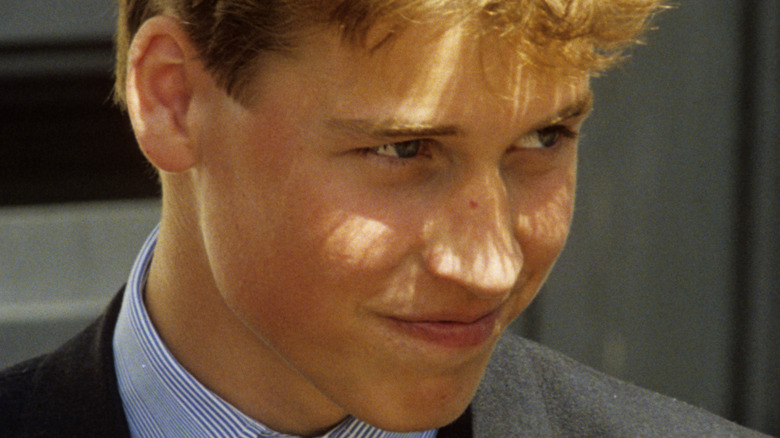 Anwar Hussein/Getty Images
Throughout Prince Charles' marriage to Princess Diana, the first in the line of succession to the British throne maintained a friendship with his former girlfriend, Camilla Parker-Bowles. Charles and Camilla also had a secret affair that was anything but secret. In 1994, the prince admitted to it in the ITV documentary "Charles: The Private Man, the Public Role," The New York Times reported at the time. When filmmaker Jonathan Dimbleby asked Charles if he had been faithful to Diana, he responded in the affirmative. But then he paused and added the bombshell: "Until it became irretrievably broken down, us both having tried."
By that point, he and Diana were already separated, but the royal family continued to oppose the divorce. That changed, though, when Diana conceded the infamous November 1995 interview to Martin Bashir, in which she said Charles' affair with Camilla contributed to their separation. "Well, there were three of us in this marriage, so it was a bit crowded," she claimed in the BBC's Panorama interview. A month later, Queen Elizabeth urged the couple to formally divorce, The New York Times reported. Charles and Diana's divorce proceedings were finalized in August 1996, Marie Claire detailed.
If the world knew about the Diana-Charles-Camilla love triangle, Prince William and Prince Harry also knew. But even though Camilla had been in Charles' life for decades, William and Harry had never met her. That didn't happen until a year after Diana's tragic death. As one might expect, the meeting was tense.
Camilla Parker-Bowles apparently needed a strong drink afterwards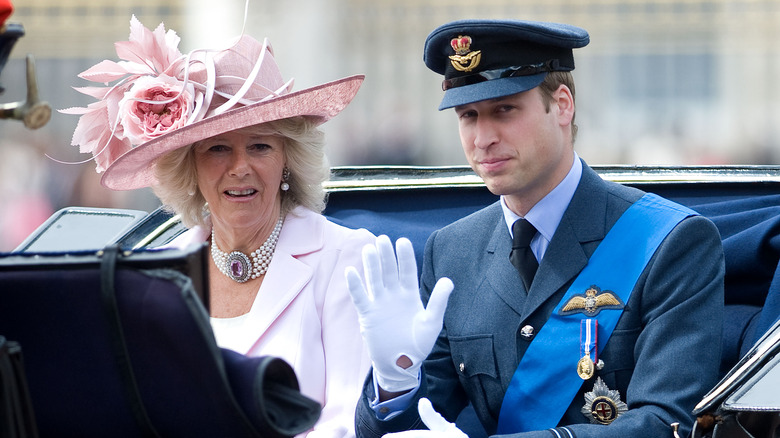 Samir Hussein/Getty Images
The decision to meet Camilla Parker-Bowles came from Prince William himself. According to Cheat Sheet, Prince Charles had planned to go public with his relationship with Camilla after he and Princess Diana divorced in 1996. But before Charles could do so, Diana died in a tragic accident that stunned the world, so he decided to keep it on the low. Prince Harry and William showed no interest in meeting their father's partner, considering everything that went down, and Charles respected it, according to the report. A year after his mother's death, though, William thought it was time.
On June 12, 1998, days before his 16th birthday, William dropped in unexpectedly at St. James' Palace, where he knew Camilla would be visiting with his father, to rip that bandaid off, The Irish Times reported in July 1998. Charles introduced William and Camilla and left them alone, royal biographer Penny Junor wrote in the 2017 biography "The Duchess: the Untold Story" (via International Business Times). They chatted for about a half hour, minutes that apparently had a strong impact on Camilla. "Camilla came out saying, 'I need a gin and tonic,'" Junor detailed in the biography. 
We know the meeting took place because Charles's aides confirmed it to the press, per The Irish Times. But whether Camilla really said she needed some help to alleviate her anxiety is still uncertain, though it will certainly remain a thread in the fabric of the popular country. 
Camilla Parker Bowles kept mum after Princess Diana's bombshell interview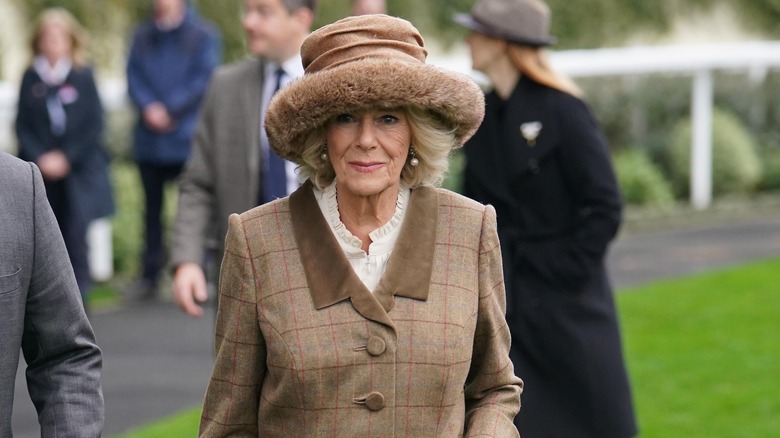 Wpa Pool/Getty Images
Perhaps there was yet another instance that left Camilla Parker Bowles pining for a stiff drink: Princess Diana's highly publicized 1995 interview with BBC1's Martin Bashir.
As you may recall, Diana spilled all of the royal tea during the candid interview wherein she discussed her issues with bulimia, her rumored affair with Major James Hewitt, and yes... Camilla. "Well, there were three of us in this marriage, so it was a bit crowded," the late princess famously told Bashir when asked whether or not she believed Camilla played an integral role in the demise of her marriage to Prince Charles.
It's reported that Camilla watched the bombshell interview play out on television along with the rest of the world and it appears she definitely felt some type of way. Rather than being angry by the tell-all, royal biographer Penny Junor told Vanity Fair (via International Business Times) that Camilla found the entire spectacle comical and was amazed by the "sheer theatricality" of it all. Amused or not, however, Camilla never publicly addressed it. According to journalist Mary Braid (via Express) Camilla's "silence and discretion" regarding the jaw-dropping interview was simply how she operated. "This is a woman who has endured without a whisper an avalanche of public insults after Prince Charles told millions about their affair on television," Braid elaborated. "This is a woman who once encountered a journalist breaking into her downstairs loo; and who had the contents of a family album, taken without her consent, splashed all over a newspaper."