Which Celebrities Were Travis Scott Just Spotted Hanging Out With After The Astroworld Tragedy?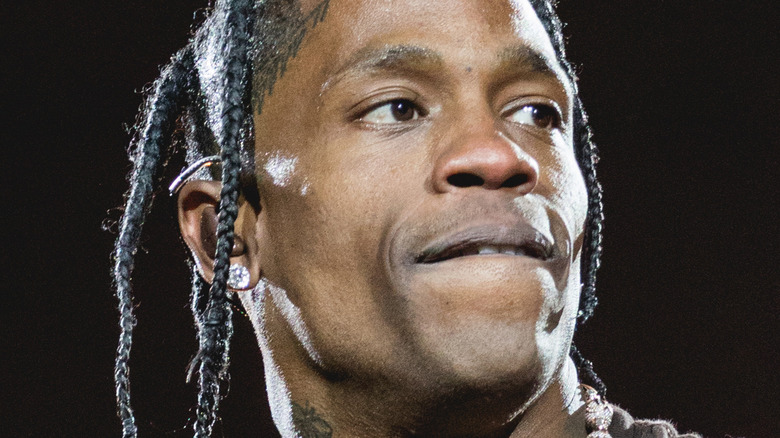 Rick Kern/Getty Images
Astroworld — no longer his planet or his home. The embattled rapper Travis Scott has been spotted decompressing on the green in Southern California following the Astroworld tragedy. The incident, which occurred in early November, has left 10 concertgoers dead and dozens injured as nearly 50,000 fans crammed Houston, Texas' NRG Park for the eagerly awaited festival. It was a terrifying tragedy that has left multiple families broken in the wake of the incident and long sullied Scott's reputation.
The "Butterfly Effect" rapper, who is known for his rambunctious shows and stage antics, has come under scrutiny for eliciting raucous behavior at his concerts from years prior. In 2017, during a concert at New York City's Terminal 5, Scott encouraged a fan to jump off the venue's balcony. As the fan jumped, then-23-year-old Kyle Green was also pushed and fell to severe injury — leading to partial paralysis (via LAD Bible).
Following the Astroworld incident, Green's lawyer noted that his client "was really angry at Travis and at Travis' team ... because Travis clearly hasn't learned from what has previously transpired." And despite November's tragedy, Scott escaped unscathed. Now, he's teeing it up with some celebrities that you might find surprising amidst Thanksgiving weekend.
Travis Scott was spotted with an acting veteran and sports legend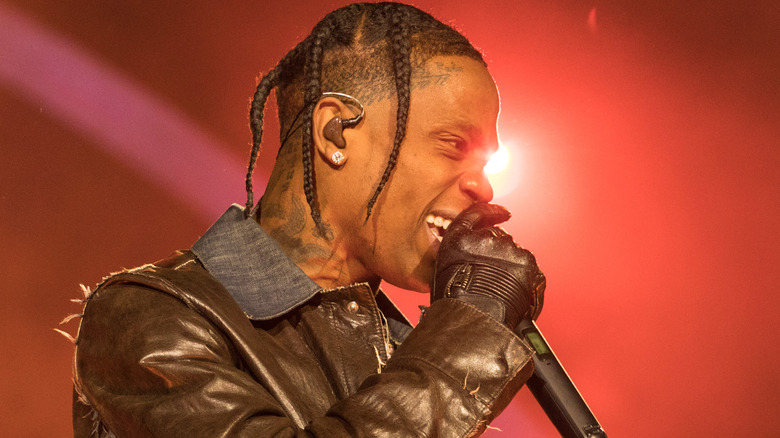 Rick Kern/Getty Images
Travis Scott, who is currently facing billions of dollars in lawsuits following the Astroworld tragedy, was seen on the green with some high-profile celebrities over Thanksgiving weekend. Per the Daily Mail, social media photographs unveiled a behind-the scenes look at Scott's golfing celebration for the annual Turkey Day.
In the photographs, the "Dark Knight Dummo" rapper was pictured alongside upcoming "Uncharted" star Mark Wahlberg and NBA legend Michael Jordan. Scott was seen on his phone in the flicks, and was also spotted with actor Saïd Taghmaoui. Despite being amongst good company, Scott was reportedly seen looking visibly distraught and defeated amidst his ongoing legal plights following Astroworld.
The family of John Hilgert, one of the 10 people who died at Astroworld, are amongst the latest to file a lawsuit against the embattled musician, as Rolling Stone reports. Furthermore, security guards who worked the festival also filed a suit against Scott, citing a lack of training (per the New York Post). The guards also claimed Scott "turned a blind eye to the cries for help, death and devastation happening to his fans," on top of "[witnessing] CPR being performed on lifeless bodies" and "[pulling] a body from the stampede who ended up being deceased."